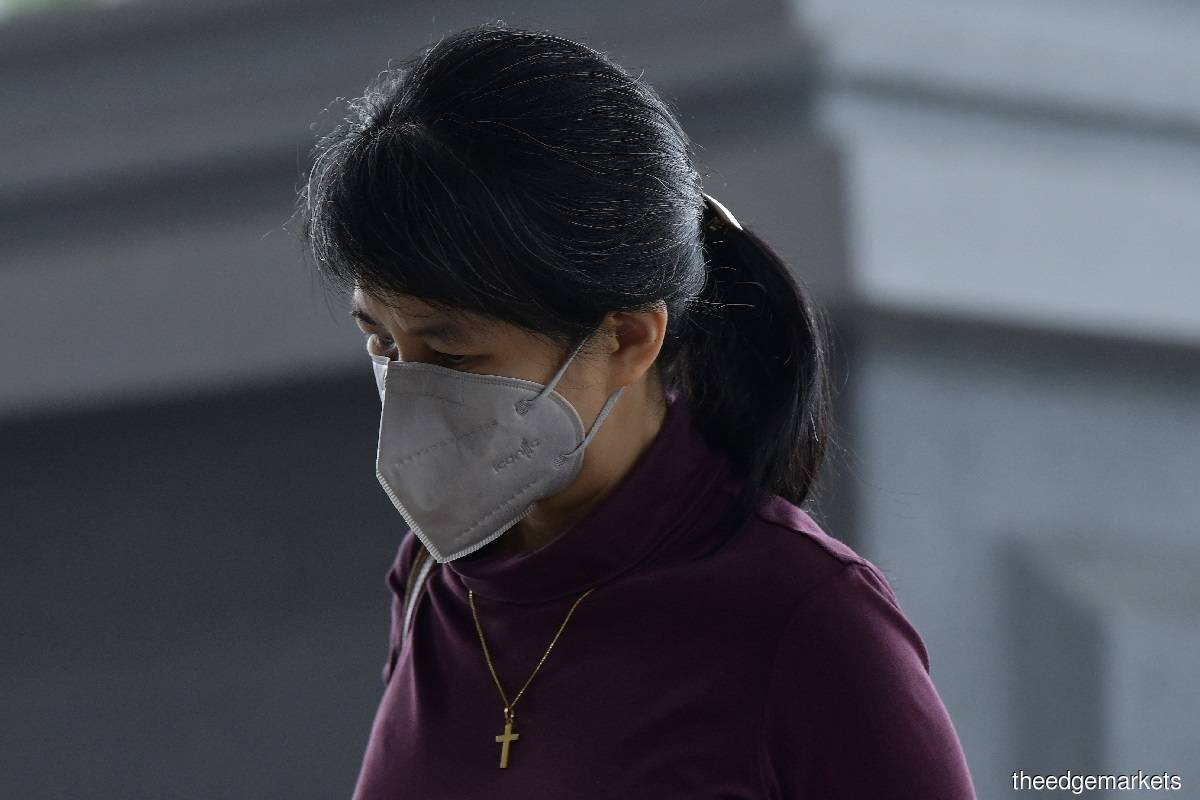 "I did not cook for him. But I did suggest, 'If you want, I can make some soup for you.' But I never cooked [for him]. If somebody is sick, we would have offered." — Yu
KUALA LUMPUR (Dec 12): Lawyer Tan Sri Muhammad Shafee Abdullah contended in the 1Malaysia Development Bhd-Tanore (1MDB-Tanore) trial on Monday (Dec 12) that former AmBank relationship manager Joanna Yu had lost her objectivity when dealing with the state investment company because of her close relationship with fugitive financier Low Taek Jho, or Jho Low.
Yu, a prosecution witness in the trial, denied this, saying she had a friendly relationship with Jho Low merely because it was part of her job.
Shafee was cross-examining Yu about her relationship with Jho Low, whom she previously said she had met on several weekends at his 8 Kia Peng apartment.
On further questioning, Yu said she had to go to Jho Low's apartment because Majestic Masterpiece Sdn Bhd — a company linked to the financier — was close to defaulting on loan repayments.
Shafee asked her why her meetings with Jho Low had to be at his apartment and not the bank's office instead.
Yu said she only went to Jho Low's apartment to talk about overdue payments, and that she would ask former 1MDB officer Tan Vern Tact if Jho Low was in town to discuss the matter, because Jho Low was avoiding the bank.
"It wasn't by invitation. I asked Tan Vern Tact if [Jho Low] was in town. Because at that time, as I mentioned, a lot of loans he had with the bank were overdue. Payments were due, but when we asked for payments, he was never in town. He would never want to meet.
"Most of the time, he wouldn't want to meet us, because we were asking for repayments," Yu said.
Earlier in the day, Yu said that apart from Majestic Masterpiece, Jho Low had other loan facilities which were in default, hence she would have to meet him at his office to "chase them for money or ask them to restructure".
"What happened to the Majestic [Masterpiece] loan [and others was that] it had come to a default position, so there was always a loan being rescheduled, and we had rescheduled the repayments over and over again.
"That was why I was always meeting Jho Low to tell him to repay the loans, and in those meetings, he would not come to meet us willingly. I had to tell [him] the facility was going to default... and those meetings occurred from 2008 and, I think, even into 2009," she said.
Yu offered to make soup for Jho Low
Shafee then zeroed in on a BlackBerry Messenger communication between Yu and Jho Low during that period, when Jho Low was sick and Yu offered to make him soup.
Shafee: There was a time when Jho Low was sick, and you cooked for him? No bank [personnel] has cooked for me.
Yu: I did not cook for him. But I did suggest, 'If you want, I can make some soup for you.' But I never cooked [for him]. If somebody is sick, we would have offered.
Shafee said that this was beyond her "call of duty" to do this thing.
Shafee: No banks have offered me that, although I am a good client to some banks, and I have been sick many times, as you know.
Yu: Maybe it's a mother's instinct.
Shafee: Was it appropriate? A banker is supposed to be dispassionate when dealing with clients. To offer to make soup for him... it was in the BBM (BlackBerry Messenger) exchange.
Yu: There was no intention of anything. I would assist anyone.
Judge Datuk Collin Lawrence Sequerah then interjected by asking Shafee the objective of his line of questioning.
Shafee said it was this lack of objectivity on Yu's part that many things were allowed to happen, such as the issuance of a RM5 billion bond for 1MDB, referring to the debt notes that AmInvestment Bank Bhd helped to arrange for 1MDB's former iteration — Terengganu Investment Authority (TIA) — in May 2009 to raise the sum via eight agreements signed with the bank.
TIA only received about RM4.4 billion from the bond, while hundreds of millions were lost due to bond-flipping by companies owned by Jho Low, he said.
Besides fees for AmInvestment Bank as the lead arranger and underwriter, the rest of the money was lost because the bonds were sold at a discount to companies linked to Jho Low, who in turn resold the bonds at face value back to entities in Malaysia.
TIA, which was under the Terengganu state government, morphed into 1MDB in September that same year, following which it came under the purview of the Ministry of Finance which the accused, Datuk Seri Najib Razak, helmed as finance minister.
Yu says she did not know Shahrol had been removed as TIA CEO
AmBank was supposed to issue bonds or Islamic medium-term notes for TIA via the agreements TIA signed with AmInvestment Bank on May 26, 2009.
However, just four days before that, on May 22, 2009, Terengganu ruler Sultan Mizan Zainal Abidin ordered TIA's then chief executive officer Datuk Shahrol Azral Ibrahim Halmi and one of TIA's directors, Tan Sri Ismee Ismail, to sign a resolution to suspend the RM5 billion fundraising exercise, and to step down from their positions.
On the same day, the duo went to inform Najib of the ruler's wish. But Najib, according to Shahrol's previous testimony, instructed them to ignore Sultan Mizan's wish and to go ahead with arranging for the bond issuance instead.
At the trial on Monday, Yu said she did not know that Shahrol had stepped down as CEO.
Shafee: In spite of all these documentations, Shahrol and Jho Low did not communicate that Shahrol had been removed as the [CEO]?
Yu: We didn't know.
Shafee: No one communicated that to the bank? Shahrol didn't communicate that to you?
Yu: No.
Shafee: Jho Low didn't communicate that to you?
Yu: No.
Shafee: The bank was never shown these documents during the material time?
Yu: No.
Shafee: I have been instructed to ask this question. In fact, you had asked Jho Low what was happening with the suspension, but Jho Low reassured you that the IMTN would go on.
Yu: I can't remember if Jho Low or Shahrol mentioned this, but the bank was told that the IMTN would proceed.
Najib, 69, is on trial for four counts of abuse of power and 21 counts of money laundering involving RM2.28 billion of 1MDB funds.
He was previously found guilty of abuse of power, breach of trust and money laundering in relation to funds owned by 1MDB's former subsidiary SRC International Sdn Bhd in 2012. For his offences, he was sentenced to spend 12 years in jail and fined RM210 million.
The 1MDB-Tanore trial before High Court judge Datuk Collin Lawrence Sequerah will continue on Tuesday (Dec 13) with Yu's cross-examination.
The Edge is covering the trial live here.
Users of The Edge Markets app may tap here to access the live report.