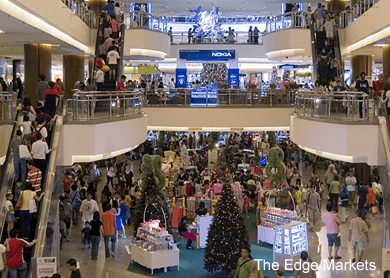 KUALA LUMPUR(Jan 26): Retail sales are expected to grow at a slower rate of 5.5 percent from 6 percent previously as consumer spending is seen impacted by the upcoming Goods and Services Tax (GST).
According to the "Malaysia Retail Industry Report" by research firm Retail Group Malaysia, consumer spending is expected to be affected from the second quarter of 2015 due to implementation of the GST from April 1.
Describing the prospect as the greatest challenge for the country's retail industry this year, it said: "For the 6-month period after April 2015, retail sales will likely to slow down as consumers had made all the major purchases in advance, and they choose the wait-and-see attitude on the prices of goods and services."
However, Malaysian consumers will get use to GST by the last quarter of 2015, and retail spending will return to normal again by this period, it said.
For the first quarter of this year, consumers are expected to spend more due to the Chinese New Year festival, receipt of bonus salary payments and the distribution of Bantuan Rakyat 1Malaysia (BR1M) 4.0.
As at the third quarter of 2014(3Q14), Malaysia's retail industry recorded a growth rate of 2% in retail sales, lower than 3Q13's growth rate of 3.1%, and very much lower than the 8% growth rate estimate by the Malaysia Retailers Association(MRA) and the Retail Group's estimate of 6.3%.
In comparison, Malaysia's economy recorded a 5.6% growth rate in 3Q14 as a result of higher net export and domestic activities,and the country's inflation rate in 3Q14 was at 3% due to higher prices in food and beverages, transport, housing and utilities.
"The  traditional Hari Raya festival in July failed to generate strong sales for retailers throughout the country, and Bank Negara Malaysia's decision to raise the overnight policy rate (OPR) by 25 basis points to 3.25% in July last year affected retail sales of big-ticket items to a certain extent, due to higher cost of borrowing," said the report.
It added that in September last year, consumers were waiting for the release of Budget 2015 in October for more information on GST and incentives for Malaysians, and thus held back their spending.
For the first 9 months of 2014, the retail industry grew by 4.8%.
All retail sub-sectors recorded mixed results in their retail businesses during 3Q14.
The department store cum supermarket sub-sector experienced a slower growth rate of 5.3%, and is are expecting an improvement to 7.7% in 4Q14 , while  the department store sub-sector suffered a drop in retail sales by 1.1%, and is expecting a turnaround to 3.7% in 4Q14.
However, the supermarket and hypermarket sub-sector reported a marginal growth of 1.9% during 3Q14 and are expecting a growth momentum of 4.2% in 4Q14, while the fashion and fashion accessories sub-sector recorded the highest growth among the retail sub-sectors at 11.3%, and is expecting a growth of 12.3% in 4Q14.
It added that the other specialty stores sub-sector, which includes retailers selling photographic equipment with photo processing services, optical products, second-hand goods, health and fitness equipment, toys, souvenirs, duty-free goods, arts and crafts as well as food service, suffered a retail business decline of 6.2% in  3Q14. They are expecting a 3.5% growth in 4Q14.
Members of the retailers' association are hopeful of achieving 5.5%  increases in their businesses for the fourth quarter of 2014(4Q14), once retail sales from the quarter have been tallied.
"In view of the poor results in 3Q14 and an anticipated slower growth rate at in 4Q14 2014, we have revised our estimated annual growth rate of Malaysia retail industry for 2014 from 6.0% to 4.9%, or RM 96.2 billion in expected sale turnover," said Retail Group.