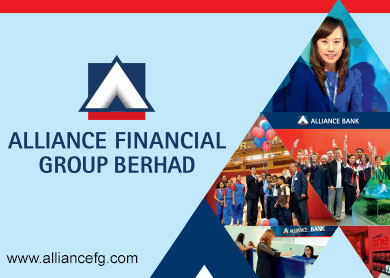 KUALA LUMPUR (Nov 26): Alliance Financial Group Bhd (AFG), the country's smallest banking group by assets, saw its net profit jump 37% to RM180.33 million in its second financial quarter ended Sept 30, 2014 (2QFY15) from RM131.24 million a year ago on higher net interest income.
Revenue for the quarter climbed 24% to RM390.12 million from RM314.74 million in 2QFY14.
AFG also declared a first interim dividend of 9 sen per share for its financial year ending March 31, 2015 (FY15), payable on Dec 30.
In a filing with Bursa Malaysia today, AFG attributed the growth in net profit to higher net interest income and other operating income during the quarter, but was partly offset by increased operating expenses.
The improvement in profit translated to higher earnings per share (EPS) of 11.9 sen for 2QFY15, compared with 8.6 sen a year ago.
For the half-year period ended Sept 30, 2014 (1HFY15), AFG posted a net profit of RM311.14 million, up 16% from RM269.03 million, while revenue rose 7% year-on-year (y-o-y) to RM726.86 million from RM678.92 million.
EPS rose to 20.5 sen from 17.7 sen in 1HFY14.
"The improved financial performance in 1HFY15 compared with the corresponding period of FY14 was mainly attributed to the growth in interest income and recurring non-interest income," said AFG group chief operating officer Raymond Leung Chun-Kow.
The group said its net loans for 1HFY15 grew 15.5% y-o-y to RM34.1 billion, driven by residential and non-residential property financing as well as small and medium enterprise (SME) lending.
It managed to lower impaired loans to RM412.8 million in 1HFY15, compared with RM523.2 million in 1HFY14, with an improved gross impaired loans ratio of 1.2%.
As at Sept 30, 2014, the group maintained a healthy loans-to-deposit ratio of 84.5%, with customer deposits growing 11% y-o-y to RM40.8 billion.
Going forward, AFG expects to perform satisfactorily for FY15, backed by the country's projected gross domestic product growth of between 5% and 5.5% for 2015.
"However, we do expect top line revenue growth to remain a challenge with intensified competition for funding and increased volatility in financial markets.
"Notwithstanding this, we will continue to stay focused on key targeted customer and product segments, build strong customer relationships, as well as leverage on the group's infrastructure and multiple distribution networks for business growth," said Leung.
At 12.30pm, AFG shares fell 4 sen to RM4.73, giving a market capitalisation of RM7.35 billion.