This article first appeared in The Edge Malaysia Weekly, on November 14, 2022 - November 20, 2022.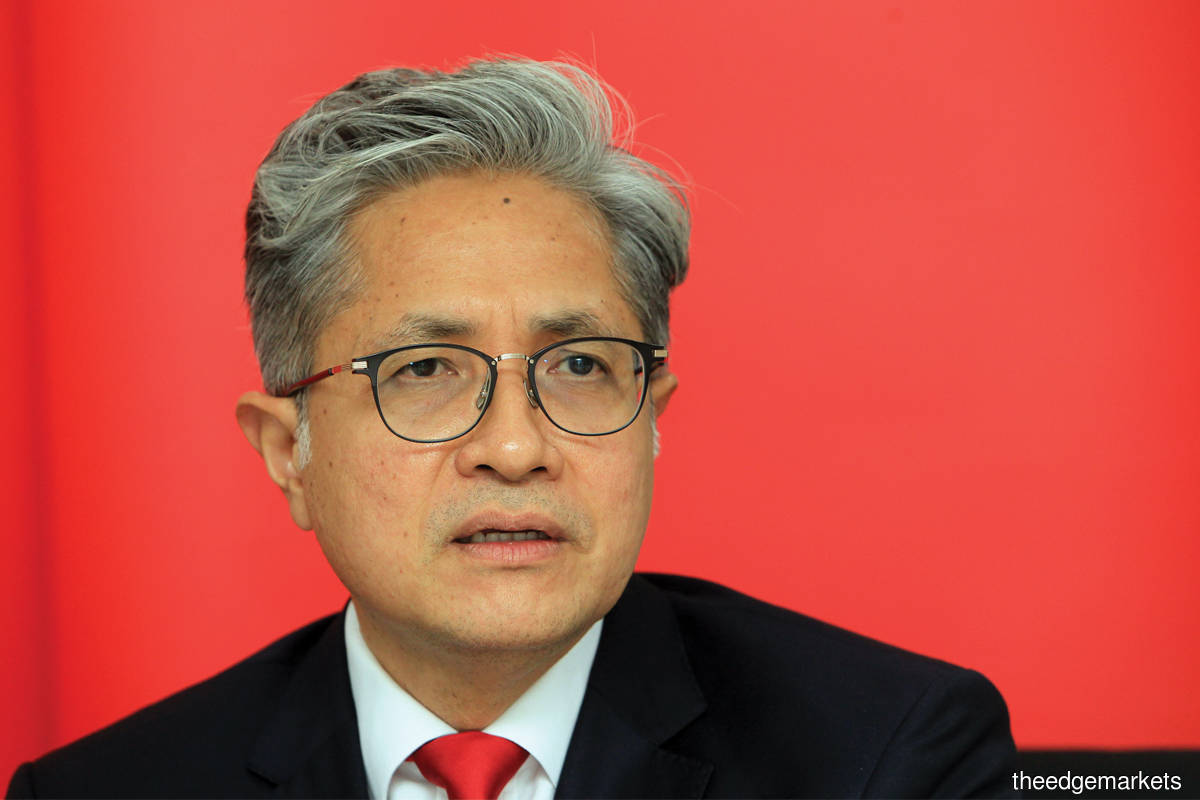 AMMB Holdings Bhd (AmBank Group) is creating a new line of business that focuses on the underserved market entirely through digital means, in a bid to compete with the country's upcoming digital banks.
"It will be a digital-only reach out to customers," CEO Datuk Sulaiman Mohd Tahir tells The Edge, referring to this initiative as its fifth line of business.
AmBank — the country's sixth-largest banking group by assets — currently has four lines of business, namely retail banking, wholesale banking, business banking and Islamic banking.
According to Sulaiman, there is a segment of customers within the "mass" retail space that is often overlooked by banks.
"Banks normally serve the upper end of the [mass] segment … these are people probably earning RM4,000 and above. But when you look at the new dynamics of the environment, there is a group of customers that, you wouldn't say are underprivileged, but maybe underserved, by virtue [of the fact] that banks normally prefer customers who have steady income, pay slips and bank statements, which these [other] people may not have," he says, citing gig economy workers, Grab drivers and YouTubers as examples.
He adds: "For example, of my [roughly] 2.5 million [retail] customers, only maybe 600,000 are 'bankable' in that they either have a hire purchase, housing loan or credit card and whatnot. The rest, don't. So the question is: how do you then penetrate into this space?
"Hence, we're thinking about the fifth line of business, which is under incubation. In other words, I would now have a dedicated team to focus on this segment. The reach-out methodology will be digital-only. So, it's not about [us] creating a standalone digital bank, but rather a unit to focus on this within the bank."
Sulaiman was speaking to The Edge on the sidelines of the bank's inaugural AmDigital Day at the Grand Hyatt Kuala Lumpur last Tuesday, an all-day event aimed at showcasing its digital propositions to clients and investors.
Incumbent banks, including AmBank, have been upping their digital game ahead of the launch of five new digital banks that were recently licensed by Bank Negara Malaysia. Such banks are meant to focus on the underserved and unserved markets.
It is understood that several of the five digital banks, including one by RHB Bank Bhd-Boost Holdings Sdn Bhd and another led by Grab Holdings Ltd, plan to launch their operations by the end of next year.
"We're not opening branches anymore, we're extending our digital reach," Sulaiman shares.
The strong focus on digital is part of AmBank's Focus 8 strategy which runs from its financial year ended March 31, 2021 (FY2021) to FY2024.
According to Sulaiman, the bank has already begun serving underserved customers through a digital-only approach, citing as examples its tie-ups with partners such as BonusLink and Merchantrade, which enable it to tap their ecosystems.
"We're already doing it, only that now we want to have a bit more focus on actually driving this business," he explains, adding that AmBank will zoom in on individuals and micro-SMEs.
"It's a market that we've never really tapped before … so, in that sense, it would be a new revenue stream for the bank. But, because it is a volume-based [business], you need time to grow the base," he remarks.
He says it will probably take "about two years" for this business to show meaningful revenue.
Unlike in the past, banks can now cater to the underserved segment profitably because of the use of technology and data analytics.
As such, Sulaiman believes that with the right strategy, incumbent banks will be able to compete head-on with the upcoming five digital banks.
"In fact, we can do better than the digital banks because we are already there [serving the market] … we've got deeper pockets, an existing customer base, as well as the risk appetite to take on such customers. It won't be easy for the new [players]," he says.
He notes that, despite there being quite a number of digital bank players, only two in this region — China's WeBank and South Korea's KakaoBank — are considered successful.
Kenanga Research, in a Nov 9 report following the bank's AmDigital Day, said the group had indicated an annual spend of RM250 million to support its digital transformation initiatives.
"Emphasis on data analytics would be essential in streamlining infrastructure and better understanding consumer behaviour. With a more effective engagement, customer experience could be improved, which may translate into stickier accounts and encourage more transactions with the group," says its analyst Clement Chua, who has an "outperform" call and a target price of RM4.75 on AmBank.
"That said, we believe this guided allocation of 12% of overall operating expenses is well factored into our model assumptions, as it could also be seen as a migration from traditional establishment costs," he adds.
In order to provide a more comprehensive network of offerings, AmBank is progressively working with more partners. Last month, the group launched a hybrid e-wallet with Merchantrade to form the Merchantrade Money app.
The stock has gained 26.6% so far this year to close at RM3.96 last Friday, giving the company a market capitalisation of RM13.11 billion. Bloomberg data shows that nine analysts have a "buy" call on it and six have a "hold", with the average 12-month target price at RM4.27. There were no "sell" calls.
"We believe the group could be a key beneficiary of the ongoing economic recovery from its notable SME loans profile. Meanwhile, the group's possible re-entry as a FBM KLCI constituent could spur buying interest from portfolio recalibration. This aside, we also believe interest in the stock will continue to hold from its earnings traction recovery and with targeted ROE [return on equity] levels of 10%, a level not seen since 2017," Chua adds.
AmBank reported a net profit of RM419.19 million in 1QFY2023, which was 8.42% higher than that a year earlier, owing to lower impairment charges. Revenue, however, declined to RM1.16 billion from RM1.24 billion because of lower trading and investment income.