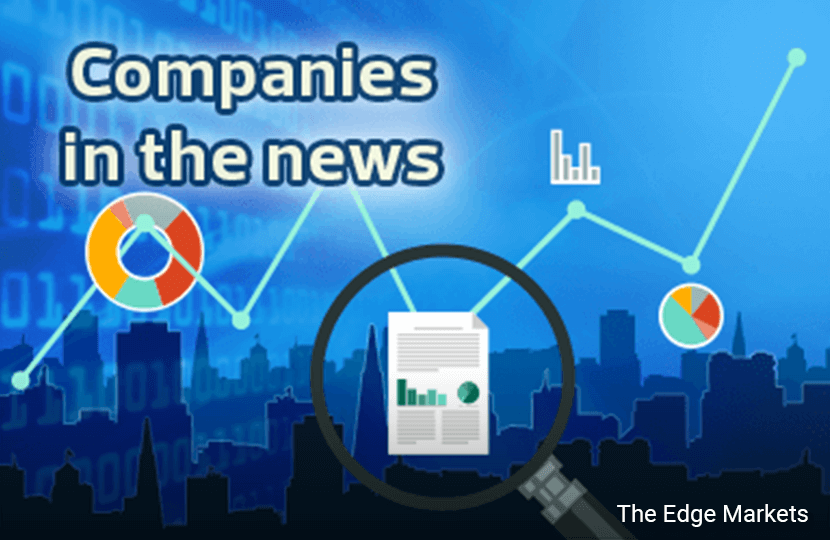 KUALA LUMPUR (Aug 19): Based on corporate news flow and announcements today, stocks in focus tomorrow (Thursday, Aug 20) could include: Ambank Group, KLK, AirAsia X, Evergreen Fibreboard, Taliworks, MBM, Daya Materials, MPHB, Fitters, Ho Hup, Apex Healthcare and Acoustech.
AMMB Holdings Bhd (AmBank Group)'s net profit dropped 37.6% to RM339.5 million in its first quarter ended June 30 (1QFY16), mainly on lower other operating income, net interest income and net income from the insurance business.
Its revenue came in 18.34% lower at RM2.11 billion, versus RM2.58 billion in 1QFY15.
AmBank Group (valuation: 3; fundamental: 1.5) said excluding the one-off divestment gain in 1QFY15, non-interest income — which constituted 36% of its total income — fell 8.7% y-o-y to RM347.2 million.
Kuala Lumpur Kepong Bhd (KLK) saw its third quarter net profit jump 15.5% to RM246.88 million, from RM213.66 million a year ago. Revenue also grew 21% to RM3.54 billion during 3QFY15, from RM2.92 billion in 3QFY14.
This is due to increased revenue and 3.7 times higher dividend income of RM53.4 million from an overseas investment, Synthomer Plc based in United Kingdom.
For the nine months period (9MFY15), KLK's (fundamental: 1.0; valuation: 1.1) net profit fell 16.7% to RM683.62 million, from RM820.95 million a year ago, owing to lower profit from its plantations, manufacturing and oleochemical divisions.
This was despite revenue increasing 16.4% to RM9.72 billion in 9MFY15, from RM8.35 billion in 9MFY14.
AirAsia X Bhd (AAX), the long-haul, low-cost affiliate of AirAsia Bhd, reported its second-quarter net loss widened by 3.2% to RM132.94 million or 6.1 sen loss per share, from RM128.79 million or 5.4 sen loss per share a year ago, largely because of foreign exchange (forex) losses from a strong US dollar.
The airline recorded a forex loss of RM28 million in 2QFY15, compared with a forex gain of RM20 million in 2QFY14, as the ringgit depreciated 13% against the US dollar year-on-year (y-o-y) in 2QFY15 to 3.66, from 3.24 in 2QFY14.
With every 10 sen movement in the ringgit against the US dollar, the airline will recognise either savings or expenses of approximately RM50 million per year.
Revenue for the three months ended June 30, 2015 (2QFY15) fell 2.8% to RM653.03 million, from RM671.61 million in 2QFY14, primarily due to decrease of scheduled flight revenue of 16% y-o-y and 24% y-o-y for ancillary revenue, resultant from lower load factor.
Its revenue per available seat-kilometer (RASK) improved 6.7% to 11.51 sen for the current quarter under review, compared with 10.79 sen in 2QFY14.
The weaker 2QFY15 results widened its net loss for the six months period (1HFY15) by 84.8% to RM258.86 million, from RM140.07 million a year ago.
Revenue, however, improved by a marginal 0.5% to RM1.43 billion in 1HFY15, from RM1.42 billion in 1HFY14. Its RASK also increased by 7% to 12.24 sen as at June 30, 2015, from 11.44 sen as at June 30, 2014.
Wood-based products maker Evergreen Fibreboard Bhd returned to profitability in the second quarter ended June 30, 2015 (2QFY15), with a net profit of RM23.89 million, compared with a net loss of RM21.69 million per share a year ago.
The increase in profit is attributable to the lower cost of log and glue, higher operational efficiency and synergistic cost savings derived from the group's recent restructuring of certain operational facilities.
Evergreen's  (fundamental: 0.85; valuation: 0.3) revenue for the quarter jumped 20% to RM259.96 million, from RM215.81 million in 2QFY14, on higher sales volume and the strengthening of the US dollar.
For the six-month period ended June 30 (1HFY15), the group posted a net profit of RM43.95 million, compared with a net loss of RM24.27 million in 1HFY14, while revenue climbed 8% to RM492.09 million.
Taliworks Corp Bhd's net profit fell 25.2% to RM9.49 million for the second quarter ended June 30, 2015 (2QFY15), from RM12.69 million a year ago, due to higher provision for discounting and as a result of a significant specific pavement repairs incurred in its 35%-owned unit Cerah Sama Sdn Bhd (CSSB).
Revenue for the quarter climbed 24.3% to RM101.7 million, underpinned by consolidation of the financial results of CSSB as a subsidiary.
The higher contribution from both construction and waste management segment also lifted its revenue for the quarter.
For the cumulative six months (6MFY15), Taliworks' (fundamental: 1.3; valuation: 2.4) net profit and revenue rose 49.2% to RM24.52 million, and 26.25% to RM198.72 million respectively.
Lower sales from both motor trading and auto parts manufacturing dragged MBM Resources Bhd's net profit down 6.5% to RM29.22 million or 7.48 sen per share in the second quarter ended June 30, 2015 (2QFY15), from RM31.24 million or 8 sen a share last year.
Similarly, revenue for 2QFY15 declined 23.9% to RM374.41 million, against RM492.17 million.
It also declared an interim dividend of 4 sen per share and a special dividend of 3 sen per share under the single-tier system, in respect of the financial year ending Dec 31, 2015.
Meanwhile, for the six months ended June 30 (1HFY15), net profit came in higher at RM64.37 million, from RM54.67 million a year ago, up by 17.8%. Cumulative revenue also grew 2.8% to RM966.15 million, from RM939.53 million in 1HFY14.
MBM (fundamental: 1.8; valuation: 2.0) said motor trading division performance was affected by slow demand after the implementation of the goods and services tax (GST), though these were cushioned by recovering demand, albeit at a low rate in May and June, helped by Volkswagen sales and better aftersales revenues.
Oil and gas sector service provider Daya Materials Bhd's net profit soared 88% to RM8.77 million or 0.53 sen per share for the second quarter ended June 30, 2015 (2QFY15), from RM4.68 million or 0.34 sen per share a year earlier, due to improvement in profit to better downstream sales, and the lower cost structure in the offshore/upstream business.
The better profit was helped by an 11% increase in revenue to RM193.18 million for the quarter, from RM174.09 million in the previous year.
For the six months to June 30, Daya's (fundamental: 0.55; valuation: 0.9) net profit jumped 51% to RM8.51 million, from RM5.62 million in the corresponding period last year; while revenue rose 19% to RM359.95 million, from RM303.40 million.
For its O&G segment, Daya said its business will largely depend on vessel utilisation and the timing of its proposed vessel purchase, while future vessel utilisation will depend on the actual deployment of its main European client during the summer months, the availability of spot business during winter months and overall offshore environment.
For its downstream sector, the group is in the midst of restructuring our operations, with a view of further strengthening our management team. For the year as a whole, the low oil price and continued uncertainties in the sector will remain the biggest challenge for all industry participants.
General Insurance underwriter MPHB Capital Bhd's net profit plunged 95% to RM10.81 million for its second quarter ended June 30, 2015 (2QFY15), from RM198.86 million a year earlier. Meanwhile, revenue for the quarter rose 11% to RM101.86 million, from RM91.80 million a year ago.
The significant drop in profit was attributed to an extraordinary gain of RM195.86 million recorded in the previous year's corresponding quarter, following the sale of investment properties.
On a segmental basis, MPHB's (fundamental: 1.9; valuation: 2.1) insurance division recorded a marginally higher profit, but its investments division saw a loss before tax of RM2.16 million, as compared to profit before tax of RM181.17 million in the previous year, for the same reason.
For the first half of 2015 (1HFY15), MPHB's net profit dropped 87% to RM26.83 million, from RM207.42 million in 1HFY14; while revenue increased 7% to RM191.90 million, from RM178.56 million.
Fitters Diversified Bhd is proposing to list its wholly-owned clean energy unit, Fitters-NRG Sdn Bhd, on the Australian Stock Exchange (ASX), via a reverse takeover (RTO) of ASX-listed IFS Constructions Ltd.
Fitters Diversified (fundamental: 1; valuation: 1.8) has received a proposal from Trident Capital Pty Ltd, an Australian based corporate advisory firm, on the proposed corporate exercise. The group has appointed Trident as the corporate advisor, in relation to the proposed ASX listing.
In addition, Fitters Diversified said it has appointed TA Securities Holdings Bhd as the adviser for the proposed ASX listing, in relation to the Main Market listing requirements of Bursa Securities.
The group said it will determine the details of the proposed ASX listing at a later date, which will be announced in due course.
The proposed ASX listing is subject to approvals or clearance being obtained from the relevant authorities in Malaysia and Australia, as well as from the shareholders of Fitters Diversified at an extraordinary general meeting to be convened.
Property developer Ho Hup Construction Company Bhd saw its net profit fall 16.8% on-year to RM14.18 million in the second quarter ended June 30, 2015 (2QFY15), from RM17.04 million, as some of its construction projects near completion.
Its construction division incurred a net loss of RM850,000 in 2QFY15, against a net profit of RM5 million a year ago, as its Kem Askar Johor and Karbala project in Iraq reach completion, resulting in lower revenue.
Its latest quarterly revenue came in at RM61.64 million, down 30.4% from RM88.53 million last year.
In the six-month period (1HFY15), Ho Hup (fundamental: 1.9; valuation: 1.5)'s net profit rose 20.9% to RM34.28 million, from RM28.36 million a year ago, although revenue fell 12.5% to RM149.60 million, from RM170.95 million in 1HFY14.
Notably, Ho Hup had eliminated its accumulated losses to a positive accumulated profits position of RM7.09 million, as at June 30.
Pharmaceutical company Apex Healthcare Bhd's net profit for the second financial quarter fell 13.63% to RM6.6 million or 5.64 sen, from RM7.5 million or 6.42 sen per share last year, due to RM2 million losses recorded in its associate company, Straits Apex Sdn Bhd, for the six months period ended June.
This apart, the group said its performance of its core businesses improved over the same period in 2014. Its revenue grew 1.46% to RM124.28 million, from RM122.49 million a year earlier.
Apex Healthcare  (fundamental: 2.1; valuation: 1.4) declared an interim single-tier dividend of five sen per share for the financial year ending Dec 31, 2015, payable on Sept 30, as compared to 3.5 sen dividend in the same period last year.
For the cumulative six months (1HFY15), Apex Healthcare's net profit also came in 11.26% lower at RM15.05 million or 12.85 sen per share, as compared to RM16.96 million or 14.48 sen per share last year. Revenue, however, grew 4% to RM264.34 million, versus RM253.42 million last year.
Audio equipment manufacturer Acoustech Bhd is buying the entire stake of JM Cemerlang Sdn Bhd, a Johor-based property developer, for RM15.5 million, to diversify into industrial property development.
Acoustech (fundamental: 1.2; valuation: 0.9) said it has entered into a conditional share sale agreement (SSA) with JM Cemerlang's owners for the proposed acquisition, which it expects to be funded by internally-generated funds and to be completed by the fourth quarter of 2015.
Acoustech said the acquisition was also to ensure the group is not solely dependent on its existing core business of manufacturing speaker units and related products, in view of the challenging business environment and uncertain global consumer market.
Under the SSA, Acoustech is provided with a profit guarantee of RM18.5 million, over four financial years, up to Dec 31, 2019.
The profit guarantee will be derived from a proposed mixed development project dubbed "Desa 88", currently undertaken by JM Cemerlang, which carries an estimated gross development value (GDV) of RM140 million.
It involves building 81 units of cluster and detached factories on four freehold agriculture lands in Plentong, Johor, which collectively measures 15.3553 hectares.
JM Cemerlang has applied to convert the land into industrial use, but the approval is still pending.
(Note: The Edge Research's fundamental score reflects a company's profitability and balance sheet strength, calculated based on historical numbers. The valuation score determines if a stock is attractively valued or not, also based on historical numbers. A score of 3 suggests strong fundamentals and attractive valuations.)