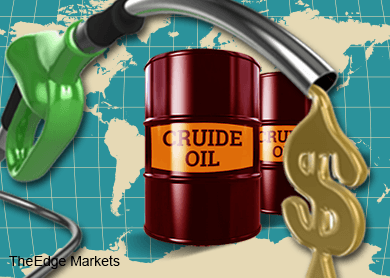 NEW YORK (Jan 17): Any lingering doubt about the depth of the crisis facing the U.S. energy industry is quickly evaporating as even the biggest firms slash spending amid the steepest oil price crash since the recession, sending ripples across the vast sector.
In a stark sign of how a sudden, 60 percent drop in oil prices is biting, oil services giant Schlumberger Ltd on Thursday said it will reduce spending this year by 25 percent and fire 9,000 workers worldwide, surprising investors with the size of the cuts.
As activity slows and drillers idle rigs at the fastest pace in more than 20 years, the magnitude and speed of the changes are surprising firms that provide some of the raw materials and equipment essential to drilling that even two months ago hoped to dodge the ill effects of the slowdown.
"There is total chaos and uncertainty and it is impacting the whole ecosystem," said Aamer Sarfraz, chief executive of United Guar, which provides guar gum used in fracking to major oil service firms, but not Schlumberger.
Schlumberger's announcement lays bare the strain that a supply glut and subsequent dive in prices is putting on the engine room of the U.S. fracking boom: the oil service firms like Schlumberger and rivals Baker Hughes Inc and Halliburton Co that provide drilling services for thousands of wells across the country.
Service firms, desperate to cut costs, asked Sarfraz to lower the price of his company's guar by 30 percent as soon as possible in meetings held in recent days. Other suppliers are being met with similar demands, he said, and even existing contracts are being withdrawn.
The cost reductions come as little surprise. After five boom years for the oil industry, a pull back is only natural when prices slide. Producers are cutting spending budgets and calling on Schlumberger and others to cut prices. Service firms are simply passing that on to their suppliers of raw materials, including sand and guar.
But the speed at which it is happening and the depth of the cuts being asked for is an indication of the desperation in the industry.
"There is no negotiation, it is a demand," said Sarfraz. "It has erased our margins."
Service firms are also asking sand providers to cut prices as oil prices dip. Sand firms say that long term contracts will shield them from oil price swings. Even so, some are reducing prices.
Hi-Crush Partners, which produces sand for drilling in various shale plays across the United States, has reduced prices by up to 25 percent, in part by shaving transportation and storage costs, Chief Financial Officer Laura Fulton said.
Fulton said that sand demand remains strong. In a presentation earlier this month the company said that it has 6.6 million tonnes of sand contracted in 2015, up from 3.8 million in 2014.
Still, for firms reliant on orders from the energy industry alone, it has been a rough ride and may get worse.
Oil prices have dropped from nearly $110 a barrel in June to below $50 this month as rocketing production, particularly in the United States, outpaces tepid demand.
While projects have been postponed or canceled across the globe, the price drop is likely to have a "significantly more dramatic" impact on North America than on the rest of the world, Schlumberger said on Friday, following the release of its earnings a day earlier.
The company plans to cut spending this year by a billion to $3 billion.
Texas-based Galtway Industries, which has 300 employees, normally receives orders six months out from the major service firms like Schlumberger for the forged metal parts used in fracking pressure pumps.
But it says business has fallen 30 percent over the past year. Now, orders are being postponed at the last minute, pushed back while clients decide if they can afford the new materials.
"We've experienced everything from push-outs in delivery dates to order cancellations," said Galtway President Trey Smith. "We're definitely in the fall out phase. It's going to get ugly."