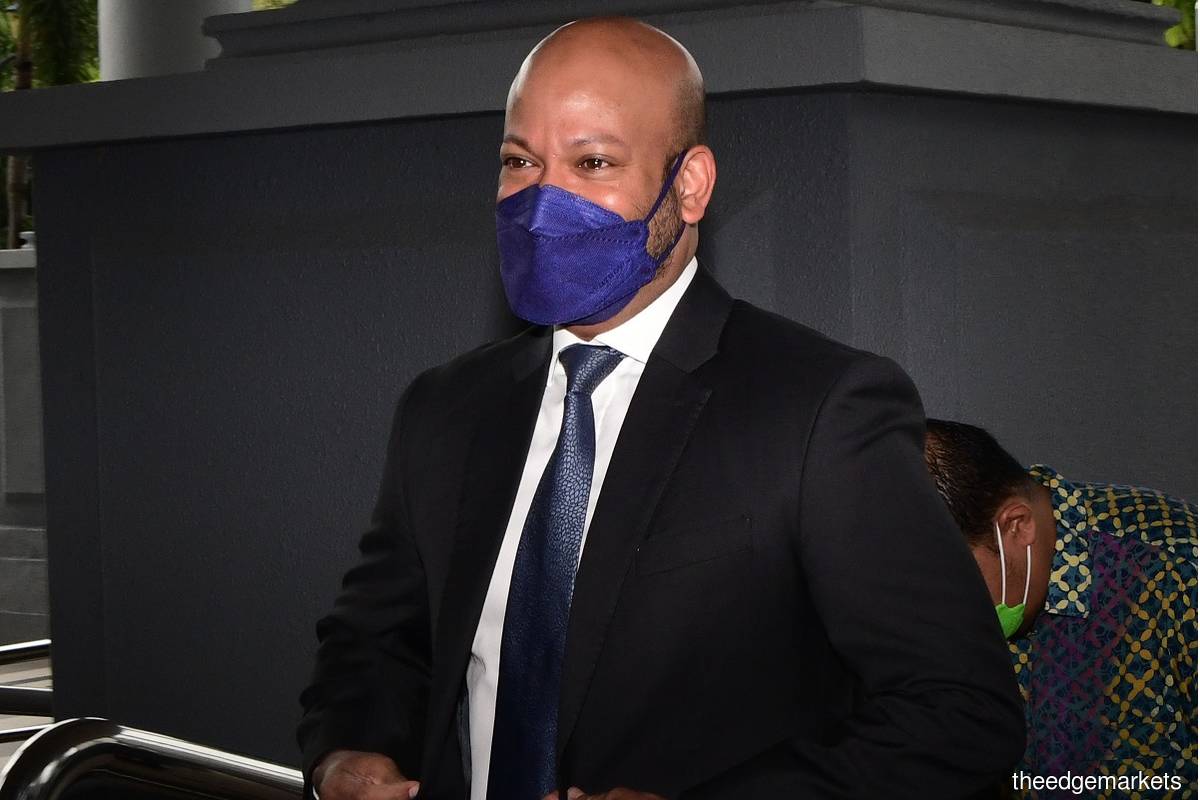 KUALA LUMPUR (Aug 26): Former 1Malaysia Development Bhd (1MDB) president Arul Kanda Kandasamy told the High Court on Friday (Aug 26) that he did not have personal knowledge regarding judge Datuk Mohd Nazlan Mohd Ghazali's involvement in the RM4.1 billion Maybank loan to the strategic development company.
Arul Kanda, who is also former 1MDB chief executive officer, said this during re-examination by lead prosecutor Datuk Seri Gopal Sri Ram in the ongoing 1MDB audit report tampering trial.
Sri Ram: It was suggested to you that [Datuk] Nazlan Ghazali would have had a hand in this (the loan approval). Do you have any personal knowledge [of this]?
Arul Kanda: No.
Nazlan, as the then High Court judge, found Datuk Seri Najib Razak guilty of all three counts of criminal breach of trust, three counts of money laundering and one count of abuse of power the former premier faced in relation to SRC International Sdn Bhd. Nazlan had sentenced Najib to 12 years' imprisonment and imposed a RM210 million fine.
On Tuesday, a five-member Federal Court bench unanimously dismissed Najib's final appeal and reaffirmed his graft conviction and sentence. He began serving his prison sentence immediately.
Arul Kanda denies any interaction with Nazlan  
Earlier, during cross-examination by Najib's counsel Tan Sri Muhammad Shafee Abdullah, Arul Kanda said he had "never met Mohd Nazlan nor did he interact with him".
Shafee was questioning Arul Kanda regarding the RM4.17 billion Maybank loan which was part of a RM 6.17 billion syndicated loan from Maybank and RHB.
Arul Kanda, who joined 1MDB in January 2015, said a portion of the loan was already in default and that the company was in talks with the bank to restructure the payments.
Arul Kanda testified that he dealt with two officers, namely Michael Oh-Lau from the commercial side and a 'Dalvin Kaur' from the legal side.
When asked if any of these officers informed Arul Kanda that they would have to get the go-ahead from their bosses, Arul Kanda answered in the negative.
"Not directly. I was a banker before [and] you have discussions on one level and within the bank they would have to go through their own [internal] approval process," Arul Kanda said.  
Shafee: In terms of legal, who was the general counsel for the [Maybank] group?
Arul Kanda: [I only know that it's] Nazlan.
Shafee: Do you know the full name? Was it Mohd Nazlan Ghazali?
Arul Kanda: Yes, but I never met him nor did I interact with him.
The same loan was part of Najib's application to adduce fresh evidence before his SRC appeal.
Najib said that Nazlan ought to have recused himself from the trial as he was involved in deliberations in the formation of SRC and that he was also involved in approval of loan and credit facilities for the benefit of SRC and 1MDB.
Nazlan was Maybank's general counsel and company secretary from 2005 to 2015.
The apex court, however, dismissed this application on Aug 16. A five-member panel led by Chief Justice Tun Tengku Maimun Tuan Mat ruled that there was no basis to show that Nazlan's employment with Maybank showed a conflict of interest or bias in his judgement against Najib.
In this trial, Najib is charged with abuse of power as a public officer in his capacity as the then prime minister and finance minister in altering the 1MDB audit report which was to be tabled to the Public Accounts Committee in 2016. This was so that no action could be taken against him by Parliament. Arul Kanda is charged with abetting Najib.
However, on June 24, High Court judge Mohamed Zaini Mazlan allowed the prosecution's application for him to testify as a witness under Section 63 of the Malaysian Anti-Corruption Commission (MACC) Act 2009.
The trial continues on Sept 2.
Read also:
Arul Kanda tells court 1MDB management tried to withhold info from National Audit Dept
Federal Court dismisses Najib's second bid to adduce new SRC evidence
Arul Kanda can testify as prosecution witness in 1MDB audit tampering trial, rules High Court