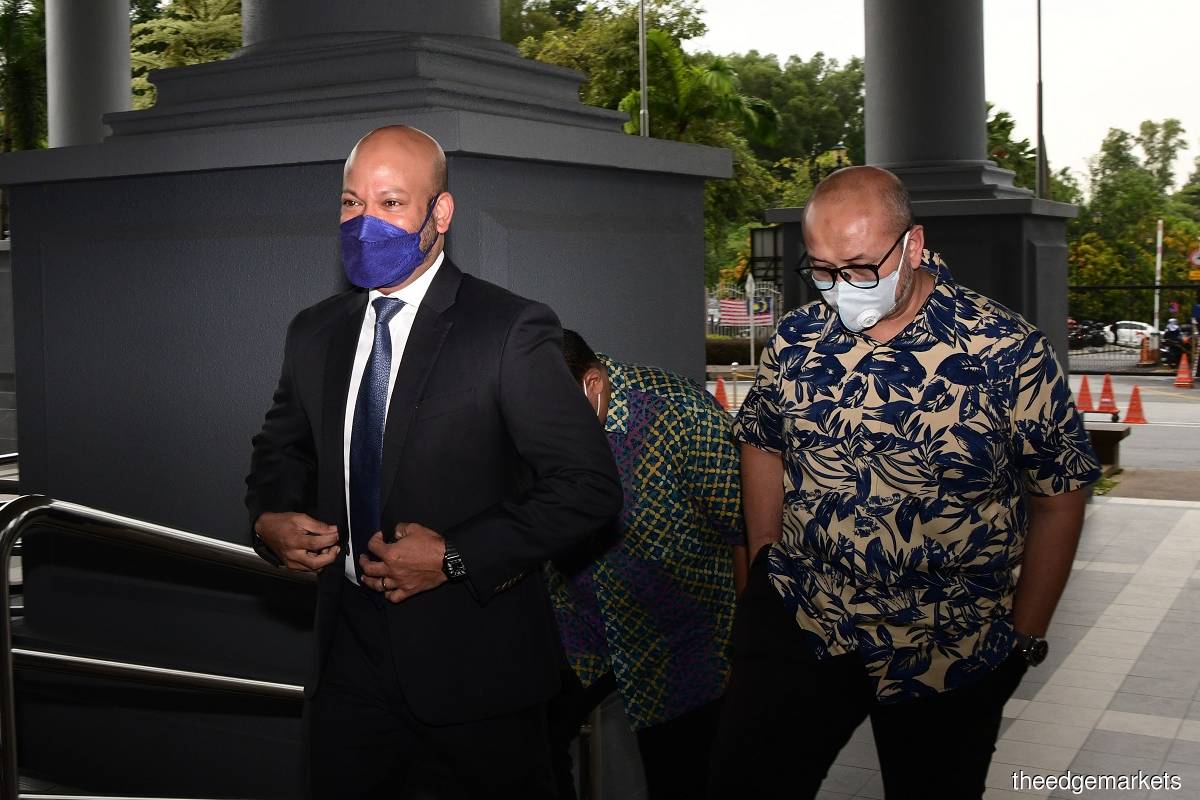 KUALA LUMPUR (Aug 26): Former 1Malaysia Development Bhd (1MDB) president Arul Kanda Kandasamy told the High Court on Friday (Aug 26) that the 1MDB management tried to withhold information from the National Audit Department (NAD) pertaining to the strategic development company.
Testifying in the ongoing 1MDB audit report tampering trial, Arul Kanda, who is also the former chief executive officer of the wealth fund, said NAD had voiced dissatisfaction over the lack of documents to complete the audit process.
"[During the audit process,] there were requests from [NAD] for various documents and information. Unfortunately, not all [of] those documents were available partly because 1MDB had been raided in July 2015 by the Task Force comprising [the police] and Malaysian Anti-Corruption Commission (MACC)," he said.
The prosecution witness added that computer hard drives and servers were also confiscated, therefore 1MDB didn't have access to some of the documents requested.
"[But now] I know some people in 1MDB were actively suppressing information and the sharing of information," he said.
Former premier Datuk Seri Najib Razak's counsel Tan Sri Muhammad Shafee Abdullah had cited discussion notes on one of the exit conferences on the audit report held on Dec 16, 2015. In it, the NAD had voiced its dissatisfaction on 1MDB's lack of cooperation during the audit process, like not providing the documents requested.
Arul Kanda said he was not involved in the day-to-day liaising with the NAD in its audit of 1MDB. He said it was 1MDB's former chief financial officer Azmi Tahir who was in charge of that.
Shafee: [There was] suppression on the management level?
Arul Kanda: Yes.
Shafee: Was there suppression by the board?
Arul Kanda: Not that I was aware of.
Arul Kanda says he was not asked to manipulate the truth
On June 24, Arul Kanda testified that he had received a call from Najib a day before he met the NAD on Feb 24, 2016. Among the matters discussed were defending the company's interest, and to ensure that the NAD stayed within the scope of verifying the company's accounts because Najib was concerned that the report could potentially be spun "politically".
During cross-examination, Shafee asked if Arul Kanda was ever asked to manipulate the truth during his meetings with the NAD, to which Arul Kanda answered, "No".
Shafee: Whatever clarification you intended to make (in your meetings with the NAD), were you interested in delivering the truth?
Arul Kanda: Yes.  
When asked if he was concerned that the audited report would be politically spun to 1MDB's detriment, Arul Kanda said: "Not directly because the company was already under attack, left, right and center."
NAD had their own discretion
Arul Kanda said there were 60 to 65 points raised in the audit report that caused concern for 1MDB and were discussed during the meetings with the NAD on Feb 24 and 25.
And for whatever amendments that 1MDB requested, it would have to back it up with documents and provide clarification, he said.
When Shafee asked if all the suggestions or requests for amendments were accepted, Arul Kanda said the NAD determined on their own what to accept and what not to.
Shafee: Based on what [would they make the determination]?
Arul Kanda: Based on the documents we gave them, and partly also their own discretion. I was not part of their discussion or [decision-]making process. It was their call on what to accept and what not to accept.
In a subsequent meeting on March 1, some requested amendments were accepted while some were not, he said, but did not elaborate.
Shafee: At the end of the day wasn't it the case [NAD] decided to further listen to [1MDB] representation only for purpose to rectify or correct further information?
Arul Kanda: It was not a [blanket] agreement to change [the audited report]. If we had amendments to make, they would consider it — provided we gave them the documents.
Earlier on the same day, Arul Kanda testified that two days before the meeting with NAD, he was given chapters of the draft audit report by Najib's former principal private secretary, Tan Sri Shukry Salleh.
He said they were in the form of "loose leaf" papers but that he was too tired to peruse them in detail as he had just returned home from a long international flight.
He also said the first time he saw the complete audit report was at the meeting with the NAD on Feb 24.
Najib, who was back in court for the second day since he began serving his 12-year jail sentence on Tuesday, was dressed in a greyish-blue suit.
Also present in court were his wife Datin Seri Rosmah Mansor and his sons Datuk Nizar Najib and Norashman Najib.
In this trial, Najib is charged with abuse of power in his capacity then as the prime minister and finance minister in altering the 1MDB audit report prepared by the NAD, which was to be tabled to the Public Accounts Committee in 2016. 
On June 24, High Court judge Mohamed Zaini Mazlan allowed the prosecution's application for Arul Kanda, who is charged with abetting Najib, to testify as a witness under Section 63 of the MACC Act 2009. Arul Kanda remains a co-accused.
The trial continues on Sept 2.
Read also:
Arul Kanda says he has no personal knowledge of SRC judge's involvement in 1MDB loan
Arul Kanda can testify as prosecution witness in 1MDB audit tampering trial, rules High Court