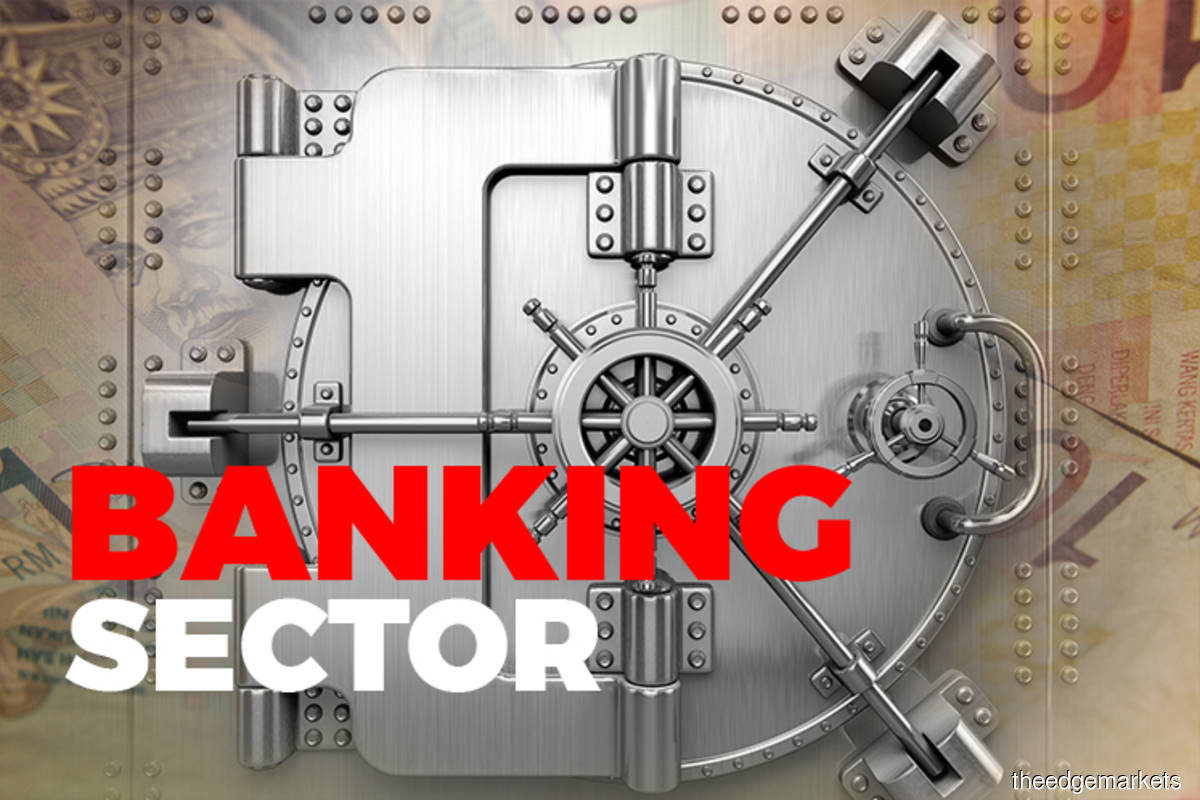 KUALA LUMPUR (Aug 1): Analysts are positive that the banking sector will benefit from the upswing in interest rates, and this comes after the sector's loan growth rose 5.6% year-on-year (y-o-y) in June, the strongest performance in over a year.
Kenanga Research, which kept its "overweight" stance on the sector, said banking stocks will remain resilient. 
"June system loans grew by 5.6% y-o-y (+0.7% month-on-month [m-o-m]), which was in line with our calendar year 2022 industry growth target of 5% to 5.5%, as household loans are expected to taper from more rate hikes to come," said Kenanga in a note on Monday (Aug 1). 
"Sequential improvements in disbursements, repayments and loan applications were fuelled by heightened post-Raya activities, but mainly from more vibrant business activities. The reopening of borders is expected to support previously affected sectors. Gross impaired loans (GIL) remained stable at 1.65% (+1 basis point) amid the lapse of repayment assistance programmes," it said. 
However, as deposits (+7.2% y-o-y; +0.8% m-o-m) are expected to remain augmented, with higher rate expectations keeping depositors sticky, Kenanga raised its deposit expectations for 2022 to 6.5%-7%, from 5%-5.5%, with the current account savings account mix (CASA mix) likely to take a turn then. 
In addition, Kenanga anticipated a further two 25-basis-point overnight policy rate (OPR) hikes, which could affect affordability for households, but should not have too adverse an impact on business loans, as these promote economic growth.
"Previously affected sectors are also expected to make a comeback with the reopening of borders. Still, we are aware that investors could be slighted by capital downside risks, no thanks to ongoing macro uncertainties (i.e. prolonged supply chain disruption and a global recession).
"Hence, we continue to recommend strong dividend yielders to provide portfolio safety," said Kenanga. 
Meanwhile, Hong Leong Investment Bank (HLIB) Research is positive on the banking sector, and believes the risk-reward profile is tilted to the upside, with the combination of robust profit growth and undemanding valuations driving performance.
"Also, we expect net interest margins to widen from OPR hikes, but the magnitude could be capped by eventual downward normalisation of the CASA mix. Regardless, banks are still net beneficiaries of the interest rate upcycle," said HLIB. 
On the other hand, MIDF Research, which maintained its "positive" view on the banking sector, said the sector is likely to face a moderation in loan growth in the second half of 2022. Future OPR increases and provision write-backs are likely to boost banking sector earnings in the coming quarters.
"Asset quality concerns should remain manageable, given the generous pre-emptive provisioning," it added. 
Top picks 
Kenanga named Malayan Banking Bhd (Maybank) and Affin Bank Bhd as its top picks, with "outperform" calls and target prices (TPs) of RM11.05 and RM2.45 respectively.
The research firm picked Maybank among large-cap banks for its stellar dividend yields of 7% to 8%, coupled with commendable asset quality scores (GIL: below 1.9%, and below listed peers' average of 2%), despite the bank's leadership in loans and deposits share.
Among lower-cap banks, Kenanga believes Affin Bank offers opportunities with a return to earnings growth, thanks to its AIM22 initiatives. "With the disposal of AHAM ([Affin Hwang Asset Management) and AXA Affin to be completed in the third quarter, we do not discount special payouts, which could bump up an already decent expected yield of 5% to 6%," Kenanga added. 
HLIB, meanwhile, likes Maybank ("buy"; TP: RM9.70) for its high dividend yield, while RHB Bank Bhd ("buy"; TP: RM7) is favoured for its high common equity tier-1 ratio and attractive price.
"For small-sized banks, all three under our coverage are 'buy' calls for different reasons: i) BIMB (Bank Islam Malaysia Bhd) (TP: RM3.30) for its laggard share price showing; ii) Affin Bank (TP: RM2.35) is adored for its special dividend potential and strong financial metrics; and iii) Alliance Bank Malaysia Bhd (TP: RM3.85) for its recent price weakness and cash dividend yield of 6% to 7%," said HLIB.
MIDF, on the other hand, named Hong Leong Bank Bhd and RHB Bank as its top picks, with "buy" calls and TPs of RM23.55 and RM7.13 respectively.