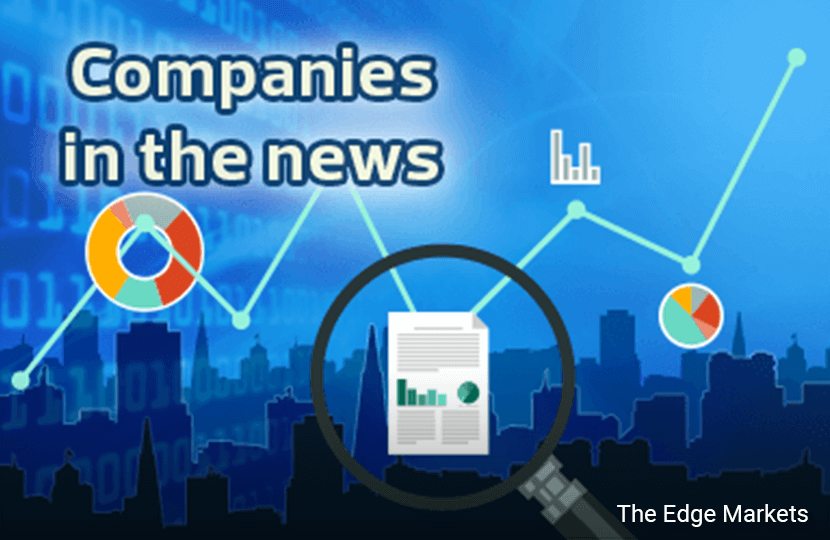 KUALA LUMPUR (Sept 11): Based on corporate announcements and news flow today, the companies that may be in focus on Monday (Sept 14) could include the following: Berjaya Food, QL Resources, Lay Hong, NTPM, KKB Engineering, SunCon and Bina Darulaman.
Berjaya Food Bhd (BFood) posted a net profit of RM6.11 million for the first quarter ended July 31, 2015 (1QFY16), a marginal increase of 1.83% from RM6 million a year ago, mainly due to higher finance cost.
This translated to an earnings per share (EPS) of 1.63 sen compared to an EPS of 2.18 sen in 1QFY15.
According to its filing with Bursa Malaysia, BFood's revenue more than tripled to RM132.41 million from RM39.64 million.
Separately, it told Bursa it is paying out a first interim dividend of 1 sen per share, payable on Oct 29. The shares will trade ex-dividend on Oct 13.
In a statement, BFood said the higher revenue was mainly due to the full effects of consolidating the financials of Berjaya Starbucks Coffee Sdn Bhd, which became a subsidiary of the group in the second quarter of FY15 (2QFY15).
On prospects, BFood said the weakening of the ringgit against the US dollar continues to compress the group's profit margin.
QL Resources Bhd has sold off its entire 38.63% stake in Lay Hong Bhd for RM60.59 million today, citing the lack of board representation and the inability to influence the latter's corporate direction as its reason for the move.
The disposal, which came about a year after its sole representative on Lay Hong's board, Chia Mak Hooi, was not re-elected as a director, is expected to net it a total gain of RM18.87 million, considering that its cumulative cost of investment in the poultry firm to date stood at RM41.72 million.
Its move came three days after Lay Hong announced to Bursa that it has re-designated its group managing director Yap Hoong Chai as its new executive chairman.
The controlling shareholder of Lay Hong is the founding Yap family and QL Resources was the second biggest shareholder prior to its stake disposal.
In a filing to Bursa Malaysia, QL Resources said it has disposed of all its shareholding — a total of 19,865,700 ordinary shares of RM1 each in Lay Hong — at RM3.05 apiece via a direct business transaction on Bursa.
Of the total gain on disposal of RM18.87 million, some RM10.15 million and RM8.35 million were recognised as deemed disposal gain in FY2012 and FY2015, respectively, it noted.
This leaves RM376,856 to be recognised as its current period's disposal gain.
NTPM Holdings Bhd saw its net profit soar 85% to RM12.92 million or 1.2 sen per share for the first quarter ended July 31, 2015, from RM7 million or 0.6 sen per share in the previous year.
In its filing with the exchange, NTPM attributed the improvement in profit to higher sales, better margins and lower selling, distribution and operating cost.
Revenue for the quarter rose 8% to RM143.40 million, from RM132.24 million a year earlier, due to increase in sales of personal care products.
Segmentally, its paper products segment saw a 2% year-on-year increase in revenue to RM96.8 million, while pre-tax profit rose 47% to RM13.6 million, on higher margins.
Meanwhile, its personal care products segment posted a revenue of RM46.6 million, up 24% from RM37.6 million a year earlier, while net profit saw a significant increase to RM4.2 million, from RM500,000 in the previous year.
KKB Engineering Bhd's associate Ocean Might Sdn Bhd (OMSB) has bagged contracts worth RM171.1 million from Talisman Malaysia Ltd, Syarikat SESCO Bhd (SESCO) and Sarawak Energy Bhd.
In a filing to Bursa Malaysia today, KKB said OMSB has received a letter of award from Talisman for the engineering, procurement and construction of Wellhead Platform for Kinabalu redevelopment project.
It also received a notification of tender award from SESCO for the annual supply and delivery of steel products, as well as a letter of award from Sarawak Energy for the supply, delivery, erection and commissioning of one unit of 1,000 tonne fuel storage tank inclusive of pipings and fittings for the Lawas Power Station.
The completion date for Talisman's contract is the second quarter of 2017. SESCO's contract is scheduled to be completed in the third quarter of 2016, while Sarawak Energy's is scheduled to be completed in the first quarter of 2016, it said.
Sunway Construction Group Bhd (SunCon) said its subsidiary Sunway Construction Sdn Bhd has accepted an award worth RM1.61 billion for works relating to the construction of 10 government office buildings in Putrajaya.
According to its filing, the contract entails the proposed design, construction and completion of the office buildings, together with one block of shared facilities.
This includes office towers, podium parking and external works for Parcel F, Precinct 1, Pusat Pentadbiran Kerajaan Persekutuan (federal government administrative centre), Putrajaya.
Works on the project will be for 34 months, commencing on Sept 18.
It said the project is expected to contribute positively to the earnings of SunCon Group from the financial year ending Dec 31, 2015 (FY15) onwards.
With this contract, its total outstanding order book stands at RM4.3 billion.
Edra Solar Sdn Bhd (formerly 1MDB Solar Sdn Bhd), a wholly-owned unit of Edra Global Energy Bhd, is buying a 260-acre land in Kedah from Bina Darulaman Bhd for RM65 million, cash, for a solar power generation project.
Edra Global Energy is the energy arm of cash-strapped state-owned strategic investment fund 1Malaysia Development Bhd, which is now under scrutiny by the authorities after amassing RM42 billion in debts since 2009, as well as for some questionable deals.
The land is located in Bandar Kuala Ketil, Baling, Kedah, according to Bina Darulaman's filing with Bursa Malaysia today. Bina Darulaman is 67.3%-owned by Perbadanan Kemajuan Negeri Kedah or the Kedah State Development Corp.
Bina Darulaman's unit BDB Land Sdn Bhd entered into a sale and purchase agreement with Edra Solar to effect the disposal on Aug 27.
"The disposal consideration was arrived at on a willing-buyer-willing-seller basis after negotiation and taking into consideration the market value," it said.
According to the filing, valuer Jurunilai Bersekutu had valued the land at RM65 million or RM250,000 per acre.
Bina Darulaman, which is in oil palm plantations and property development, expects to net a profit of approximately RM26.7 million from the disposal, a 41% profit margin.
"The proposed disposal will improve the earnings of the company for the financial year ending Dec 31, 2016," it added.
Bina Darulaman said the disposal will unlock the value of the land since it has no immediate plans to develop the land.
The group, however, did not state the expected time frame for the completion of the deal.
(Note: The Edge Research's fundamental score reflects a company's profitability and balance sheet strength, calculated based on historical numbers. The valuation score determines if a stock is attractively valued or not, also based on historical numbers. A score of 3 suggests strong fundamentals and attractive valuations.)