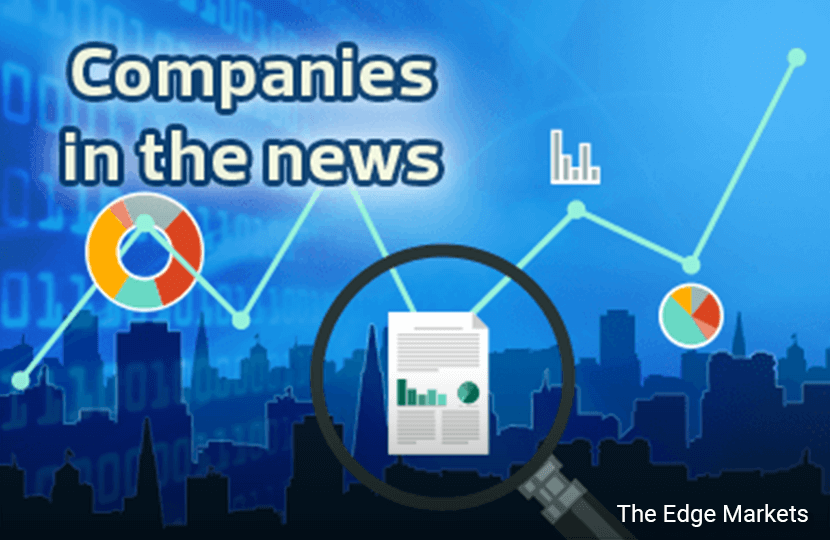 GEORGE TOWN (Sept 3): Based on corporate announcements and news flow today, companies that might be in focus on Friday (Sept 4) include the following: Bina Puri Holdings Bhd, SHL Consolidated Bhd, AirAsia Bhd, Malaysia Airports Holdings Bhd, Bintai Kinden Corp Bhd, Salcon Bhd, SapuraKencana Petroleum Bhd, HeveaBoard Bhd, IFCA MSC Bhd and Muhibbah Engineering (M) Bhd.
Bina Puri Holdings Bhd has bagged a RM94.94 million contract to construct civil works in a steam cracker complex within the site of Petroliam Nasional Bhd's RM60-billion Refinery and Petrochemical Integrated Development (Rapid) project in Pengerang, Johor.
Construction works include earthwork, foundation for equipment, fire proofing, installation for PC rack and road, floor (including chemical floor) and paving in Area B of the complex.
The contract will begin in January 2016, with completion within 27 months.
In a filing with Bursa Malaysia today, Bina Puri (fundamental: 0.15; valuation: 2.6) said its wholly-owned subsidiary Bina Puri Sdn Bhd had accepted a letter of award from Toyo Engineering & Construction Sdn Bhd on Aug 12 to undertake the project.
The project is expected to contribute positively to the net assets and earnings of Bina Puri group for the financial year ending Dec 31, 2016.
"With the latest award, the group's unbuilt order book stands at RM2.72 billion to date. With this award, we have managed to secure RM933 million projects in 2015," said Bina Puri.
"We are still actively tendering for various projects both locally and overseas. We hope there will be more new projects before year end," it added.
SHL Consolidated Bhd is unfazed by a slowdown in the property market, going ahead with new build-then-sell (BTS) launches with focus on affordable homes and landed properties.
SHL executive editor Datuk Yap Chong Lee said the property developer is targeting new property sales of RM250 million for the current financial year ending March 31, 2016(FY16). In FY15, the group recorded RM215.38 million in sales.
Yap said the group's confidence stems from a 95% take up rate for its affordable housing project in Shah Alam, Selangor in April this year.
The group plans to launch a new landed project dubbed Tecoma within its Goodview Heights township development in Bandar Sungai Long South, Selangor in two months, which will have a gross development value (GDV) of RM250 million.
Despite the property market going through a tough cycle now, Yap is of the view that SHL is moving in the right direction with the BTS strategy for affordable homes and landed properties.
Citing developed countries such as Australia and Japan, Yap said the direction going forward is towards the BTS model. Under the BTS system, a developer will collect 10% of selling price as deposit and the rest will be collected after completion of the house.
AirAsia Bhd has come out to say that it is not one of the airlines owing money to Malaysia Airports Holdings Bhd (MAHB).
Its group chief executive officer (CEO) Tan Sri Tony Fernandes said the low-cost carrier has no difficulties paying its arrears to the airport operator.
"Of course, as a company, you owe (charges) every month. You don't pay on the dot," he told reporters after launching the airline's Kuala Lumpur-Goa flight today.
"But (AirAsia CEO) Aireen (Omar) is on top of the issue. AirAsia has no problems with any payment," Fernandes added.
On Aug 28, 2015, MAHB had issued a statement saying it was considering taking stern action, including issuing letters of demand and seeking legal recourse, to recover overdue payments from airlines, but did not name them. It added that the arrears were mostly related to collection of passenger service charges (PSC).
The PSC is a government-regulated charge that the airlines collect in advance from passengers, by including the same in the ticket price paid by passengers. The PSC is then handed over to MAHB, which will be used for the maintenance and enhancement of the airport facilities and services.
Bintai Kinden Corp Bhd has bagged a mechanical and electrical (M&E) works contract in Singapore valued at RM42.39 million.
In a filing with Bursa Malaysia today, the loss-making M&E and engineering specialist said its 69.82%-owned subsidiary Bintai Kindenko Pte Ltd received a letter of intent from Sunray Woodcraft Construction Pte Ltd.
The company is tasked to undertake the subcontract works for the M&E works to the proposed additions and alterations of Compass Point, comprising works from basement one to roof storey at Sengkang Square.
The duration of the project is from Oct 9, 2015 to May 8, 2016, and is expected to contribute positively to its earnings for the financial year ending March 31, 2016.
Salcon Bhd has bagged a RM14.15 million contract to upgrade, rehabilitate and expand an existing sewerage treatment plant located in Hulu Langat, Selangor.
In a filing with Bursa Malaysia, Salcon said Envitech Sdn Bhd, an indirect 60%-owned subsidiary through Salcon Engineering Bhd, had accepted the letter of award dated Aug 27 from Knowledge Vision Sdn Bhd today.
The project involves upgrading, rehabilitation and expansion of the sewerage treatment plant capacity to 134,000 PE (population equivalent), from 54,000 PE.
Salcon said the project spans 16 months, beginning Sept 10 this year and is expected to complete by Jan 9, 2017.
"The project is a construction contract and has no option for renewal," Salcon said, adding it is expected to contribute positively towards its earnings and net assets for the financial years ending Dec 31, 2015, 2016 and 2017.
SapuraKencana Petroleum Bhd (SKP) will be offering its first tranche of the inaugural Multi-Currency Islamic Medium Term Note Programme amounting to US$200 million in nominal value on Sept 8.
The sukuk offering is the first to be launched under the new Securities Commission's (SC) Guidelines on Unlisted Capital Market Products under the Lodge and Launch Framework effective from June 15, 2015 (LOLA Framework).
SKP, through its wholly-owned subsidiary SapuraKencana TMC Sdn Bhd (SKTMC), announced the signing of the transaction documents for the US dollar-denominated sukuk programme today.
Proceeds raised will be utilised to partly refinance SKTMC's existing financing. The issue is not rated and is structured based on the syariah principle of Commodity Murabahah (via Tawarruq arrangement), according to the statement.
Its president and the group chief executive officer (CEO) Tan Sri Shahril Shamsuddin said, "The initial tranche of the US dollar sukuk to be launched marks the group's first unrated US dollar offerings and further reaffirms our commitment in promoting syariah compliant financing."
"The successful launch of the Sukuk will further optimise the group's capital structure and create a benchmark for SKPB's future Sukuk issuance under this programme," he said.
HeveaBoard Bhd, whose share price has risen 140.96% year-to-date, remains actively engaged in discussions with SHH Resources Holdings Bhd on various issues, including an acquisition, said its group managing director Yoong Hau Chun.
"The talks involve various issues and not only the merger. We are open to any possible opportunities," he told a media and analyst briefing today.
He added that nothing's been firmed up at this point.
The potential acquisition or merger was first reported by The Edge weekly in March this year, which had reported that HeveaBoard was planning to acquire smaller counterpart SHH. At the time, details of the acquisition were reportedly being discussed.
HeveaBoard is a particle board-related manufacturer that exports to China and Japan, while SHH is a solid wood furniture manufacturer that exports to the United States. SHH has fully integrated furniture manufacturing facilities on 17ha in Pagoh, Johor.
Meanwhile, Yoong said HeveaBoard is venturing into the business-to-consumer market, by adding eco-friendly children's furniture into its product pipeline.In line with this, the group will pursue a digital marketing platform to expand its customers' reach and engagement.
IFCA MSC Bhd is acquiring the business of PT IFCA Consulting Indonesia (PICI), including its trade receivables and all the rights under its existing contracts, for RM32 million.
In a filing with Bursa Malaysia, IFCA said it signed a business sale agreement with PICI today to undertake the proposed acquisition.
The two companies had entered into a heads of agreement on May 20, 2015 for the deal.
The business sale agreement stipulates that half of the purchase consideration will be fulfilled by the issuance of 16 million new IFCA shares of 10 sen each, at an issue price of RM1 per share.
The balance RM16 million will be satisfied with cash, of which RM4 million will be paid to PICI on the date of completion of the proposed acquisition and the balance RM12 million will be paid accordingly under the profit guarantee mechanism.
IFCA said it will funded the cash consideration via internal funds.
It added that the purchase consideration represents a price-to-earnings multiple of 8 times forward earnings based on the three years (ending Dec 31, 2016 to 2018) profit guarantee of RM4 million per year.
As this is a profit guarantee from PICI, in the event of a shortfall in net profit, IFCA is authorised to deduct the balance cash consideration to be paid to PICI.
On the rationale, IFCA (fundamental: 3.0; valuation: 1.5) explained that the proposed acquisition will accelerate its market penetration into Indonesia, which is in line with its regional expansion plans.
The proposed acquisition is expected to be completed in the fourth quarter of this year.
Muhibbah Engineering (M) Bhd, in a consortium with Bombay-listed VA Tech Wabag Ltd, has won a RM949.6 million contract from Petroliam Nasional Bhd (Petronas) to build an effluent treatment plant for the refinery and petrochemical integrated development (Rapid) project in Pengerang, Johor.
In a filing with Bursa Malaysia today, Muhibbah said the consortium was awarded the contract for the design competition for the re-feed and engineering, procurement, construction and commissioning of the effluent treatment plant.
The contract was awarded by PRPC Utilities and Facilities Sdn Bhd, a wholly-owned subsidiary of Petronas Refinery and Petrochemical Corp Sdn Bhd, which in turn is a wholly-owned unit by Petronas.
Muhibbah said the purpose of the integrated effluent treatment plant is to reduce the pollution in the aqueous effluents of the Rapid complex to below the regulatory discharge limits.
The contract is scheduled to commence in the third quarter of this year and is expected to be completed by end-2018.
Muhibbah (fundamental: 1.1; valuation: 0.8) said the contract is expected to contribute positively to the earnings and net assets of the group moving forward. However, the group did not disclose the share of profit agreed upon in the said contract between Muhibbah and Wabah.
(Note: The Edge Research's fundamental score reflects a company's profitability and balance sheet strength, calculated based on historical numbers. The valuation score determines if a stock is attractively valued or not, also based on historical numbers. A score of 3 suggests strong fundamentals and attractive valuations.)