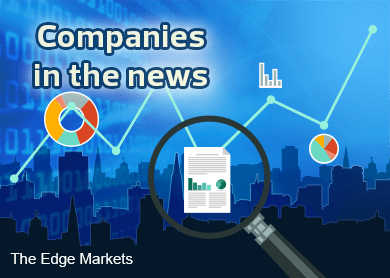 KUALA LUMPUR (July 2): Based on corporate announcements and news flow today, the companies that may be in focus tomorrow (Friday, July 3) could be the following: Bintulu Port, Ire-Tex, Taliworks, Genting Malaysia, Litrak, Bumi Armada, Teo Seng, and ManagePay.
Port operator Bintulu Port Holdings Bhd has awarded a RM38 million contract to Senari Machinery Sdn Bhd, which has been tasked to build three cranes for the port operator's wholly-owned subsidiary Samalaju Industrial Port Sdn Bhd.
In a statement to Bursa Malaysia today, Bintulu Port (valuation: 1.1, fundamental: 2.3) said the contract involved the design, construction, delivery, installation, testing and commissioning of the luffing cranes.
Bintulu Port said the duration of the contract was 14 months from the date of work commencement.
Customised products packaging services provider Ire-tex Corp Bhd announced that its managing director Datuk Dr Yap Tatt Keat has deferred his retirement plans after the company's persuasion.
Yap, who is the second largest shareholder holding an 11.03% stake, would remain as the managing director until a succession plan is put in place, Ire-Tex (fundamental: 0.55; valuation: 0.9) said in an announcement to Bursa Malaysia.
The announcement came after the company revealed on June 29 that Yap would retire from his post with effect from that day.
Yap's unexpected early retirement has raised concerns from key stakeholders namely bankers, customers and suppliers.
Former Malaysia Airlines (MAS) group chief executive officer (CEO) Ahmad Jauhari Yahya has joined the board of directors at Taliworks Corp Bhd effective immediately.
Ahmad Jauhari, 61, has been appointed as independent and non-executive director, along with Raja Datuk Zaharaton Zainal Abidin, 66.
In a statement today, Taliworks (fundamental: 1.3; valuation: 2.4) executive director Lim Yew Boon said the group welcome the appointment of the said figures, as they are both qualified to add value to the group in maximising its effectiveness in the infrastructure sectors.
In a separate announcement today, Taliworks declared a second interim dividend of 5 sen per share for the financial year ending Dec 31, 2015, payable on July 31, 2015.
Taliworks is involved in the management, operations and maintenance of water treatment, supply and distribution facilities.
Genting Malaysia Bhd (fundamental: 2.4; valuation: 0.8) has obtained mandate from its shareholders to dispose of the entire 1.43 billion shares of US$0.10 each in Genting Hong Kong Ltd (GenHK), representing 17.81% of the total issued and paid up share capital of the company, although some minority shareholders view the price as low.
According to a shareholder who attended the extraordinary general meeting, a total of 1.55 billion shares representing 75.84% were in support of the proposal, while 493.04 million shares representing 24.16% were against the proposal.
Kumpulan Wang Persaraan (KWAP) has again raised its stake in Lingkaran Trans Kota Bhd (Litrak) after acquiring 154,900 shares in the highway concession owner.
According to Litrak's (valuation: 1.5, fundamental: 2) filing to Bursa Malaysia, KWAP bought the shares on June 23 this year. Following the purchase, KWAP had a direct 7.049% stake in Litrak and an indirect 0.077%.
KWAP has been buying Litrak shares on the open market in recent weeks. According to Litrak, KWAP had on June 10 bought 95,600 shares after acquiring 64,600 units on June 2.
Datuk Sri Mahamad Fathil Datuk Mahmood, the former chairman of Bumi Armada Bhd has ceased to be a substantial shareholder in the floating production, storage and offloading (FPSO) player.
In a filing with Bursa Malaysia today, it was revealed that Mahamad Fathil, who resigned as chairman of Bumi Armada (fundamental: 1.05; valuation: 0.8) in June 2014, ceased to be a substantial shareholder in the company on June 30 this year after he disposed of 414.6 million shares representing a 7.07% stake in the company via Ombak Damai Sdn Bhd.
Koperasi Permodalan Felda Malaysia Bhd has ceased to be a substantial shareholder in poultry farmer Teo Seng Capital Bhd.
In a filing with Bursa Malaysia today, Teo Seng (fundamental: 2.3; valuation: 2.1) said Felda has disposed of 1 million shares on April 1, and was then left with a 5% stake in the company.
Subsequently, on June 29, Felda had disposed of another 482,300 Teo Seng shares, and thus ceased to be a substantial shareholder in the company.
Electronic payment solutions provider ManagePay Systems Bhd announced that it has received undertakings from independent third party investors to subscribe for some 120.81 million placement shares at an issue price of 23 sen apiece, for a total of RM27.79 million.
These investors include former Hong Leong Financial Group Bhd chief executive officer Datuk Yvonne Chia and Fajarbaru Builder Group Bhd chairman Tan Sri Kuan Peng [email protected] Kuan Peng Soon.
In a filing with Bursa Malaysia this evening, ManagePay (fundamental: 1.3; valuation: 0) said Chia will subscribe for 20 million shares for RM4.6 million, while Kuan will subscribe for 5 million shares for RM1.15 million.
Other investors include ConnectIoT Sdn Bhd, which will subscribe for 13.8 million shares, followed by RedGiant Analytics Asia Sdn Bhd (26.47 million shares), Andrew Chia Wei Jun (12 million shares), Chu Hong Keong (8 million shares), Chin Chee Thoy (20 million shares) and Soon Kian Heng (15.55 million shares).
(Note: The Edge Research's fundamental score reflects a company's profitability and balance sheet strength, calculated based on historical numbers. The valuation score determines if a stock is attractively valued or not, also based on historical numbers. A score of 3 suggests strong fundamentals and attractive valuations.)