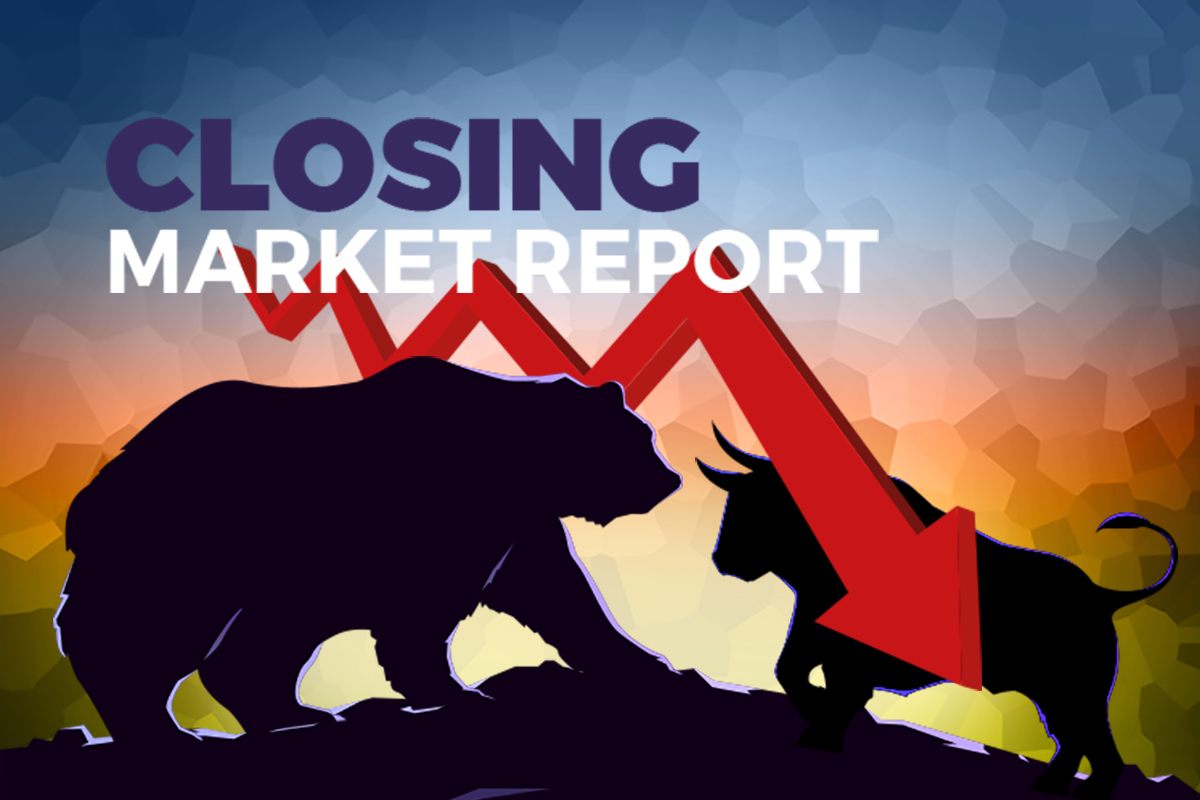 KUALA LUMPUR (Sept 26): Bursa Malaysia ended broadly lower on Monday (Sept 26), tracking regional peers amid the weak sentiment globally, said an analyst. 
At 5pm, the benchmark FBM KLCI had slipped 11.94 points, or 0.84%, to 1,413.04 from last Friday's close at 1,424.98. 
The benchmark index opened 1.15 points easier at an intraday high of 1,423.83, and reached an intraday low of 1,411.48 in early trading. 
On the broader market, decliners hammered gainers 780 to 164, while 321 counters were unchanged, 1,132 untraded, and nine others suspended.
Total turnover swelled to 2.12 billion units worth RM1.85 billion, compared with 1.84 billion units worth RM1.57 billion last Friday. 
Rakuten Trade Sdn Bhd vice-president of equity research Thong Pak Leng said key regional indices closed broadly lower on Monday due to continuing global recession fears.
He noted that concerns about the outlook for the global economy continued to weigh on equity markets after aggressive interest rate hikes by central banks around the world.
"We remain cautious, and believe that the near-term direction of the local market is still very much dependent on global [factors]. Notwithstanding this, we reckon that the local market is oversold, hence providing opportunities for investors to accumulate stocks at attractive levels given their cheaper valuations.
"We anticipate the index to trend within the range of 1,410 to 1,440 for the week, with immediate support at 1,410 and resistance at 1,465," he told Bernama. 
Regionally, Japan's Nikkei 225 tumbled 2.66% to 26,431.55, Hong Kong's Hang Seng Index fell 0.44% to 17,855.14, and Singapore's Straits Times Index lost 1.31% to 3,183.69. 
Meanwhile, Bursa heavyweight counters IHH Healthcare Bhd jumped 15 sen to RM5.95, Tenaga Nasional Bhd (TNB) was flat at RM8.70, and Malayan Banking Bhd (Maybank) contracted 10 sen to RM8.59.
Public Bank Bhd eased six sen to RM4.28, Petronas Chemicals Group Bhd slid three sen to RM8.32, and CIMB Group Holdings Bhd trimmed nine sen to RM5.30. 
Of the actives, Aimflex Bhd was flat at 15 sen, Velesto Energy Bhd eased one sen to 12 sen and Ta Win Holdings Bhd too dropped by one sen to five sen, while Hibiscus Petroleum Bhd shed four sen to 86 sen.
On the index board, the FBM Emas Index dipped 103.68 points to 10,093.70, the FBM 70 dropped 161.52 points to 12,270.27, and the FBMT 100 Index declined 94.16 points to 9,839.46.
The FBM Emas Shariah Index fell 86.24 points to 10,151.96, and the FBM ACE plunged 105.51 points to 4,661.12.
Sector-wise, the Energy Index was 30.29 points easier at 682.35, the Plantation Index shrank 162.54 points to 6,602.17, the Financial Services Index went down 179.38 points to 16,089.19, and the Industrial Products and Services Index gave up 2.30 points to 169.90.
The Main Market volume stood at 1.42 billion shares worth RM1.64 billion against 1.29 billion shares worth RM1.37 billion last Friday. 
Warrants turnover widened to 272.54 million units valued at RM43.63 million from 197.29 million units valued at RM29.44 million previously.
The ACE Market volume advanced to 422.84 million shares worth RM162.81 million from 353.22 million shares worth RM177.11 million last Friday.  
Consumer product and service counters accounted for 209.17 million shares traded on the Main Market, followed by industrial products and services (362.21 million), construction (33.56 million), technology (138.14 million), special purpose acquisition companies (nil), financial services (90.1 million), property (88.25 million), plantation (31.69 million), real estate investment trusts (75.25 million), closed/funds (4,800), energy (264.90 million), healthcare (110.05 million), telecommunications and media (25.64 million), transportation and logistics (40.25 million), and utilities (21.95 million).