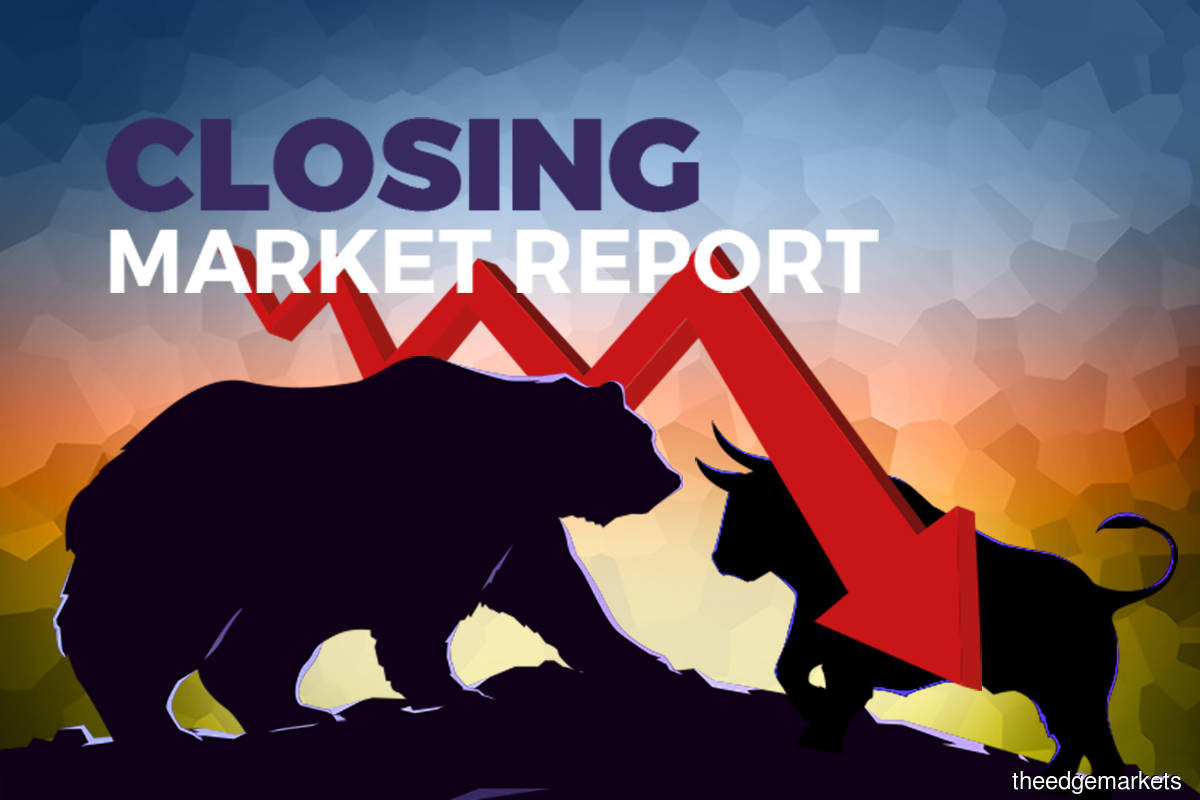 KUALA LUMPUR (Sept 23): Bursa Malaysia ended at an intraday low on Friday (Sept 23), with selling pressure seen across the board on concerns over the global economic outlook amid rising interest rates worldwide, a dealer said.
At 5pm, the benchmark FTSE Bursa Malaysia KLCI (FBM KLCI) slipped 14.18 points, or 0.99%, to 1,424.98 from Thursday's close of 1,439.16.
The benchmark index opened 0.05 of a point easier at 1,439.11, hitting a high of 1,440.29 in early trading.
On the broader market, decliners thumped gainers 540 to 278, while 378 counters were unchanged, 1,202 untraded, and nine others suspended.
Total turnover fell to 1.84 billion units worth RM1.57 billion compared with 2.17 billion units worth RM1.68 billion on Thursday.
Rakuten Trade Sdn Bhd vice-president of equity research Thong Pak Leng said regional key indices fell further as rising interest rates across the globe threatened to destabilise economic growth, weighing on risk appetite.
The FBM KLCI trended lower in thin volume as investors seemed reluctant to make more significant moves in the absence of buying catalysts as the market undertone remained jittery amid heightened global market risks and volatility, he told Bernama.
"Weaker crude oil and commodity prices took a toll on energy and commodity-related shares, weighing on market sentiment.
"We prefer to stay cautious over the short term although bargain hunting may prevail as the FBM KLCI is nearing oversold. As such, we see the benchmark index trending within a wider range of between 1,420 [and] 1,450 next week," he said.
Regionally, Hong Kong's Hang Seng Index fell 1.18% to 17,933.27, and Singapore's Straits Times Index was 0.95% lower at 3,231.95.
South Korea's Kospi slipped 1.81% to 2,290 while Shanghai's SSE index fell 0.66% to 3,088.37.
Bursa heavyweight counters Malayan Banking Bhd (Maybank) dropped two sen to RM8.69, Public Bank Bhd shed five sen to RM4.34, Petronas Chemicals Group Bhd fell 15 sen to RM8.35, and IHH Healthcare Bhd lost 20 sen to RM5.80. CIMB Group Holdings Bhd improved one sen to RM5.39.
Of the actives, Top Glove Corp Bhd improved two sen to 65 sen, Velesto Energy Bhd edged up half-a-sen to 13 sen, while Cypark Resources Bhd rose half-a-sen to 43 sen. Ta Win Holdings Bhd's warrants eased half-a-sen to 1.5 sen, and Sapura Energy Bhd was flat at four sen.
On the index board, the FBM Emas Index decreased 96.17 points to 10,197.38, the FBM 70 dropped 122.51 points to 12,431.79, the FBMT 100 Index declined 98.63 points to 9,933.62, the FBM Emas Shariah Index fell 120.02 points to 10,238.2, and the FBM ACE gave up 52.02 points to 4,766.63.
Sector-wise, the Energy Index was 7.23 points easier at 712.64, the Plantation Index shrank 79.98 points to 6,764.71, the Financial Services Index dipped 65.88 points to 16,268.57, and the Industrial Products and Services Index shed 2.04 points to 172.2.
The Main Market volume stood at 1.29 billion shares worth RM1.37 billion compared to 1.29 billion shares worth RM1.32 billion on Thursday.
Warrants turnover shrank to 197.29 million units valued at RM29.44 million from 232.67 million units valued at RM34.08 million previously.
The ACE Market volume fell to 353.22 million shares worth RM177.11 million from 646.22 million shares worth RM320.02 million on Thursday.
Consumer products and services counters accounted for 158.79 million shares traded on the Main Market, industrial products and services (405.51 million), construction (39.46 million), technology (114.95 million), SPAC (nil), financial services (67.81 million), property (74.33 million), plantation (16.08 million), REITs (8.83 million), closed/fund (20,000), energy (209.22 million), healthcare (126.61 million), telecommunications and media (19.22 million), transportation and logistics (40.92 million) and utilities (11.23 million).