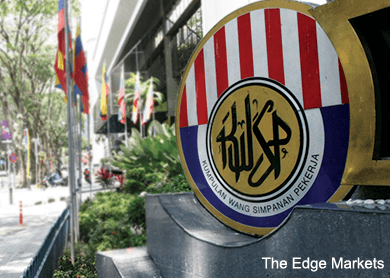 KUALA LUMPUR (Dec 10): The Employees Provident Fund (EPF) has failed in its appeal to Bursa Malaysia to allow it to vote in the three-way bank merger of CIMB Group Holdings Bhd (CIMB), RHB Capital Bhd (RHBCap) and Malaysia Building Society Bhd (MBSB).
In separate filings with the exchange today, RHBCap and MBSB said, "Bursa Securities, vide its letter dated Dec 10, informed that after due deliberation and having considered all the facts and circumstances of the matter, including oral representation from RHBCap and the EPF, the Appeals Committee has decided that the matters raised and the grounds of appeal put forth by RHBCap and EPF did not justify a departure from the decision of the Listing Committee".
"In particular, there are no adequate justifications that the potential conflict of interests involving the EPF has been eliminated or sufficiently mitigated.
"Accordingly, the Appeals Committee decided to dismiss the appeal and uphold the decision of the Listing Committee made on Oct 21," they announced.
To recap, Bursa had ruled that the EPF should not vote on the merger on concerns that potential conflict of interest situation could arise as the pension fund may be able to influence the proposed merger to its own benefit by virtue of the retirement fund being a common major shareholder in all of the three banks.
The EPF holds a 14.65% stake in CIMB and controlling stakes in RHBCap and MBSB with 40.93% and 64.2% respectively.