This article first appeared in Forum, The Edge Malaysia Weekly, on September 20, 2021 - September 26, 2021.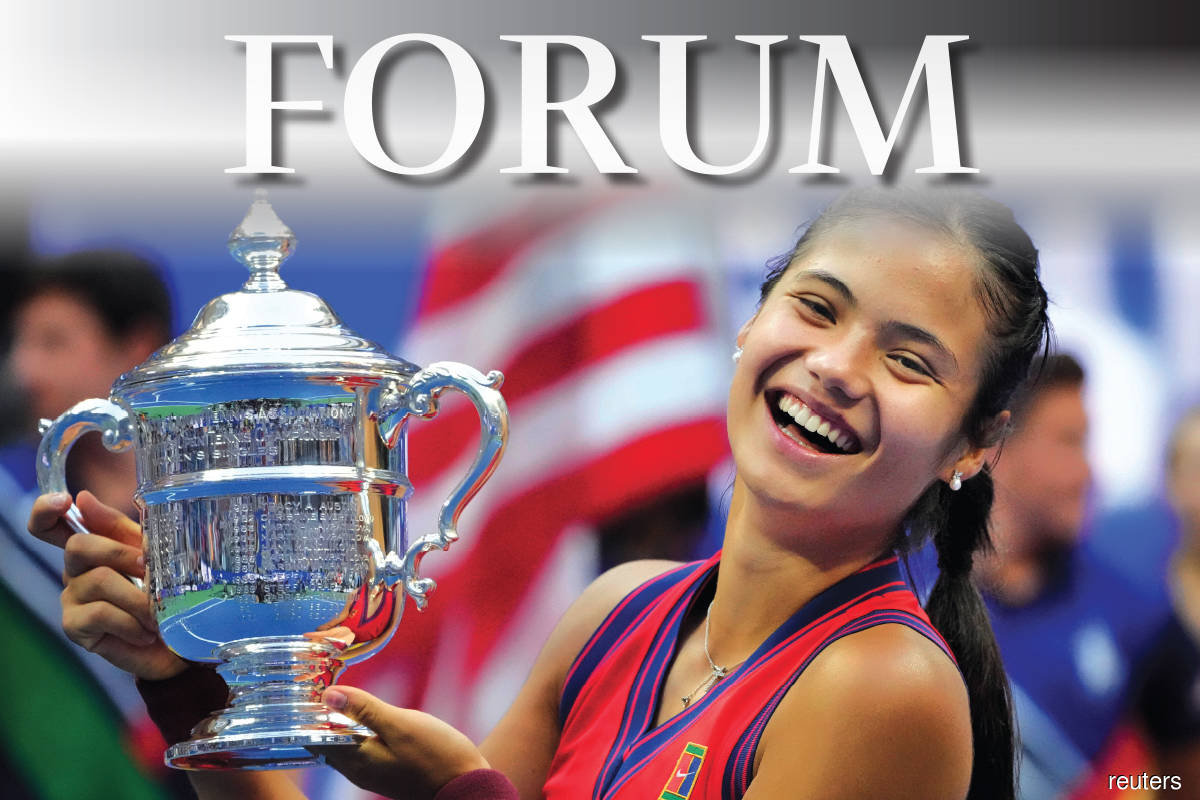 No single person has ever been compared to Rihanna, Tiger Woods and Leicester City. Nor has anyone gone from A-levels to A-list in three months. But Emma Raducanu has served and volleyed her way from schoolgirl qualifier to Grand Slam queen without dropping a set or missing a beat. Poised and polished, she's already being talked up as potentially sport's first female billionaire.
The 18-year-old Briton's triumph at the US Open is a sporting fairy tale like no other; a long shot like no other. She's come from nowhere but seems to belong everywhere: her accent is British, her mother is Chinese, her father Romanian, her country of birth is Canada and she smiles for mankind. It's why she's not just a superstar in the making but also a marketeer's dream.
Sometimes you wonder about the juxtaposition of events. On the weekend that New York commemorated the anniversary of 9/11, Raducanu gave the city a feel-good story. It reciprocated, putting her on billboards and inviting her to galas and talk shows. All this coincided with the Taliban banning their own sportswomen because to play sport, "they would have to show their faces".
What Afghanistan missed lit up the world. Like Rihanna, Raducanu has a face to launch a thousand ships. And never has a novice enchanted a global audience so brightly. There have been many teen wonders, especially in women's tennis, but none has captured the imagination, the headlines or the viewing figures so quickly or with such girl-next-door humility.
Her success touched a cross-section of society and reached around the globe. Congratulations poured in from Britain's Queen Elizabeth to the Chinese state media; coverage was on front, back and business pages. It was as if England had won the World Cup; captains of industry insist Emma can win the jackpot.
M&C Saatchi Sport and Entertainment managing director Richard Barker told Sky News: "If you look at Rihanna's Fenty [cosmetics brand], when she launched that, she did US$500 million of sales in year one and Forbes said she is now officially a billionaire. There is no reason why Emma Raducanu can't be as famous as Rihanna. If she could get a deal where she's a business owner, the earning potential is incredibly high."
Like the musician, she has already adorned the cover of Vogue, and snatched the underdog crown from Leicester, the 5,000-1 shots that famously won the English Premier League. Ranked a subterranean 338th in the world, Raducanu was several divisions below and had to qualify (although odds of 400-1 show the bookies had learnt their lesson).
As for Tiger, there are echoes of his stunning "Hello, world" arrival at The Masters. They also share mixed heritage and middle-class backgrounds. But she was neither trained from the cradle nor burdened with parental hopes as he was.
Mum and dad are in finance, and home is a comfortable three-bedroom semi in a well-heeled London commuter town. Bromley is not on the sporting map but the nowhere also refers to her career only just starting. As women's tennis legend Martina Navratilova put it, her rise is "beyond meteoric".
She had, however, reached the fourth round at this year's Wimbledon where she is remembered for the wrong reasons. Forced to retire mid-match due to breathing difficulties, she was derided by notable naysayers, John McEnroe and TV pundit Piers Morgan. Both claimed she lacked mental strength — the very quality she seems blessed with and which underpins the confidence in her potential.
She also has the game. As Navratilova adds: "She's ready to go straight from the box. No batteries are needed." She has also improved. Physically stronger, she turned her forehand — a possible weakness — into a lethal weapon.
She has the tools to be at the top of the sport for years to come, but the journey can still be perilous. Off the court, everyone will want a piece of her while on it, although tennis is not a contact sport, just ask Maria Sharapova and Serena Williams about injuries. And Naomi Osaka about mental health.
Nor can we underestimate the hype. Multiple demands and social media distractions may take a toll. Her Instagram account has already seen a Ronaldoesque rise. And she's given herself a hard act to follow — no Grand Slam titles next year and the hatchet wielders would be writing her off.
The list of one- or two-major-title wonders is long and can bring poignant memories. American teens Tracy Austin and Jennifer Capriati were broken by injuries. Only tennis aficionados can recall Iga Swiatek, Bianca Andreescu and Jelena Ostapenko, all of whom were recent Grand Slam queens. None had the all-round game of Raducanu or sponsors knocking down their doors, and have fallen back into relative obscurity.
But Osaka's is perhaps the most cautionary tale. With four Grand Slams and the extra markets that a mixed heritage can bring — her total earnings are US$60 million (RM250.5 million) — she had the world at her feet. In 2020, she was among Sports Illustrated's Sportspersons of the Year and Time's 100 Most Influential People. Now, after successive meltdowns, she's the poster girl for where it can go inexplicably wrong: in the head.
Radacanu could not have come along at a better time. As well as the changing of the guard in the women's game, there will soon be one among the men. Roger Federer has turned 40, Rafa Nadal and Novak Djokovic are in their mid-30s. Tennis is looking for new stars.
Sports and entertainment PR guru Mark Borkowski, whose client list included Michael Jackson and Led Zeppelin, doesn't hesitate. "This is the start of something epic," he said. "She is a billion-dollar girl, no doubt about it. She is the real deal. It's not just that she plays extraordinary tennis, it's also her background, her ethnicity, her freedom of spirit. People also love the fact that she is vulnerable, but laughs the pressures away."
As well as choosing her parents wisely, Raducanu has assembled a top team around her. Besides reverting to coach Andrew Richardson, who knew her when she was 11, for off-court fixes, she has hired IMG's Max Eisenbud, who made Sharapova the highest-paid female athlete for 11 years in a row.
Already being hailed as the face of a new proudly diverse era, Emma Raducanu appears to have the world at the end of her tennis racquet. Let's hope she can keep smiling.
---
Bob Holmes is a long-time sportswriter specialising in football