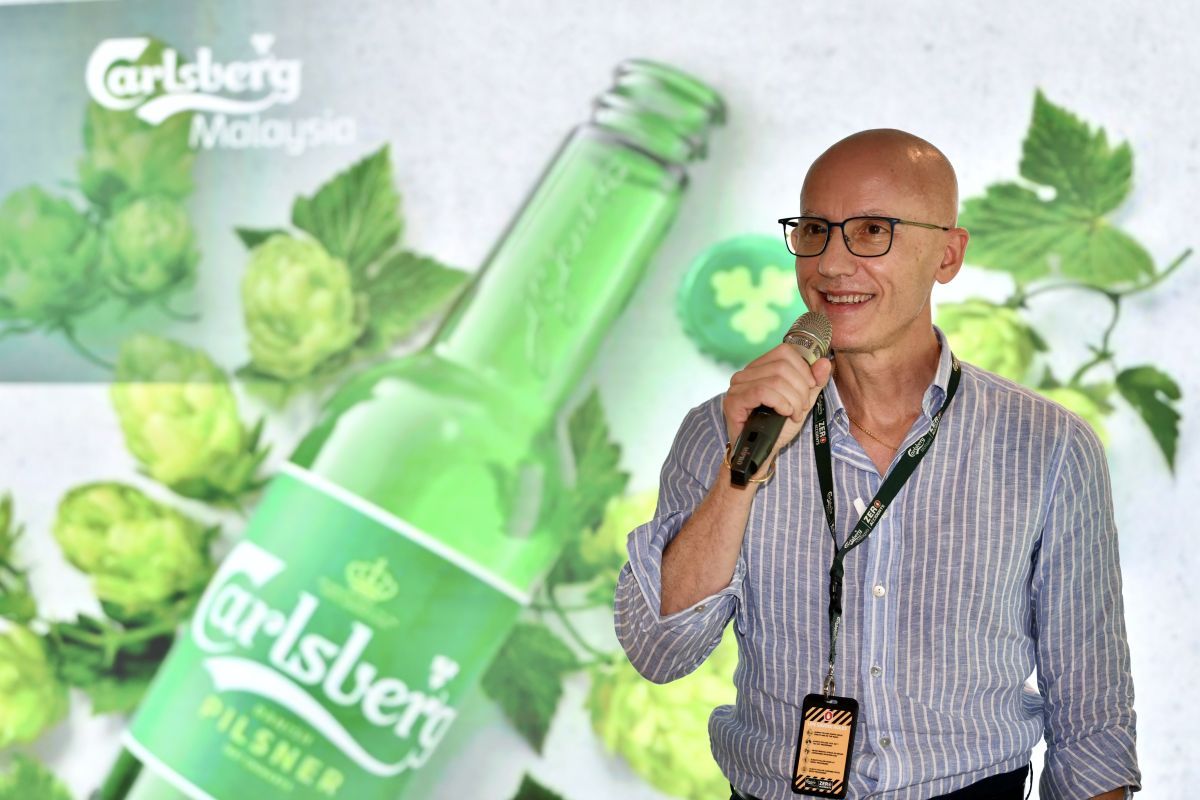 SHAH ALAM (Aug 19): Carlsberg Brewery Malaysia Bhd says premiumisation and innovation will remain as the group's strong strategies to protect its profit margin in times of global uncertainties and inflation.
Its managing director, Stefano Clini, said innovations in alcohol-free brews have helped the group post a 131% rise in sales for the first half ended June 30, 2022 (1HFY22) from a year earlier, with its premium products' sales increasing 41%.
He said the products that boosted the group's sales included Somersby Passion Fruit and Orange, Somersby Apple 0.0, and the Connor's Stout Porter.
Meanwhile, mainstream products saw 31% growth in sales in 1HFY22.
"It is a conscious strategy to premiumise our portfolio, because it's a win-win. Win for consumers because we give them a more elevated drinking experience, and it is a win for us because it helps our margin.
"This was part of (how we have kept) sustaining our margin throughout the last two years. The strategy is there to stay, we will keep innovating," said Clini.
He said Carlsberg has been growing in the premium category consistently for the past two to three years.
"So we are still going to focus on that. Our strategy will not change because of inflation," he said, noting however that  there was polarisation among consumers during the Covid-19 season with a group of them opting for affordable brands or seeking discounts.
Clini was speaking at a media briefing on the the group's financial results for the second quarter ended June 30 (2QFY22) and 1HFY22.
The group's net profit for 2QFY22 more than doubled to RM88.95 million from RM37.14 million a year earlier, as revenue jumped along with normalising operations and consumer activities due to the transition of the Covid-19 pandemic to endemicity.
Quarterly revenue rose 64.44% to RM574.23 million from RM349.21 million, as both Malaysian and Singaporean operations saw better sales.
For 1HFY22, net profit expanded 74.27% to RM180.53 million from RM103.59 million in 1HFY21. Revenue also increased by 39.36% to RM1.23 billion from RM881.2 million.
Impact of commodities inflation hit Carlsberg harder
Clini said the impact of commodities inflation will hit Carlsberg harder going into 2HFY22. However, he declined to comment on the possibility of more price increases.
On the group's most recent price hike with effect from July 1, Clini said it is too early to determine if it had affected sales volume.
"What we saw was a little less fruitful in the last few weeks, but that may be (caused by) different factors. One is that it is the Ghost month (observed by the Chinese community), so people tend to go out less.
"There was also an increase in Covid-19 cases, thus less traffic in the outlets. I won't say it's a direct link to price increase, it always takes a couple of months to start showing," he said.
Clini also updated that the upgrading works at the Carlsberg production plant are well on track.
In June, Carlsberg had announced that it set a capital expenditure of RM110 million, its largest investment in 30 years, to upgrade its brewery in Shah Alam.
Read also:
Carlsberg's 2Q profit more than doubles year-on-year as operations, consumer activities normalise