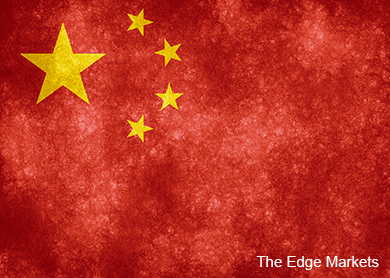 BEIJING (Jan 20): China's economic growth held steady at 7.3 percent in the fourth quarter from a year earlier, slightly better than expected but still hovering at its weakest since the global financial crisis, keeping pressure on policymakers to head off a sharper slowdown.
The world's second-largest economy grew 7.4 percent in the whole of 2014, the National Bureau of Statistics said on Tuesday, undershooting the government's 7.5 percent target and marking the weakest expansion in 24 years, further clouding the picture for global demand.
Economists polled by Reuters had expected fourth-quarter growth to cool to 7.2 percent from 7.3 percent in the third quarter, hitting the lowest since the first quarter of 2009, when growth slowed sharply to 6.6 percent.
On a quarter-on-quarter basis, economic growth eased to 1.5 percent versus expectations of 1.7 percent and down from 1.9 percent in the third quarter.
Factory output rose 7.9 percent in December from a year earlier, versus expectations for a 7.4 percent increase and November's 7.2 percent, other data showed on Tuesday.
Retail sales rose 11.9 percent in December from a year earlier, above analysts' predictions of 11.7 percent.
Fixed asset investment, a key growth driver, climbed 15.7 percent in the whole of 2014 from the previous year, just below forecasts for a 15.8 percent rise.
A series of modest stimulus measures over the year did little to prevent the economy from slowing down in the face of a cooling property market, industrial overcapacity, weakening investment and erratic exports.
The central bank unexpectedly cut interest rates in November for the first time in more than two years to lower borrowing costs and support growth. Later, it loosened loan restrictions to encourage banks to step up lending.
It is widely expected to cut interest rates further and/or lower reserve requirement ratios (RRR) for all banks this year.
With the property market likely to remain under pressure and investment sluggish, many market watchers expect Beijing to cut its growth target for 2015 to around 7 percent.