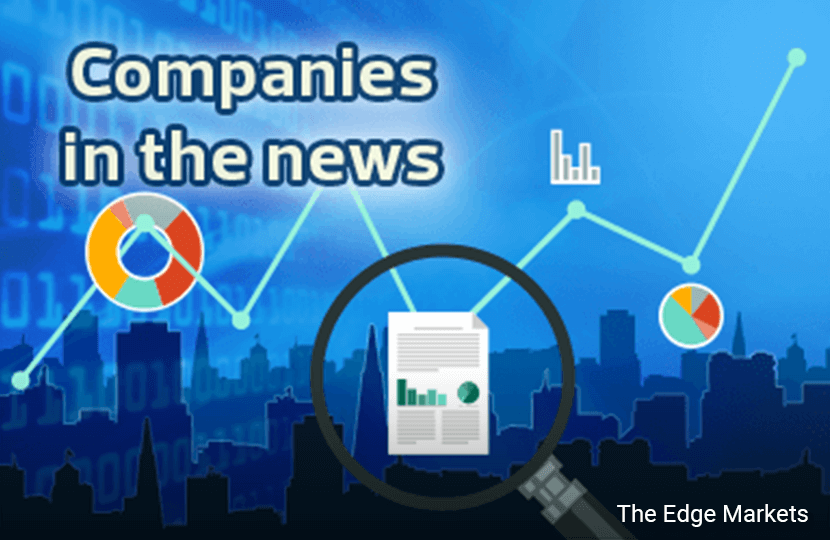 KUALA LUMPUR (Aug 21): Based on corporate announcements andnews flow today, the companies that may be in focus next week (Monday, Aug 24) could be the following: CIMB, MISC, Oriental Interest, Pesona Metro, Ho Hup, Metronic, Ibraco, Malakoff, Petra Energy, SunCon, APM Automotive, Sarawak Plantation, TIME dotCom, Takaso, and BHIC.
CIMB Bank Bhd chief executive officer (CEO) Datuk Sulaiman Mohd Tahir will be stepping down from his position effective Nov 22 and will be on gardening leave with immediate effect, CIMB Group Holdings Bhd said in a statement today.
Sources told theedgemarkets.com that he will be joining AMMB Holdings Bhd (AmBank Group) as its new group managing director.
CIMB Bank, meanwhile, has commenced a search to identify a successor. In the interim, the board has elected CIMB Group Holdings Bhd chief financial officer Shahnaz Jammal as person in-charge of CIMB Bank.
Sulaiman has served CIMB Group (fundamental: 1.05; valuation: 2.25) for 25 years.
Meanwhile, UK-based Aberdeen Asset Management PLC has become a substantial shareholder in CIMB Group, after it bought a 5.4% stake in the Malaysian financial services provider.
In a filing to Bursa Malaysia today, CIMB said Aberdeen acquired the stake, comprising 458.84 million CIMB shares, last Friday (Aug 14).
Petroliam Nasional Bhd's shipping arm MISC Bhd is terminating its joint venture with Swiss-based energy and commodity trading multinational Vitol Group after five years. It intends to sell the 50% stake in VTTI BV — previously a wholly-owned subsidiary of Vitol — back to the group for US$830 million (RM3.456 billion), cash.
The stake sale is expected to be completed in five business days and MISC (fundamental: 1.2; valuation: 0.8) plans to use the proceeds of the disposal to partially repay borrowings, fund capital expenditure, and to undertake opportunistic acquisitions and investments for future growth — as and when they arise.
VTTI, founded in 2006, is a provider of energy storage, worldwide. It owns, operates and manages a network of oil product storage terminals and refineries in five continents and 11 countries, including Tanjung Bin in Johor, and Port Canaveral in Florida, US.
MTTI's investment in the entire issued and paid-up share capital of VTTI was completed on Sept 7, 2010, at the final cost of investment of US$882.1 million.
Oriental Interest Bhd has tied up with Dijaya Gemilang Sdn Bhd (DGSB) to jointly undertake a mixed development comprising residential or commercial units, on a piece of freehold land in Sg Petani, Kedah, with a gross development value (GDV) of RM671 million.
In a filing with Bursa today, the property developer said its unit, OIB Properties (KV) Sdn Bhd (OIBKV), entered into an agreement today with DGSB — the landowner of the said tract — for the proposed development.
The freehold land measures 437,140 sq meter (0.0437 ha). OIBKV will be the developer of the project and shall be responsible for the project's development costs, which would be funded via internally-generated funds or bank borrowings, though the ratio is not fixed as yet.
Under the agreement, DGSB will be entitled to 20% of the total sale proceeds of the residential buildings and 28% of the sale proceeds of the commercial ones.
Barring any unforeseen circumstances, Oriental Interest (fundamental: 2.1; valuation: 2.6) expects the proposed development to be completed by 2030.
Pesona Metro Holdings Bhd has bagged a RM144.17 million contract from KPJ Healthcare Bhd to build a block of nine-storey hospital in Johor Baru.
In a statement, Pesona Metro (fundamental: 2.1; valuation: 1.1) said its wholly-owned subsidiary, Pesona Metro Sdn Bhd has accepted a letter of acceptance of tender from Bandar Dato' Onn Specialist Hospital Sdn Bhd, an indirect wholly-owned unit of KPJ, for the proposed project.
Pesona Metro said the 150-bed hospital construction project, to commence on Oct 5, will be completed in about 15 months and will be financed by internal funds.
Managing director Wie Hock Beng also said Pesona Metro is looking forward to wrap up some other negotiations in the pipeline by end of the year.
Construction company and property developer Ho Hup Construction Co Bhd is acquiring a 70% stake in Intact Corporate Approach Sdn Bhd – which holds the rights over 429 acres of leasehold land in Kulai, Johor – for RM20 million cash.
In a statement, Ho Hup said the proposed stake purchase will give the group access to the rights to develop the 429-acre tract, located in the Yayasan Pelajaran Johor Academic City.
Ho Hup said its 75%-owned subsidiary, Ho Hup Ventures (Johor) Sdn Bhd yesterday signed a share sale agreement for the proposed stake acquisition.
Ho Hup (fundamental: 1.9; valuation: 1.5) said the development of the land is expected to span 15 years, from 2016 to 2031, and is expected to contribute positively to its future financial performance.
The proposed acquisition is expected to be completed by the third quarter of 2015.
Intelligent building system integration provider Metronic Global Bhd has teamed up with private company Halimuza Corp Sdn Bhd to make a joint bid to the government to build a 100-megawatt (MW) photovoltaic solar farm project in Kelantan.
Halimuza is a 100%-owned bumiputera company, whose principal activities include project management and investment in energy, property and transportation.
MISSB and Halimuza will form a JV company (JV co) to submit tenders to the government for the proposed solar farm. MISSB will hold a 70% stake in the JV co, while Halimuza will own the remaining 30% shares.
Metronic (fundamental: 1.25; valuation: 0.3) said it will fund its investment in the JV co through internal funds. 
Should the tender materialise, the JV co will build the solar farm on a 300-acre tract in Bachok, Kelantan, and sell the electricity produced to Tenaga National Bhd.
Property developer Ibraco Bhd, which had just completed its rights issue that expanded its share base, now plans to issue 70.92 million bonus new ordinary shares of RM1 each, on the basis of two bonus shares for every five existing shares held in Ibraco, on an entitlement date to be fixed.
Subsequent to the proposed bonus issue, it plans to subdivide every one existing share held into two ordinary shares of 50 sen each, according to Ibraco's filing to Bursa today.
It is also proposing to subdivide every one existing redeemable cumulative preference share (RCPS) of RM1 each into two RCPS of 50 sen each.
 
The group said the proposed bonus issue, besides to reward shareholders and maintain their percentage equity interest in Ibraco, is to enlarge the share capital base and increase trading liquidity of its shares.
 
Ibraco (fundamental: 1.9; valuation: 2.4) said proposed exercises are expected to be completed in the fourth quarter of 2015.
Power plant operator Malakoff Corp Bhd's net profit fell 27% in its second quarter ended June 30, 2015 (2QFY15) to RM86.29 million from RM118.08 million a year earlier, as revenue fell after its gas-fired power plants generated less electricity.
In a statement to the exchange, Malakoff said the earnings contraction was also because the group's bottom line a year in 2QFY14 included fair valuation gains from the acquisition of the remaining 75% stake in Port Dickson Power (PDP).
Its 2QFY15 revenue came in at RM1.3 billion, 11.56% lower from RM1.47 billion.
Its cumulative six-month (1HFY15) net profit, however, rose to RM190.2 million from RM120.73 million a year earlier, though revenue was marginally lower at RM2.64 billion compared with RM2.7 billion.
Looking ahead, Malakoff expects its FY15 financials to improve compared to FY14, taking into account contribution from Tanjung Bin power plant and PDP, besides lower finance expenses.
Oil and gas (O&G) brownfield services provider Petra Energy Bhd's net profit jumped 84.5% to RM14.9 million from RM8.1 million a year ago in its second quarter ended June 30 (2QFY15), on positive contribution from its services segment and lower finance cost.
Earnings per share rose to 4.63 sen, from 2.51 sen per share a year ago, its filing to Bursa today showed.
Revenue for 2QFY15 came in at RM164.7 million, 29.3% higher than the RM127.4 million in 2QFY14, as a result of a higher contribution from the hook up, commissioning and top-side major maintenance (HuC/TMM) contract from PETRONAS Carigali Sdn Bhd (PCSB).
In its first half ended June 30 (1HFY15), Petra's net profit rose 86.5% to RM16.98 million (5.28 sen per share), from RM9.1 million (2.83 sen per share) a year ago; while revenue up 16.3% at RM283.7 million, from RM244 million in 1HFY14.
On prospects, Petra (fundamental: 1.0; valuation: 2.0) said it will focus on growing the current business and aggressively explore new opportunities in the oil and gas value chain for new revenue streams — which will remain a priority.
Sunway Construction Group Bhd (SunCon) recorded a net profit of RM37.8 million or 2.92 sen per share for the second quarter ended June 30, 2015 (2QFY15), mainly on contributions from ongoing local construction projects and its supply of precast concrete products to projects in Singapore.
Revenue for 2QFY15 stood at RM500.22 million, its filing with Bursa showed.
For the six months period, the group recorded a net profit of RM72.16 million or 5.58 sen per share on revenue of RM996.29 million.
No comparative figures were available for the preceding year's corresponding period as SunCon was only listed on the Main Market of Bursa on July 28.
Looking forward, the group believes it is well-positioned to bid for government-initiated projects given its track record.
APM Automotive Holdings Bhd's net profit dropped 28.4% to RM18.3 million or 9.36 sen a share for the second quarter ended June 30, 2015 (2QFY15) from RM25.55 million or 13.05 sen a share a year ago, as production declined on fixed overhead, and raw material became more expensive due to a stronger US dollar.
In a filing with the exchange, APM (fundamental: 2.5; valuation: 2.4) said revenue for 2QFY15 fell 10.1% to RM305.76 million from RM340 million in 2QFY14, on lower demand from original equipment manufacturers (OEMs) for certain car models. 
Despite the lower earnings, APM declared an interim dividend of 7.5 sen per share for the financial year ending Dec 31, 2015, payable on Sept 29. 
For the cumulative six months period (1HFY15), the automotive component maker posted a 29.1% decline in net profit to RM36.13 million or 18.47 sen per share, compared with RM50.96 million or 26.04 sen per share a year ago.
Revenue was also down 3.7% to RM624.02 million in 1HFY15 from RM648.13 million in 1HFY14.
Moving forward, APM warned that the group's results for the second half of the year is expected to be adversely affected by excess production capacity.
Oil palm player Sarawak Plantation Bhd's second quarter net profit fell 66% from a year earlier, on lower crude palm oil (CPO) prices.
In a statement, Sarawak Plantation (fundamental:2.4; valuation: 2.2) said net profit for the second quarter ended June 30, 2015 (2QFY15) fell to RM4.5 million, from RM13.34 million. Revenue was lower at RM87.46 million, against RM94.58 million.
During 1HFY15, Sarawak Plantation registered lower net profit at RM11.92 million, versus RM39.75 million a year earlier. Revenue fell to RM158.37 million, from RM198.58 million.
Going forward, Sawarak Plantation said its performance would largely depend on CPO and PK output and prices.
TIME dotCom Bhd's net profit for the second quarter ended June 30, 2015 (2QFY15) jumped seven times to RM315.43 million or 54.97 sen per share, largely on a fair value gain of RM274 million from the disposal of a portion of its quoted equity investments.
The telecommunications provider's net profit in the previous corresponding quarter came in at RM44 million or 7.68 sen per share.
Revenue for the quarter climbed 5.16% to RM163.77 million, from RM155.74 million last year, underpinned by higher revenue contributions across all product segments — except for global bandwidth sales and non-recurring contracts.
For the cumulative six months (1HFY15), TIME (fundamental: 2.4; valuation: 1.4) posted a 406.69% increase in net profit to RM372.01 million or 64.83 sen per share, compared with RM73.42 million or 12.81 sen per share a year earlier, also due to the fair value gain.
Revenue rose 16.7% to RM335.5 million, as compared to RM287.6 million a year earlier.
Innofarm Sdn Bhd, the majority shareholder of poultry company Lay Hong Bhd (fundamental:0.75; valuation: 1.4) with a 37.97% stake, has emerged as a substantial shareholder in baby products and condoms maker Takaso Resources Bhd, after acquiring a 6.8% stake in the latter.
In its filing with Bursa, Takaso (fundamental: 1.65; valuation:0) said Innofarm had on Aug 14, acquired 13.997 million Takaso shares (6.8% stake) in the company.
It was reported that on the same date (Aug 14), Takaso's former executive chairman Tee Tze Chern had disposed of 24.1 million shares (11.73% stake) held through his interest in Nextplus Fortune Sdn Bhd, at 55 sen per share or RM13.26 million in total.
Boustead Heavy Industries Corp Bhd (BHIC) is undertaking a reorganisation of its corporate structure for better operational efficiencies, organisational clarity and focus on its core businesses.
In a statement, BHIC said the reorganisation will see the group divided into three distinct divisions reflecting its principal business activities, namely the defence and security division, the commercial division and the energy division.
The reorganisation exercise, which should take some nine months to complete, will also see seven dormant companies in the BHIC Group be liquidated.
As the exercise involves only internal entities within the BHIC Group, there will be no material effect on the share capital, earnings, net assets or gearing of BHIC, it said.
BHIC (fundamental: 0.45; valuation: 0.3) managing director Tan Sri Ahmad Ramli Mohd Nor said the group recognised that the corporate structure it inherited from its financial restructuring in 2007 was confusing to many of its stakeholders.
(Note: The Edge Research's fundamental score reflects a company's profitability and balance sheet strength, calculated based on historical numbers. The valuation score determines if a stock is attractively valued or not, also based on historical numbers. A score of 3 suggests strong fundamentals and attractive valuations.)