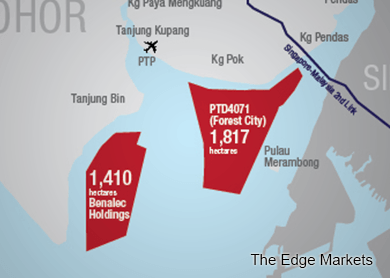 KUALA LUMPUR (Jan 14): Country Garden Pacificview Sdn Bhd (CGP), the master developer for the controversial Forest City project in Johor, has received the approval on its detailed environmental impact assessment (DEIA) from the Department of Environment (DoE).
In a statement, CGP said the DoE has accepted its proposed measures to minimise or mitigate environmental impacts through "integrated and workable solutions".
With the approval, CGP's executive director Datuk Md. Othman said the property developer's next step is to ensure "compliance monitoring" in carrying out the project works.
"Our next step is to ensure that all compliance monitoring, in terms of air, noise, water quality and sediment, are robustly implemented and carried out," he said.
Md. Othman said one of CGP's immediate priorities is to minimise the impact to the local communities and to ensure the surrounding ecology are well preserved.
He also expressed his appreciation to the relevant parties who have contributed to the DEIA.
Last week, The Malaysian Insider reported CGP's denial that the size of its housing project had been limited to less than 1,000 acres, refuting the news portal's earlier report on the matter.
The news portal had earlier quoted a source saying that the DoE verbally informed CGP of the new limits after complaints from locals and the Singapore government over the reclamation works in the narrow waterway between Malaysia and the republic.
CGP is a 60-40 joint-venture between China's Country Garden Holdings Ltd and Esplanade Danga 88 Sdn Bhd. Esplanade Danga is said to have the Sultan of Johor and Johor state government as shareholders.  
The controversial project entails 355ha of existing land along the Strait of Johor close to the Second Link to Singapore and the Port of Tanjung Pelepas (PTP) and the reclamation of another 1,620ha.
According to documents presented by CGP to the authorities sighted by The Edge, the gross development value (GDV) of Forest City will come up to RM600 billion over 30 years.