This article first appeared in Wealth, The Edge Malaysia Weekly, on November 28, 2022 - December 04, 2022.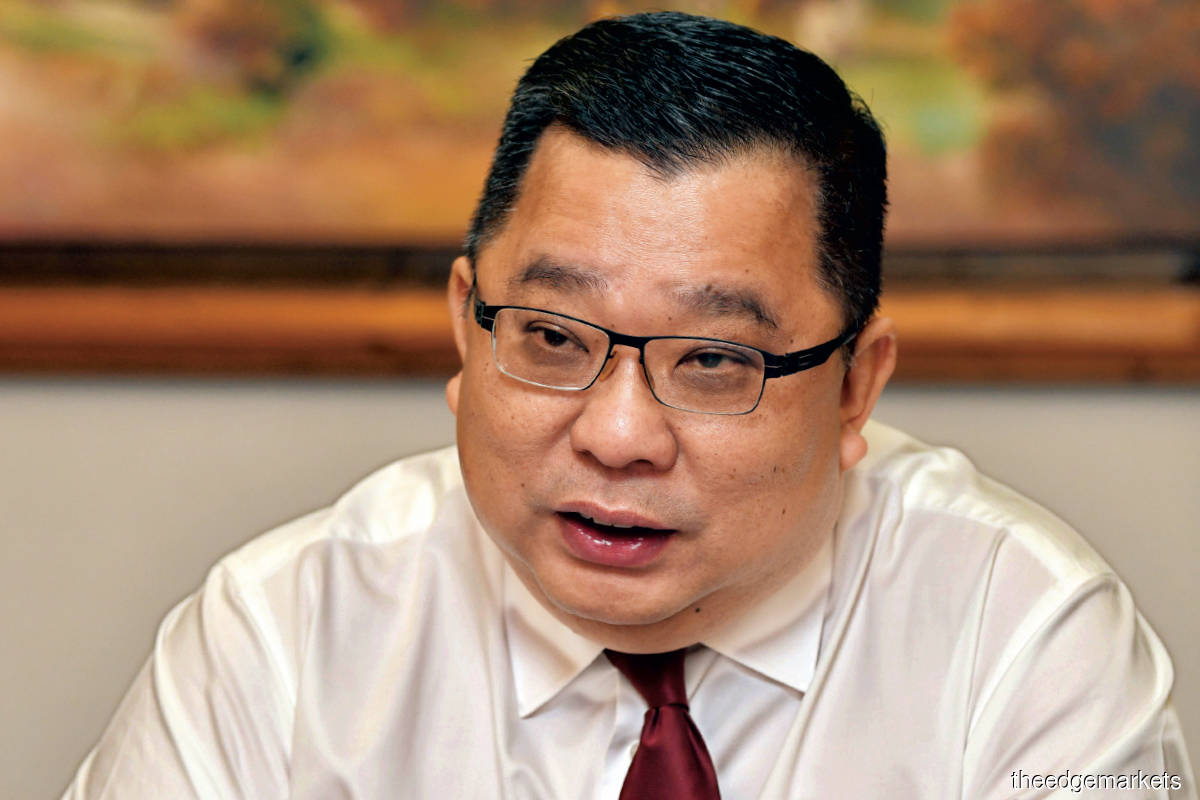 Datuk Teng Chee Wai is virtually synonymous with AHAM Capital, formerly known as Affin Hwang Asset Management Bhd. The founder and CEO has been the driving force behind the  fund management firm's rapid growth since its inception 22 years ago.
AHAM Capital's assets under administration (AUA) have swelled to about RM75 billion (as at June), quadrupling that from a decade ago. From a small player in town, it has propelled itself into the top three firms in the industry, coming in just behind Public Mutual Bhd and Principal Asset Management Bhd in terms of size. 
AHAM Capital's rapid growth is one of the reasons why CVC Capital Partners, one of the largest private equity firms in Europe, bought a 68.35% stake in the company from its senior management and Affin Bank Bhd for RM1.54 billion in July.
In its financial year 2021 (FY2021), AHAM Capital generated RM728.67 million in revenue, up 36% from the previous financial year, according to data provided by the Companies Commission of Malaysia. Profit after tax rose 7.5% to RM122.76 million during that period.
The entry of CVC and the fact that Teng's stake is now smaller have sparked talk of his retirement and, understandably, some concern among investors over the future leadership of the firm. After all, having been at the helm for more than two decades, Teng is the face of AHAM Capital. 
In an interview with Wealth, Teng acknowledges that he is the face of AHAM Capital, but adds that this may gradually change in the years to come. He is prepared to stay longer with the firm but at the same time, has already identified potential candidates in their forties who can be groomed to become his successor.
Regardless, he assures investors that their money continues to be in the good hands of capable fund managers. AHAM Capital employees have collectively invested most of their savings, totalling about RM150 million, in its funds, which shows their confidence in the company's products. It is a case of putting your money where your mouth is. 
Teng and several others in senior management had held 10% of AHAM Capital before selling half their equity interest to CVC. They continue to hold a small stake in the firm as it was the wish of the major shareholder that they stayed on board, and that there would be no deal if they refused. 
Teng says he had been open to the idea of selling his entire stake in the firm to CVC, if that was what it would take to bring AHAM Capital to greater heights. Having been in the driver's seat for more than two decades, he thought the time could be ripe for a new owner to steer the company forward. 
"I have a personal view, which I have said to my staff many times. It is not good for me to stay too long. I have enjoyed the journey, but the firm may deserve a better person than me. For it to go to the next level, you need someone new, with a new vision and the abilities to do things," says Teng.
"We have identified a number of them and spoken to them. A difficult thing that I can share candidly is that everyone says, 'Hey boss, you're still around, it's okay lah. We are comfortable.' And there's a lot of reluctance on their part to step up. So, we need to nudge them and say, come, come. It's time to bring up some of the young ones."
However, this does not mean that he wants to let go of the firm and retire immediately. The 56-year-old still has much to offer, but succession planning is vital for the longevity of a firm, he stresses.

IPO, the route not taken
Teng shares how he and the senior management of AHAM Capital came to hold a 10% stake in the company and why the fund house did not take the path of an initial public offering (IPO). 
In 2012, he and the senior management bought a 10% stake in the company when it was being acquired by Affin Holdings Bhd from HwangDBS Investment Bank Bhd. They bought it at the same valuation as what Affin had paid back then, which amounted to RM40 million. As that was a huge sum, they took a loan from Affin Bank to buy the shares and repaid it over time with dividends they received from running the firm.
An agreement was also signed at that time between them and the company's shareholders. The contract laid out the milestones AHAM Capital would need to achieve before it could embark on an IPO, which would allow its shareholders to realise some gains. These requirements included achieving an AUA of RM50 billion and specific profit targets. 
As these conditions were met after many years of hard work, the firm's IPO plan was initiated and announced in December 2020. However, offers from CVC and several other global asset management firms unexpectedly arrived at the company's doorstep last year.
"The next thing we knew there were six interested buyers. Four of them submitted their bids. We ran through the process and informed our shareholders about it. We had to be fair to them and see what prices we could work with. I'm open to any partners who can come in and add value to the business," says Teng.
"In short, CVC came through, put its foot forward and said this is the price we can pay. Our shareholders were happy with it and we proceeded with the trade sales. It all happened in a short span of about 18 months." 
Going digital and regional 
Now, with a new controlling shareholder and fresh mandate, Teng is not ready to rest on his laurels. One of his goals is to grow the company's AUA to RM100 billion in the next three years by launching new products and services for local investors. 
CVC is one of the largest private equity firms in the world, with assets under management of €133 billion (about RM630 billion). According to its official website, its investments in Malaysia include funeral services provider Nirvana Asia Ltd, which it is selling, and QSR Brands (M) Holdings Bhd, which operates the KFC and Pizza Hut restaurants in Malaysia, Singapore, Brunei and Cambodia. AHAM Capital plans to leverage CVC's expertise to bring more private deals to local investors.
"We have identified that in certain market environments, like this year's, [the prices of] these private asset classes are generally more stable, partly because they are not marked-to-market. More importantly is that they continue to provide attractive yields," says Teng.
Some private real estate investment trusts (REITs) can generate a 5% to 6% yield for investors, which is attractive to those looking for stable cash flow during a market downturn. Similar opportunities can be found in the global manufacturing sector, he adds.
Teng is looking to partner with other private equity firms in the US and Europe to bring more private deals, including private debt financing, into Malaysia. But he is not in a hurry as the selection process takes time. 
Local investors can expect more digital solutions and offerings from AHAM Capital through financial technology (fintech) start-ups and e-wallet platforms, he adds.
Versa, a fintech start-up that offers a money market fund and robo-advisory services to local investors, is an investee company of AHAM Capital. The latter invested RM1 million in Versa, which had a successful eight-figure funding round in September, led by local venture capital firm RHL Ventures and South Korean financial services conglomerate KB Investment. AHAM Capital participated in the exercise, while the new investors were OSK Ventures and Singapore-based HPRY Ventures. 
"The investment helped us to test out our APIs (application programming interfaces) and AMLA (anti-money laundering) capability for [online account opening]. We used that as a testbed for the last 12 months to improve ourselves," says Teng.
"Of course, there are always some hiccups here and there at the beginning. But over time, we [began opening] a fair bit of accounts every day. It is all done online."
The firm is committed to increasing its stake in Versa while actively talking to start-ups in Singapore for new investment opportunities, he continues. This is in addition to working with e-wallet players and digital banks in the near future. 
In recent years, AHAM Capital has invested 5% to 6% of its annual revenue in technology and digitalisation. Digital wealth, which means investing and managing wealth digitally, is the future, Teng believes.
An exciting plan for the firm is regional expansion.  "Regional expansion is something we want to seriously look at. We can ride on CVC's skill set. If we are stepping into Indonesia, Thailand, the Philippines and Vietnam, I don't understand the market or know the people enough. But CVC is different — it understands and it has made very good investments in those countries. That will be extremely handy for us, to give us help and look at regional transactions."
It is all about the people
Why are global asset management firms interested in AHAM Capital? What is the key to its success that the company can replicate overseas?
Teng says it all comes down to its people, the competence of its fund managers and character of the leaders. He attributes the firm's success firstly to his "lieutenants", who have stayed with him through ups and downs for over a decade.
"If you look at the bench of senior management, the key personnel of senior management, most of us have been here for 10 to 15 years. For a company with a history of almost 22 years, it speaks volumes." 
Teng's focus on keeping his team with him, and in the company, can be seen from a staff album displayed on a wall next to the entrance to a meeting room. A photo of each AHAM Capital employee working at Menara Boustead in Jalan Raja Chulan, Kuala Lumpur, is included, conveying the warm feeling of a big family.
"Yes, we have a staff album. It was an idea from our CSR (corporate social responsibility) department. We couldn't do it earlier because of Covid-19. So, we had to do it in a different way by collecting photos from everybody and putting them together," says Teng.
The competence of the fund managers, which is how well they can form, articulate and execute their views to outperform the market, will always be the core strength of an asset management firm like AHAM Capital.
A fund manager who cannot form a view on the market, even if it goes against the mainstream, is a mediocre fund manager with a limited career lifespan, and would be quickly replaced by a younger fund manager in a competitive environment, or have the money flow into low-cost, passive-investing instruments such as exchange-traded funds (ETFs).
Teng is a proponent of fund managers sharing their candid views with investors, and not hiding behind mainstream opinions to play safe. "I tell my staff that you can't be saying what the whole market is saying and giving wishy-washy answers all the time. If you continue to do that, you will lose your job. 
"When you don't express your views, you don't take risks. Then you follow the crowd. When you follow it, you lose money. And over time, why would I need you? I could have just bought an ETF, it's cheaper. That's why fund managers lose their jobs when they have no views." 
It is partly due to his candidness that investors and clients like talking to Teng. Eventually, many of them trust him enough to invest their money with him and AHAM Capital. 
Staying humble is another quality that Teng wants his fund managers to have. They should not get carried away by the amount of money that they are managing on behalf of clients or take advantage of people in the industry, as one can never stay on top all the time, constantly beating the market and outperforming peers. There will be times when a fund manager gets most things right, and other times when things go horribly wrong. It is when times are down that one needs the support of others.
Teng learnt this the hard way in 2003, when AHAM Capital was still known as HwangDBS Unit Trust. As the CEO of the fund and a relative newcomer to the industry, he and David Ng, AHAM Capital's deputy managing director and chief investment officer, had won several awards for two years in a row by beating the market. Letting those victories go to their heads, they launched a small- and mid-cap fund that eventually saw its value halved.
"I have told this story to many people. David and I were riding high. The business was growing and we had RM1 billion under management. And we had won awards two years in a row. Top performing funds. I told David, we are going to come back [to the awards] again for another year. Who can beat us? But we had the worst performance in 2004. We [landed right at] the bottom. 
"We became so confident in ourselves that we invested in small- and mid-cap stocks that had a growth angle to them. In fact, we launched a fund and raised RM600 million or so from the marketplace. The next thing we knew, the NAV (net asset value) went from 50 sen to 25 sen when the small-cap counters blew up. It was a painful lesson for us. The value would eventually recover and go up to as high as RM1, and we can laugh about it today. But back then, it felt like the whole world had just collapsed in front of me. 
"We walked out to see our clients and apologised. We lost a number of them along the way. They were hurt by our performance and didn't want to continue with us. That's when we told ourselves, let's not be proud about what we have achieved. It's a long journey. Not a one- or two-year journey." 
Leadership is another quality that plays a pivotal role in a firm's success, says Teng. He will always remember the late Yeong Phick Fui, his second boss and former group chief investment officer at Overseas Assurance Corp Ltd, who showed him what a good boss was like. 
"I remember we were preparing a presentation as a team. And when the paper was presented at the board meeting, things didn't turn out the way [we had expected]. As the board members weren't happy, she just stood up and took the blame. She didn't pass it on to any of us there. That had a lasting impression on me. 
"That's probably what leadership is. When facing the firing squad, you as the leader are the person standing in front to protect your staff. They worked hard under you. She pushed us very hard, but when things went wrong, she would take all the responsibility."
Ideally, these are the kind of people, culture and leaders that Teng wants to build in other countries if AHAM Capital were to expand regionally. He wants to have a young, passionate local team driving those new businesses. 
"I don't believe we should be running it from Malaysia. Each market in Asean is different and the industry is nationalistic in nature," he says. 
"When you go to each country and ask who is the largest fund manager there, be it Thailand, the Philippines or Indonesia, they are always the big local firms. Even in Malaysia, it's the same. 
"You need locals who know the terrain and people well, and have an established track record to win the confidence of the people. If we can't find the right team and people to lead, if we cannot get that, we have probably lost half the battle."