This article first appeared in City & Country, The Edge Malaysia Weekly, on January 17, 2022 - January 23, 2022.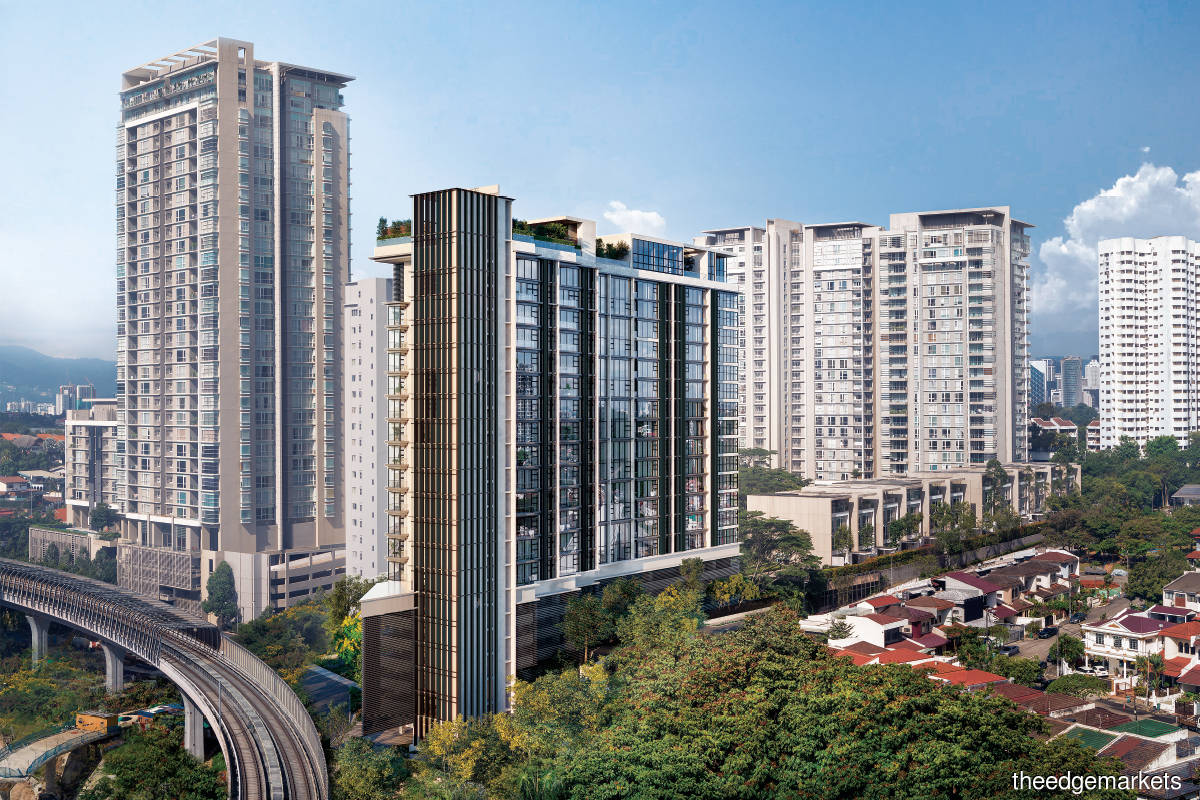 Construction work was being carried out at BRDB Developments Sdn Bhd's sales gallery in Bangsar when City & Country met up with its CEO Christopher Manivannan to discuss the upcoming launch of its residential project, One Eleven Menerung. 
"I wish we could let you see the show unit [of One Eleven Menerung], but as you can see, construction is still going on. Our design team is quite demanding," says Christopher, adding that the gallery is expected to open in February. 
"It is in our DNA. BRDB provides quality, and fine and detailed work. Therefore, we took a longer time coming up with this development."
The developer has taken almost four years to get the project, located in the heart of Bangsar, ready for launch. 
"One Menerung [launched 10 years ago] is a project that we are very proud of. This development [One Eleven Menerung] is a stone's throw from One Menerung, so we wanted to use the One Menerung brand. As the project has 111 units, we named it One Eleven Menerung," says Christopher.
One Eleven Menerung sits on a 0.83-acre freehold site next to the Pusat Bandar Damansara MRT station. 
"The land is not flat; it has a little [depression], thus there were more challenges in planning. ­Anyway, it has all been worth it because it is indeed a very beautiful and well-planned project!" he says animatedly. 
One Eleven Menerung comprises a single tower of 23 storeys. The low-density residential project has 111 units, with built-ups ranging from 997 to 3,705 sq ft. The selling price starts from RM1,800 psf.
According to Christopher, One Eleven Menerung mainly targets young professionals who appreciate a desirable address in the mature ­areas of Bangsar and Damansara. The development's rooftop facilities include a swimming pool, gym, meditation garden, lawn, viewing terrace and an outdoor dining terrace.
As the project sits on hilly land next to the MRT station, One Eleven Menerung needs a longer foundation work period of 18 to 20 months, which means a longer overall construction period. BRDB has obtained approval for a longer construction period of five years. The development is slated for completion in 2026. 
"It is actually good news for the younger people who want a home in this address, as you will have a longer runway to build up your earning capacity and prepare for the instalments. A project that sells at RM1.5 million to RM1.7 million in this location is very rare nowadays as development land in Bangsar is very expensive," says Christopher. 
He highlights that the location of One Eleven Menerung is one of its main selling points. 
"One Eleven Menerung is sandwiched between two commercial hubs — Bangsar Shopping Centre and Pavilion Damansara [Heights], and next to an MRT station. In doing our part as a developer to reduce the country's carbon footprint, we offer just enough car park bays at the development."
The developer believes there will be less need for parking space in the city in the future, especially for a project like One Eleven Menerung. Christopher foresees developers providing just a sufficient number of parking bays to fulfil residents' requirements.
He adds that all the units at One Eleven Menerung will come with at least one parking bay, while the bigger units will have up to three bays. There will not be any extra ones for purchase. 
One Eleven Menerung is designed for sustainable future city living, as can be seen in its dedicated e-hailing and delivery drop-off and pickup area.
"We are relying on delivery and e-hailing services now more than ever. Therefore, we have dedicated an area for that to ensure the overall security within the residential compound," says Christopher.
BRDB's DNA can be seen in One Eleven Menerung's clean and contemporary façade, practical and functional layout, as well as a spacious balconies.
"Just like most of our previous projects, all units at One Eleven Menerung feature generous balcony space. Many people may think that we do not need a big balcony space in a tropical, humid country like Malaysia, but I still believe having a decent-size balcony in your high-rise home is good. You can enjoy the morning or evening breeze while admiring views of the city in your own home," Christopher notes.
Depending on their size, all units at One Eleven Menerung will have a balcony area of at least 100 sq ft. 
Becoming more flexible
As a niche property developer that has focused on mid- and high-end projects for the past 58 years, BRDB will continue to do what it does best, says Christopher. "We are actually changing to become more flexible, with the company's three pillars in mind — intelligent design, uplifting aesthetics and embracing cosmopolitanism. 
"We believe life is beautiful, and beautiful things do enhance the value of life. However, we do not agree that all beautiful things are expensive. Moving forward, we will continue to build beautiful projects that are inexpensive for its quality."
To do that, BRDB first decides on a new project's final selling price range before looking at the design. 
"To be honest, we did not care so much about the final selling price in the past when we planned a new project. We focused more on the design and concept because back then, the market was good and high-end properties were in good demand," says Christopher.
"However, times have changed. We realise we need to be more flexible. However, we will never lower our quality benchmark. To do that, we work the other way around — first, find out what kind of pricing the local market can absorb, and then work on the design according to BRDB's standards and DNA within that [final selling price] range."
For that reason, he is confident that One Eleven Menerung will be another success story despite the current soft market. 
"Given our track record and our brand name in Bangsar, we should be able to hit the 80% mark [take-up rate] within a year of the official launch, which is targeted for the first quarter of 2022. Yes, [we are confident] because of our brand, and because the product will speak for itself. Our pricing is competitive enough," he says. 
Launches with GDV of RM1.44 bil in 2022
Christopher is cautiously optimistic about the local property market as he believes this year will be another challenging one. 
"2021 was a lost year as the country underwent another national lockdown. However, BRDB still managed to launch projects with a GDV (gross development value) of RM545 million in 2021 and they were all well received. This year, we are looking to launch projects with a GDV of RM1.44 billion in Malaysia and overseas," he says. 
Some of the upcoming launches are in Taman Duta, Bukit Tunku, Jalan U-Thant and North Kiara in the Klang Valley, as well as in Johor Baru. BRDB is also looking to launch another project in New South Wales, Australia, following the success of Verdana in Miranda, New South Wales. 
"Australia is an exciting market. We have completed two projects there so far, Parq on Flinders [in Adelaide] and Verdana. Both were almost sold out. We bought another parcel of land in New South Wales last year and we are looking to launch an apartment project sometime this year. BRDB also has developments in the UK and Pakistan," says Christopher. 
Completed and handed over in 2020, Verdana won the award for Outstanding Overseas Project at The Edge Malaysia Property Excellence Awards 2021 in December last year. 
Christopher is not in a hurry to enter new overseas markets.
"We are not really looking at more countries for the time being. Too much diversification is not good either, as depth is also very important. Furthermore, this year will not be simple and straightforward. Although many are expecting it to be a better year, my take is that it will be challenging. I'm cautiously optimistic," he says. 
He adds that a key business strategy for BRDB this year will be making fast decisions. "If we linger and wait and see, we may end up missing the boat."
Therefore, BRDB is constantly on the lookout for good sites in Malaysia and overseas. 
"We are always looking for land. But at the moment, we haven't found anything we like, or at the right price. Anyway, we still have 600 to 700 acres of land bank. It will keep us busy for a while," says Christopher.