This article first appeared in City & Country, The Edge Malaysia Weekly, on September 19, 2022 - September 25, 2022.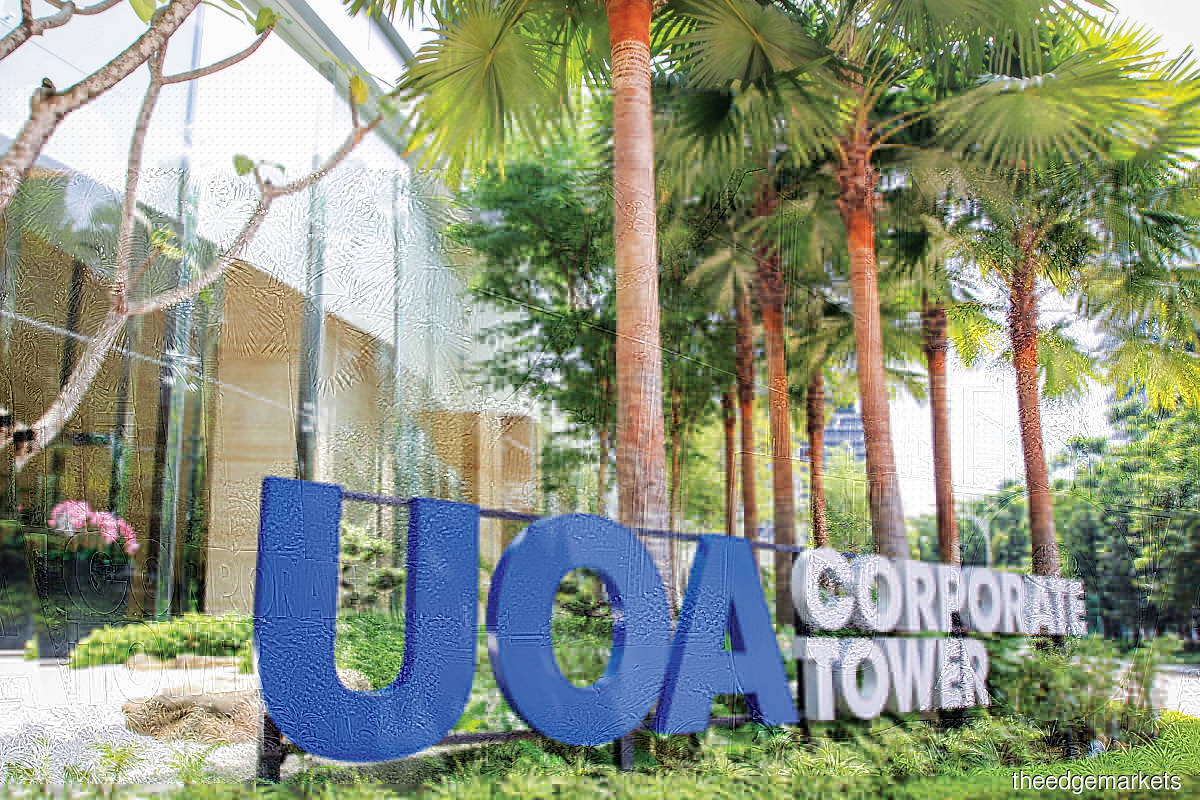 Since 2020, office transactions in the Klang Valley have slowed owing to the pandemic, although there were some significant acquisitions during this time. Prior to the pandemic, such transactions had been growing steadily.
JLL Property Services (M) Sdn Bhd country head Y Y Lau recalls the en-bloc office investment market being very active between 2015 and 2018, with three to four transactions a year.
"Transactions peaked in 2018, before slowing to two to three per year thereafter. In 2021, there were a number of transactions. However, the bulk of these were REIT (real estate investment trust) related," she notes.
"The purpose of the investment can generally be grouped into passive and, in some rare cases, active investment, conversion to alternative use and owner occupation.
"KWAP [Retirement Fund (Inc)]'s purchase of Menara AIA and the Alrajhi family's purchase of Wisma Mont'Kiara were passive investments. UOA Pantai, Fujitsu building and Quill Building 5 were purchased for own use. Menara AmMetLife was purchased for the buyer's own use as well as partly for rental. 
"The purchase of the NST Press head office was for landbanking purposes and the sale of Wisma KFC to Singapore-based Royal Group was speculated to be for conversion to a hotel."
She points out that one company in particular looks to be active in office acquisitions. "KL33 Properties Sdn Bhd can be considered an active investor; it acquired Menara Prudential on the grounds that being an experienced landlord, the buyer can add value, reposition and transform the building."
Data from Savills Malaysia Sdn Bhd reveals that office transactions peaked in 2013. 
"The office market witnessed active transactional movements from the peak of 2013 to 2015, which accounted for 39% of the total office space transactions between 2010 and 2021," says its managing director Datuk Paul Khong. 
"During the same period, en-bloc office transactions also peaked, covering about three million and 4.5 million sq ft of space transacted in 2013 and 2015 respectively, whereas the strata office space segment peaked in 2013, totalling about 5.2 million sq ft. The total amount of office space transacted more than doubled from 1.81 million sq ft in 2020 to 4.16 million sq ft in 2021, driven primarily by related-party transactions."
According to CBRE | WTW group managing director Tan Ka Leong, "The years 1990 to 2021 were an active period with many office property transactions. Up to early 2000, most of the transactions were by corporations but as property trusts, and subsequently REITs, were approved by the government to deepen the capital markets, these became major players in the office transactions market. However, the issue of oversupply of office space in the city centre for the past few years has slowed down transaction deals." 
Knight Frank Malaysia executive director of capital markets James Buckley says that according to the Real Capital Analytics 1 August 2022 report, the 10-year long-term average investment volumes for the office sector across Malaysia hit RM2.6 billion, and was heavily skewed towards Kuala Lumpur.
"The market peaked in 2017 when RM5.4 billion in investment volume was concluded. Since 2017, investment activity has slowed as investors have taken a cautious approach to the sector, given the oversupply in Kuala Lumpur and weakening occupational demand. 
"More recently, the Covid-19 pandemic, which has affected almost every corner of the world, had a dramatic impact on investment volumes in 2020 and 2021, which were down 96% and 82% respectively compared to the 10-year long-term annual average sales. 
"There were three large related-party transfers over the last two years — The Pinnacle Sunway, Menara Guoco and UOA Corporate Office Tower Block A — but very few sizeable offices sold on the open market," he points out.
Types of office buyers
According to the consultants, en-bloc office buyers cover a wide range of entities, such as local or international private or public investors, government entities, REITs, pension funds and insurance companies. The objective of either buying or leasing an office block or space differs from one entity to another.
"Investors have different investment parameters and requirements," says Buckley. "Some might be looking for their own use, while others are hunting for investment to obtain a stable recurring income. Some buyers might be attracted to acquire older office buildings in good locations, near LRT or MRT stations, that can be repositioned into other uses where there is greater demand. Examples include changing to a hotel, or a data, medical or education centre.
"Generally, we find multinational corporations prefer the flexibility that comes with renting office premises while many local, established companies see the advantages of long-term ownership and the ability to build equity over time, rather than paying monthly rental," he says. He adds that with interest rates so low, mortgage interest payments can be fixed for a few years and portions of the office building could be rented out for an additional revenue stream.
Savills' Khong says that smaller companies have different reasons for buying office space, especially strata offices. "Many of the strata category buyers are generally corporate institutions or small and medium-sized enterprises (SMEs), which intend to buy rather than lease the premises for occupational purposes, as well as partial investment to occupy and own office space over a long period.
"This category of buyer often ventures into the acquisition of several adjoining office units or floors within a strata office building or a smallish strata block, like Horizon in Bangsar South, of about 100,000 sq ft and below, which it will occupy accordingly," he says.
Another reason to buy rather than lease is if the developer offers an "early bird" discount. 
"A recent example would be Petra Group's acquisition of the top 10 floors of Senada Commercial Office in KLCC, with a total net lettable area of about 100,000 sq ft, for RM85 million in 4Q2020. This is equivalent to RM850 psf, which is about a 25% discount to the typical selling price," reveals Khong.
He adds that other en-bloc office buyers are usually REITs, institutional funds and high-net-worth companies seeking long-term yields and future capital appreciation. Normally, these are big-ticket purchases.
"REITs always look at sizeable investments, which clearly include en-bloc office tower acquisitions, to gain full ownership of both the 'land and building' and to generate long-term recurring rental income.
"Usually, the strata-titled properties are less popular here due to the smaller size and transaction value (in most cases), and there is also a restrictive redevelopment potential to the property (in terms of options) at the end of its economic life cycle, especially if the building owners do not own 100% interest of the land title. Since capital investments are from this category of buyers, they are usually substantial and 'size does matter' in any acquisition.
"Office space rental has always been an attractive investment channel and is treated as a REIT's portfolio diversification option. Active and established REIT plays will continuously expand their office portfolio capacity to enhance rental income from time to time," Khong explains, adding that most of the en-bloc office transactions in the past three years were conducted by REITs.
JLL's Lau concurs. She says, "Generally speaking, institutional investors would typically be attracted to single-landlord, income-generating office buildings as these are significantly easier in terms of control over property management."
She adds that developers may invest in an office building. "There can also be developer-investors who buy the property for future redevelopment potential as they have the foresight for a completely different development as market trends change. En-bloc office investments allow upgrading or future development as opposed to stratified ones."
Market performance and outlook
What the consultants collectively agree on is that office transactions have slowed since the onset of the pandemic in 2020.
"Transactions, especially en-bloc offices, have been slow in line with the economic slowdown. Most of the transactions were by related parties or the injection of properties into REITs," says Tan.
He observes that demand for office property in Malaysia has flattened, which is worrisome. Some organisations, seeking more favourable leasing terms or work environment flexibility, for staff recruitment/retention or to accommodate business needs, took the opportunity to relocate.
"As in the past, sales of office space will depend on the growth of the economy; higher economic growth will mean higher demand for office space, investors will have surplus funds to acquire office properties and so on.
"Sales of smaller, stratified units are also expected to increase as more SMEs enter business and companies outsource more of their office functions. The newer SMEs may prefer to own instead of lease, which would stabilise their rent overheads in the long term as well as build equity," says Tan.
Since the pandemic started, Lau observes that the majority of office transactions have been related-party ones, pointing to the IGB Commercial REIT acquisitions. 
"We also saw the rationale for acquiring office assets shift away from it being a core investment asset; rather, these assets are being purchased for the purchaser's own use or to be converted into a different asset class," she says, citing the example of Hap Seng Consolidated's acquisition of Wisma KFC with the intention of converting it into a hotel. 
As for outlook, Lau says that absorption of office supply in 2021 was "slightly positive" as demand was largely driven by owner-occupiers of newly completed offices such as Menara IQ (HSBC's new headquarters in TRX), Tower 3 @ PJ Sentral (Menara MBSB) and Permata Sapura (partially owner-occupied by Sapura Energy).
"Given the amount of new supply — about four million sq ft — coming onto the market in 2022, we see market activity being driven by flight-to-quality movements whereby tenants are taking advantage of the soft market to move to newer, more efficient buildings," she says.
Based on Savills' research, Khong reveals that in 2021 about 26% of office space in Greater KL was vacant. The figure is expected to rise further "in tandem with the growth in new office supply in recent years as well as the impending supply of new office space, especially through large or iconic buildings in the city centre".
"Offices in KL suburban areas have the lowest overall vacancy rates in Greater KL. These newer Grade A buildings are further supported by the expanding outward connectivity of public transport and MRT/LRT rail lines from the city centre," he says. 
Khong adds that older office buildings in the city centre are facing intense competition from newer ones and also under pressure to undergo refurbishment or renovation to stay competitive.
Still, Knight Frank's Buckley remains optimistic. "In 2022, however, we do see an improvement in investment sentiment and a pickup in enquiries and viewings from both local and foreign investment groups. There are actually very few sizeable Grade A buildings available for sale in the market which could be impacting sales volumes.
"Looking ahead, transactional activity has begun to pick up, driven by owner-occupiers rather than investors, but remains well below historic levels. There remains a significant delta in price expectations between buyer and vendor and for sales volume to increase, this gap will need to narrow," he says.