This article first appeared in The Edge Malaysia Weekly, on November 21, 2022 - November 27, 2022.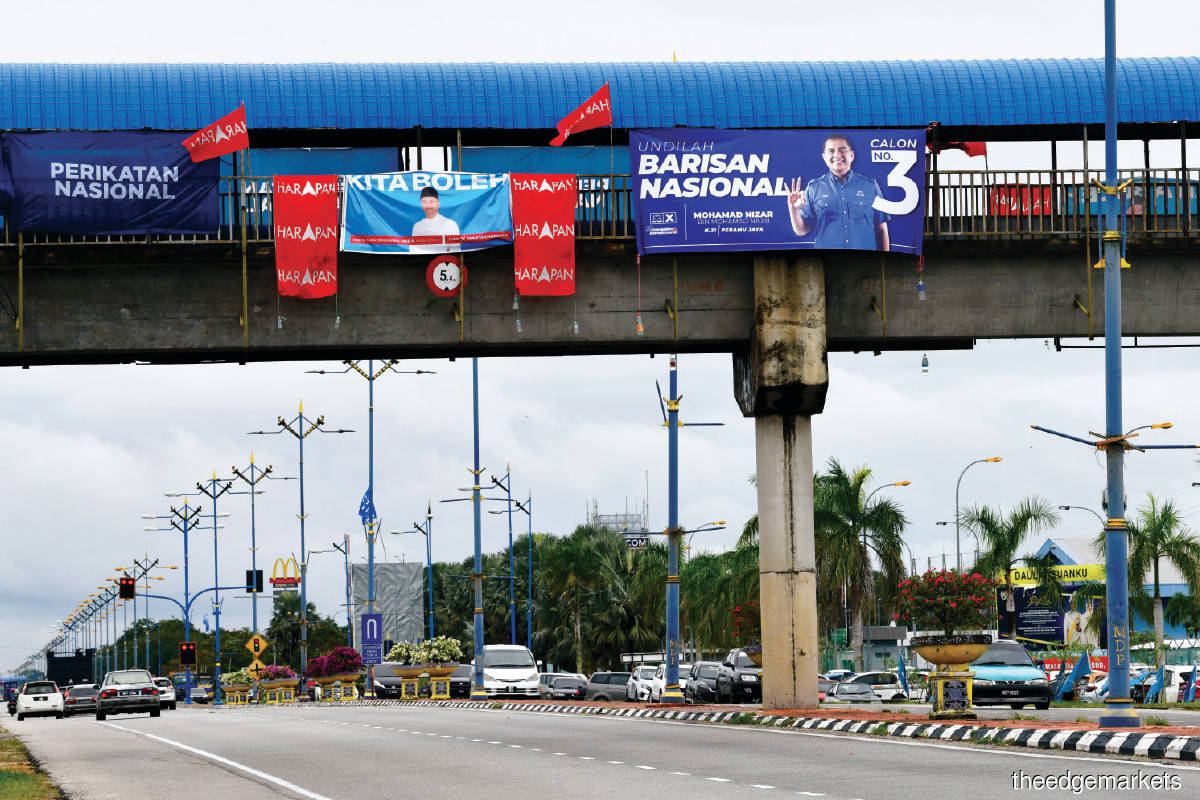 A week into the campaigning period for the 15th General Election (GE15), various electoral analyses seem to show that Perikatan Nasional (PN) is chipping away at the support of Malay voters from Barisan Nasional (BN) in Peninsular Malaysia.
This gives rise to the question of whether BN would be able to defend its home turfs of Pahang and Perlis, which have remained largely under the coalition's control even after the political tsunami in 2018.
To answer this question, The Edge tracked the campaign trail of certain prominent leaders in Pahang, where BN retained nine out of 14 parliamentary seats in GE14.
At the first stop in Pekan, folks in the constituency seemed undeterred by the troubles BN has gone through over the last four years, as they still pledged their support and sympathy for the coalition and its former figurehead Datuk Seri Najib Razak, who won by a majority of 24,859 votes in GE14.
This can be seen in the support for the former prime minister's first born Datuk Mohd Nizar Najib, who is taking a shot at the Peramu Jaya state seat, where he faces Pakatan Harapan's (PH) Tugimon Abdul Hamid, independent Datuk Tengku Zainul Hisham Tengku Hussin and PN's Abu Talib Muhammad. Peramu Jaya is in Pekan.
Making his rounds in the constituency, Nizar, who is also the Pekan Umno youth leader, stopped by a night market last Friday (Nov 11) to meet stall owners, purchase goods as well as introduce himself to voters. Hawkers and shoppers were seen taking the opportunity to make small talk and take selfies with Nizar.
BN's campaign materials can be seen almost everywhere in Pekan, with its election team seeming confident of defending the seat, which has been held by the Razak family since the country's independence.
"Pekan has a Malay majority, and should be safe; unlike Kuantan, there is a bigger number of Chinese. The Chinese, they can mingle with you and all that, but they may not vote in favour of us," says a BN campaign staff.
Najib is not eligible to contest in GE15 due to his conviction in the SRC International Sdn Bhd trial. In his stead, BN has fielded Datuk Seri Sheikh Mohmed Puzi Sheikh Ali, who will be facing a five-cornered fight in Pekan.
"Datuk Seri Najib has done a lot for us here in Pekan, I hope he is pardoned soon," said a Malay food stall owner at the night market last Friday.
"This is his [Nizar] first time contesting. I think most voters would give him a chance, plus this is a Malay-majority seat, most likely BN will be able to retain it. Chinese are a minority here, and most of them are close to MCA," says a Chinese toys seller, who has lived in Pekan for the past 16 years.
However, on the same night, the sentiment in Kuantan, nearly an hour's drive away or 50km north of Pekan, was markedly different.
Although most residents were reserved when it came to indicating their political leaning, in a chance meeting, one resident was very vocal in his support for PH while critical of BN and PN.
"We have to vote in good leaders for the country, not corrupt leaders," said convenience store owner Bala Subra as he closed his store early to attend a late-night speech being given by opposition leader Datuk Seri Anwar Ibrahim.
At the open-space food court, cars lined the road as people arrived in droves to hear Anwar's speech in a show of support for PH and the parliamentary constituency's incumbent Fuziah Salleh.
Fuziah is defending her seat in a four-cornered fight with BN's Datuk Seri Ab Hamid Mohd Nazahar, PN's Wan Razali Wan Nor and GTA's Mejar Anuar Tajuddin.
Saifuddin's claim of a PN wave
Convenience store owner Bala said he hopes voters of Indera Mahkota, a parliamentary seat right next to Kuantan, would punish caretaker foreign minister Datuk Seri Saifuddin Abdullah for party-hopping.
However, Saifuddin appeared unconcerned about the rakyat's perception of his party-hopping antics, as he said, regardless of which coalition logo is beside his name on the ballot, he is the same Saifuddin.
"People are free to have their own feelings and sentiments, as far as I am concerned, I am still the same Saifuddin, a kampung boy who joined politics and I still serve my constituents in Indera Mahkota regardless of which government I belong to," he told The Edge after attending a basketball match organised by the Kuantan Amateur Basketball Association last Saturday (Nov 12).
"I do think I have done quite a bit, and that is why I think the [campaign] response has been very positive, they know exactly what I have done in the past."
Although party-hopping may weigh on his popularity, Saifuddin's switch of political party does give him an advantage, by putting some distance between him and voters demanding to shut down Australian rare earth company Lynas' operation in Malaysia, which PH promised to do. He left Umno to join PKR before GE14. He then joined Parti Pribumi Bersatu Malaysia (Bersatu).
An Indera Mahkota voter, who only wished to be known as Mary, said she views Saifuddin positively, as he is a minister with fewer blunders compared with other cabinet members.
"On Lynas, previously they said residents here are doomed because of the radioactive [waste], but today we are still living normally. As an Australian company, I believe they [Lynas] would have certain standards of safety measures in place," she said.
Saifuddin, leisurely walking around the basketball court to greet young voters, was not just confident of defending his seat, but also saw a potential wave of voters swinging away from Umno to PN, mainly due to several missteps by the former, including party president Datuk Seri Ahmad Zahid Hamidi's decision to defend his Bagan Datuk parliamentary seat after pushing for polls during the monsoon season.
"The fact that Zahid is standing is really a liability for Umno and BN, that is what I am hearing from people. We have support from inside Umno; there are Umno members who are very frustrated with the things that are happening in Umno," he said.
Yet, caretaker prime minister Datuk Seri Ismail Sabri Yaakob dismissed Saifuddin's claim, saying that his former Umno colleague's comment had no substance. "Everyone claims there is a wave, I can also say there is a wave to BN. If there is no wave, why bother contesting," the incumbent Bera MP on the campaign trail in Kampung Bukit Imam Sulong, situated along the Pahang River and about 155km away from Kuantan, told The Edge.
A few villagers who spoke to reporters said they will continue to support Ismail Sabri without a second thought.
Close bout in PH-held constituencies
Meanwhile, further inland in Bentong, competition appears to be more intense, as two former MPs and a state assemblywoman battle it out in a five-cornered fight for the parliamentary seat.
At Kampung Lengkong, Karak, a local fishing club organised a meet-and-greet session with PH candidate Young Syefura Othman after three consecutive proposals to meet BN representatives were declined.
Less than 100m away, construction work on the East Coast Rail Line was creating a racket. That, and flooding, form the two core concerns of the residents of Kampung Lengkong.
"It rarely floods in this area, but last year the flood reached the roof of this house," said resident and fishing club member Alias, 31. He added that requests have been made to the government for a boat in preparation for future floods.
Only three households in the village were decorated with PH's election materials, while most of the others displayed posters of BN candidate Tan Sri Liow Tiong Lai and PN candidate Datuk Roslan Hassan.
The presence of DAP's incumbent Ketari state assemblywoman, Young Syefura, who is fondly known as Rara, in the area was unusual given that the Malay-majority village mostly supports either BN or PN.
About 30km up north in Raub, known for its Musang King durian farms, The Edge met PH candidate Chow Yu Hui as he visited with a 78-year-old comrade from PKR, who had fallen ill during the campaign period.
"You need another 1,000 to 2,000 Malay votes to cross the line, too bad I can't go out to help you," the Malay villager in Felda Tersang told Chow.
Chow conceded that a high turnout rate is key to retaining the seat for PH, because out of the 52.07%-Malay electorate in Raub, he is only confident of garnering 20% at most, but among the Chinese, who make up 38.11% of voters, 70% to 80% of them may support the coalition.
"We are still pushing for [Chinese] people working in KL or Singapore to come back [and vote]," he said, adding that if they do not return to vote, PH would lose the parliamentary seat.
Raub will see a four-cornered fight, with Chow facing MCA's secretary-general Datuk Chong Sin Woon (BN), PN's Datuk Haji Mohd Fakrunizam Ibrahim and GTA's Norkhairul Anuar Mohamed Nor.
The rise of PN has truly muddled BN's position as the Malay electorate's preferred political coalition. Meanwhile, PH remains confident of garnering the majority of non-Malay votes while it readies itself to grab a share of the bumiputera votes swinging away from BN.