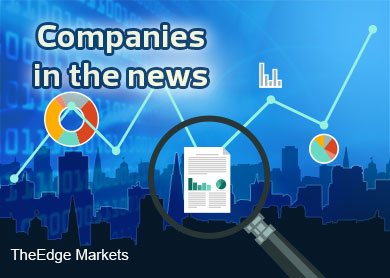 KUALA LUMPUR (Nov 14): Based on corporate announcements and news flow today, the companies that may be in focus on Monday (Nov 17) could be the following: Dialog Group Bhd, Petronas Gas Bhd, AirAsia Bhd, Silk Holdings Bhd, Three-A Resources Bhd, BIMB Holdings Bhd and Tomypak Holdings Bhd.
Dialog Group Bhd (Dialog) has entered into a shareholders agreement with Petronas Gas Bhd (PGas) in relation to a RM2.7 billion development of Liquefied Natural Gas (LNG) regasification facilities at Pengerang, Johor.
The project, according to Dialog, is to develop a regasification unit and two units of 200,000 m3 LNG storage tanks with an initial send out capacity of 3.5 million tonnes per annum (MTPA) of natural gas.
In a filing with Bursa Malaysia today, Dialog said it was entered into the SHA with PGas through its wholly-owned subsidiaries Dialog LNG Sdn Bhd (Dialog LNG) and Pengerang LNG (Two) Sdn Bhd (PLNG-2).
Dialog said PLNG-2 will act as the special purpose vehicle to undertake the aforesaid project.
"PLNG-2 will be restructured whereby PGas will acquire 65% in PLNG-2 with Dialog LNG to hold 25% and the State Secretary, Johor (Incorporated) to hold the remaining 10%," the filing read.
On the funding, Dialog said it would be satisfied by equity injection, shareholders loan and external borrowings.
"The Pengerang LNG project is expected to provide additional sources of long
term sustainable and recurring income in the future for Dialog," it said, adding that it will also synergise with the group's investment in petroleum and petrochemical storage terminals in Pengerang, Kertih and Tanjung Langsat.
In a separate filing, PGas said the project is expected to commence construction by second quarter next year and to achieve commercial operations date by fourth quarter of 2017.
Dialog closed at RM1.56 today giving it a market capitalisation of RM7.69 billion while PetGas inched up 20 sen to close at RM21.66, translating into a market capitalisation of RM42.86 billion.
AirAsia Bhd expects strong growth next year in anticipation of lower fuel costs and airfares will generate higher demand for the low-cost airline's services.
Group CEO Tan Sri Tony Fernandes said airfares had risen about 11%, which was deemed substantial.
But the current backdrop of cheaper jet fuel has lifted AirAsia's optimism to lower fares whilst stimulating more demand, moving forward, according to Fernandes.
"2015 will be one of our best years, coupled with all our ancillary initiatives that we have launched, like our WiFi, where we see almost 40% of our passengers using the service when they fly, including our duty-free products that we have launched.
"If oil prices continues to go down, maybe we can get rid of oil surcharges, and that will stimulate more people to fly" Fernandes said.
Air Asia closed four sen or 1.6% lower at RM2.46, translating in a market capitalisation of RM6.85 billion.
Holders of Sistem Lingkaran-Lebuhraya Kajang Sdn Bhd's (Silk) Islamic bonds or sukuk had approved the sale of Silk Holdings Bhd's entire stake in the highway operator to IJM Corp Bhd for RM395 million cash.
Silk Holdings said in a filing to Bursa Malaysia, the approval was secured at the company's bondholder meeting today.
The sukuk holders also released Silk Holdings from its obligation under the corporate guarantee for the sukuk, the company said.
Holders of Silk's RM2 billion sukuk include CIMB Bank Bhd, Bank Islam Malaysia Bhd and Etiqa Takaful Bhd.
Silk is a wholly-owned subsidiary of Silk Holdings Bhd and the concession holder for the 37km Kajang Silk Highway. The highway links the northern and southern parts of Kajang, Selangor.
Silk Holdings is selling toll expressway to unlock the value of its investment in Silk. The sale will enable Silk Holdings to concentrate on growing its oil & gas support-services business.
Silk closed at 83.5 sen, four sen or 5% higher today with 10.03 million shares traded. With the closing price, it has a market capitalisation of RM585.78 million.
Three-A Resources Bhd recorded a net profit of RM4.68million in the third quarter ended Sept 30, up 163% from RM1.78million a year ago due to lower material and finance costs.
Earnings per share (EPS) grew to 1.19 sen from 0.45 sen a year ago.
In an announcement to Bursa Malaysia today, the soy food manufacturer attributed improved profit to lower materials and finance costs plus higher operational efficiency. Furthermore, there was an impairment of trade receivables in the previous corresponding quarter.
However, the revenue for 3Q14 dropped slightly by 2.4% to RM72.96million from RM74.77million last year, as a result of lower sales of the group's products ranging from soy sauce to glucose syrup.
The stock closed 0.5 sen lower at 92 sen, giving it a market capitalisation of RM362.11 million.
Malaysia's largest Islamic fund manager, Lembaga Tabung Haji (Tabung Haji), has been accumulating shares in BIMB Holdings Bhd (BIMB) in the past week, and now holds a 54.5% equity stake in the bank.
A filing with Bursa Malaysia showed Tabung Haji had bought a total of 6.12 million shares over five transactions between Nov 7 and 13 when BIMB's share price was on the decline.
The latest shopping spree brings Tabung Haji's stake in BIMB to 54.5% or 814.03 million shares.
BIMB's share continued a week-long downward trend to close at RM1.15, down three sen. This gives BIMB a market capitalisation of RM6.19 billion.
Tomypak Holdings Bhd (Tomypak) saw its net profit suffered in the third quarter ended Sep 30, 2014 (3Q14).
The flexible packaging manufacturer's earnings was almost halved to RM2.23 million year-on-year, from RM4.02 million the same period last year. Revenue for the quarter declined 11.6% year-on-year to RM51.57 million from RM58.3 million in 3Q13.
Earnings per share (EPS) clocks in at 2.04 sen compared to 3.68 sen the same time last year.
Despite the sharp drop on earnings, Tomypak declares dividend per share of one sen, bringing the total amount of dividend for FY14 to four sen so far.
Moving forward, Tomypak believed that the demand for the group's products from the food and beverage sector will increase. "With the anticipated growth in sales revenue, the group had purchased an industrial land for future expansion purpose," it added.
Tomypak's share price has also been drifiting lower, shedding 11 sen or 7.8% year-to-date.  Today, it closed unchanged at RM1.30 to give it a market capitalisation of RM142.1 million.