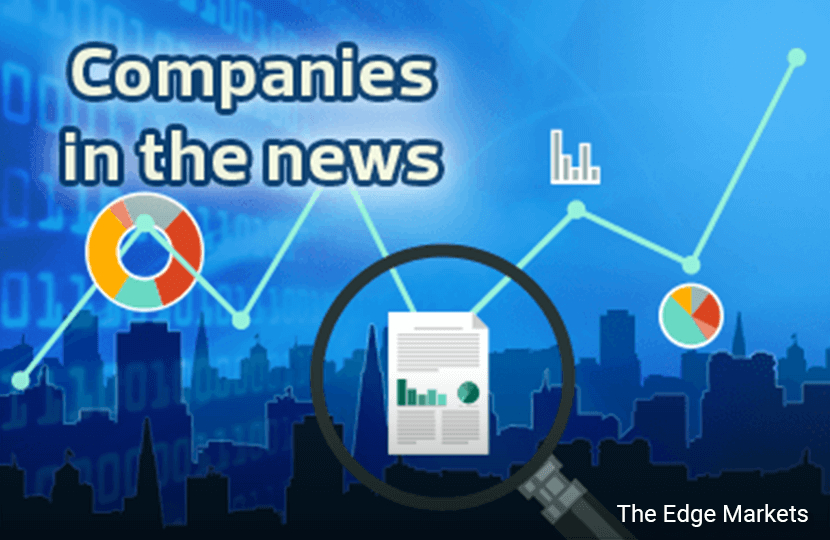 KUALA LUMPUR (Sept 7): Based on corporate announcements and news flow  today, the companies that may be in focus tomorrow (Tuesday, Sept 8) could include the following: DNeX, OSK Prop, China Stationery, The Media Shoppe, Country Heights, Boustead and Guinness Anchor.
E-commerce services provider Dagang NeXchange Bhd (DNeX), through wholly-owned subsidiary DNeX Petroleum Sdn Bhd, is acquiring a 30% equity of Ping Petroleum Ltd, an independent upstream company that focuses on shallow water offshore production.
The acquisition is a key milestone in DNeX's diversification into oil, gas and energy sector announced last year, and will be fulfilled at a cost of US$10 million — to be funded by internal and borrowed funds — according to a statement today.
The announcement came at a time when the global crude oil price has tumbled from the peak of US$100 to around US$50 per barrel now.
Through the acquisition, DNeX said it is tapping into reserves and resources of Ping's recent agreement for the acquisition of the Anasuria Cluster.
Ping and Hibiscus Petroleum Bhd have jointly entered into sale and purchase agreements to each acquire 50% of the entire interests of Shell UK Ltd, Shell EP Offshore Ventures Ltd and Esso Exploration and Production UK Ltd in the Anasuria Cluster of oil and gas fields effective from Jan 1, 2015.
DNex said the Anasuria Cluster is located about 175km east of Aberdeen in the UK Central North Sea and the joint acquisition comprises a 100% interest in the Anasuria FPSO, Teal, Teal South, Guillemot A fields and a 38.65% interest in the Cook field.
The cluster represents an attractive, geographically focused package of operated interests in producing fields and associated infrastructure, it added.
The trading of OSK Property Holdings Bhd's securities will be suspended with effect from 9am on Oct 22 as its public shareholdings spread have fallen below the 25% requirement set by Bursa Securities.
The suspension, announced via its filing on Bursa Malaysia today, came after the property developer announced last Friday (Sept 4) that its public shareholdings only stood at 5.92%.
According to the filing then, as the public shareholding of OSK Property was less than 10%, Bursa Securities would suspend the trading of OSK Property's securities immediately upon the expiry of 30 market days from the date of the announcement.
In the same filing, OSK Holdings Bhd, which is in the midst of taking over OSK Property and PJ Development Holdings Bhd, said it would explore various options or proposals to rectify the shortfall in public shareholding spread within the given time frame.
Recall that OSK Holdings is acquiring 73% of shares in OSK Property for RM346.4 million, or RM1.95 per OSK Property share.
China Stationery Ltd (CSL) had submitted an application to Bursa Malaysia for a waiver to submit a regularisation plan and upliftment from being a Practice Note 17 (PN17) company after the stationery maker recorded three consecutive quarters of net profit.
In a statement today, CSL, which fell into PN17 in July last year, posted a net profit of RM16.10 million for the fourth quarter ended Dec 31, 2014; RM9.41 million for the first quarter ended March 31; and RM6.15 million for second quarter ended June 30, 2015.
According to the Bursa Malaysia's "Practice Note 17 Criteria and Obligations of PN 17 Issuers", the PN17 issuer must be able to record a net profit or positive operating cash flow in two consecutive quarters immediately after the completion of the implementation of the regularisation plan.
Commenting on the company's developments, CSL's chief executive officer and executive chairman Chan Fung @ Kwan Wing Yin said the company will focus on rebuilding and turning around its business back to profitability this year after the fire incident.
"We are back to normal operation since May and the group is in the process of winning back its old clients," he added.
The company sunk into a net loss after a fire incident, which happened due to electrical short circuit at a section of the production area of Plant No 4 on April 4 last year. It had seriously affected the company's production capacity, causing interruption to some of its operations.
Software developer The Media Shoppe Bhd's (TMS) wholly-owned unit Exonion Sdn Bhd has been awarded a RM192 million managing contractor job for the development of a 12.14ha tract in Kemaman, Terengganu, which marks its first foray into the property construction business.
In a filing with Bursa Malaysia this evening, TMS said Exonion entered into a managing contract agreement for the said job in relation to a mixed development project on the land with Total Merit Sdn Bhd today.
The development entails two-storey shoplots with a total of 43 units, five blocks of 12-storey apartments with a total of 660 units, one block of 11-storey affordable apartment with a total of 240 units as well as amenities which include a mosque, kindergarten and swimming pool.
Under the agreement, Exonion will be responsible for the administration, management, consultation, reporting, communication, and coordination of construction and sales of the development project throughout the four-year management period.
Country Heights Holdings Bhd's wholly-owned subsidiary Country Heights Sdn Bhd (CHSB) has been slapped with two lawsuits from the Malaysian government claiming a total of RM28.10 million in income tax.
In a filing to Bursa Malaysia today, Country Heights said two summonses for the above, both dated Aug 17, were received by the company on Sept 4.
The first suit was for income tax for the years of assessment 1998 and 1998 — amounting to the sum of RM23.48 million. The second was for the year of assessment 2008, for RM4.62 million.
Both claims come with interest at the rate of 5% per annum, to be calculated from the date of judgement thereon until full settlement.
Country Heights is in the process of filing its memorandum of appearance for both suits.
Boustead Holdings Bhd has bagged a contract extension for the supply and delivery of spare parts and training for the 23rd Navy Frigate Squadron from Ministry of Defence valued at RM43.45 million.
In a filing with Bursa Malaysia today, Boustead said its subsidiary, Boustead Naval Shipyard Sdn Bhd, has received a letter of award from the Ministry of Defence last Thursday (Sept 3).
The diversified group said the extension was for a period of two years up to Sept 9, 2017 for the remaining contract value of RM43.45 million.
Boustead said the contract will not have a material effect on the group's earnings.
Recall that Boustead bagged the contract from Ministry of Defence on Sept 11, 2011 with an initial value of RM70 million. The contract was for a period of three years upon its commencement.
The Royal Malaysian Customs (Customs) of Kuala Lumpur has billed Guinness Anchor Bhd (GAB) excise duties and sales tax worth RM56.3 million in total.
However, the brewery maintains its stance that retrospective claims are "unjustifiable".
In an announcement with Bursa Malaysia today, GAB said it had received a bills of demand dated Aug 28, from the Customs, demanding payment for additional excise duties and sales tax.
The payments claimed by the Customs are RM34.17 million in excise duties from Aug 28, 2012 to Oct 31, 2013; also included are sales tax totalling RM22.16 million from July 1, 2012 to Oct 31, 2013.
GAB said the retrospective claims, which it deemed "unjustifiable", came about as the Customs had imposed a new method of valuation for excise duty, which came into effect on Nov 1, 2013.
However, the company said it has paid all excise duties and sales tax for the period, based on valuations previously assessed and approved by the Customs.
(Note: The Edge Research's fundamental score reflects a company's profitability and balance sheet strength, calculated based on historical numbers. The valuation score determines if a stock is attractively valued or not, also based on historical numbers. A score of 3 suggests strong fundamentals and attractive valuations.)