This article first appeared in The Edge Malaysia Weekly, on November 14, 2022 - November 20, 2022.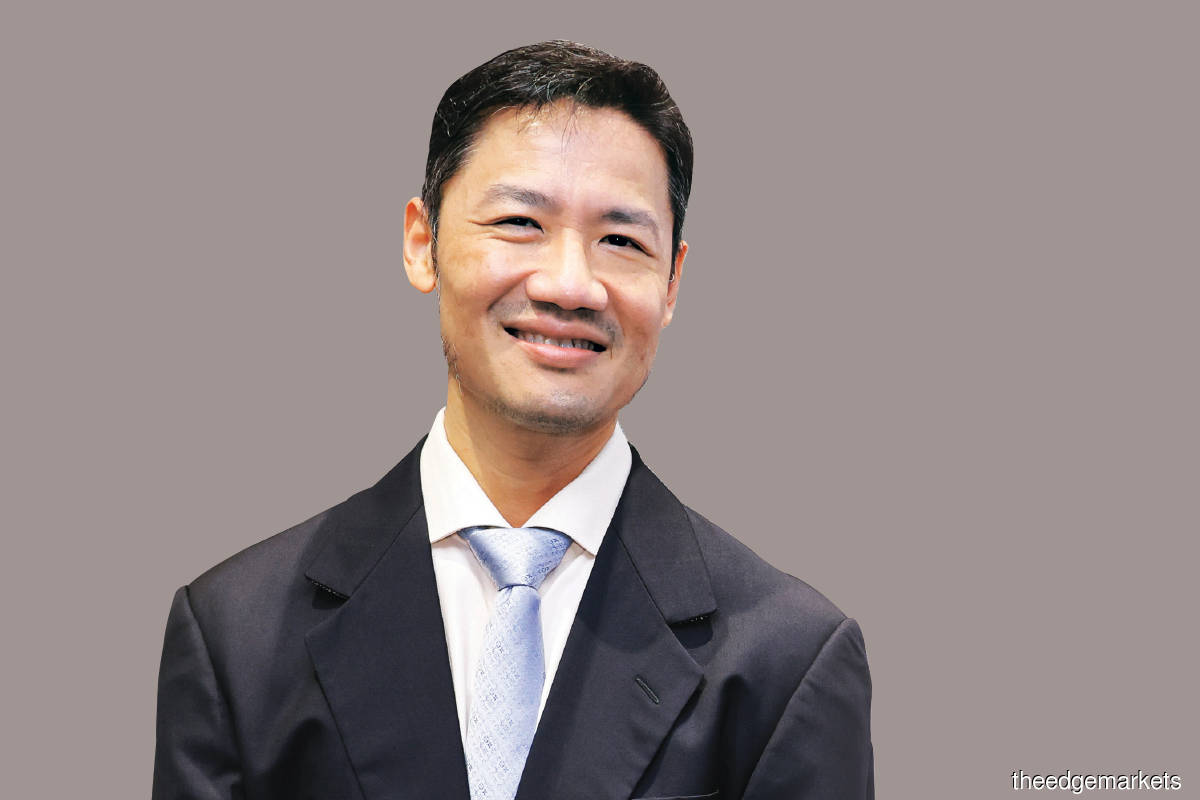 KEDAH-based property developer Eupe Corp Bhd is now benefiting from its pivot to the Klang Valley, with its revenue driven by the sales of Est8 at Seputeh and Helix2 at PJ South. The two projects were launched in November 2021 and August 2022 respectively, and have a combined gross development value (GDV) of about RM900 million.
In the next two years, the group plans to launch two major projects — the Belfield in Kuala Lumpur and Edgewater Estate in Sungai Petani, Kedah — which have a combined GDV of RM1.35 billion.
In an interview with The Edge, Eupe managing director and CEO Datuk Beh Huck Lee says the group continues to look for land in KL to replenish its project pipeline, while restoring its financial trajectory which was interrupted by the Covid-19 pandemic.
"If you look at our current projects, including Est8 and Helix2, as well as our upcoming projects, namely Belfield in KL and Edgewater Estate, our total GDV is approximately RM2.8 billion. This is twice the value of our project pipeline just prior to the pandemic," he highlights.
Beh points out that as at end-August, Eupe's unbilled sales stood at about RM450 million, which is also twice the size of the group's turnover of RM223.2 million in the financial year ended Feb 28, 2022 (FY2022).
"We have been focusing strongly on increasing our land bank during the Covid downturn and, hence, we are well positioned to return to record levels within the next two years. The Belfield and Edgewater Estate projects will go a long way towards underpinning our financial trajectory for the next six to eight years," he remarks.
Eupe's net profit reached a record high of RM43.4 million in FY2021, but fell 46% year on year to RM23.4 million in FY2022. The overall decline in the group's financial performance was mainly due to the delay in the launch of Est8 as a result of the prolonged Covid-19 pandemic.
Beh explains that Novum @ Bangsar South — Eupe's maiden project in Kuala Lumpur — had helped the group gain initial momentum from 2016 onwards. However, the project was completed in June 2020 and its contribution to the group fizzled out, affecting its performance in FY2022.
Beh, 52, was appointed to the board of Eupe in 1997. Together with his mother Datin Teoh Choon Boay, they own over 40% of the company, held through their investment vehicles, Betaj Holdings Sdn Bhd and Beh Heng Seong Sdn Bhd.
Interestingly, among Eupe's top 30 shareholders is former investment banker-turned-private investor Ian Yoong Kah Yin, who owns a 0.86% stake, or 1.1 million shares.
When contacted by The Edge, Yoong comments that Eupe is a well-managed company with a strong balance sheet.
"I believe the stock is tremendously undervalued. It might take one to two years to outperform, but I'm patient," he says.
Over the past 12 months, shares of Main Market-listed Eupe had declined 6% to close at 79 sen last Friday, giving it a market capitalisation of RM101.12 million. The counter is currently trading at a historical price-earnings ratio (PER) of 3.6 times.
Beh notes that over the last six years, Eupe has been focusing on making its mark in the KL market.
"It's been a steep learning curve, but the focus has paid off with the successful launch and completion of our first two projects (Novum and Parc3) and the successful launch of our third and fourth (Est8 and Helix2). This has given us the foundation for sustained growth in both revenue and profit," he says.
In the near future, Eupe plans to roll out a three-stage corporate exercise, with the objectives of improving liquidity and seeking institutional investors, while enlarging its share base with fundraising activities, Beh reveals.
"Our ultimate goal is to increase the group's market capitalisation and to reward all our stakeholders. In terms of dividends, of course we wish to reward our investors, but we also need to be careful in promising a level of returns amid an uncertain environment," he says.
'Scary' initial experience in KL
Eupe was co-founded by Beh's father Datuk Beh Heng Seong in 1986. It started with selling 3,300 units of low-cost houses, dubbed Taman Ria, in Sungai Petani at RM25,000 per unit.
"Initially, the bankers were very cautious because the big boys there couldn't even sell 120 units. But as it turned out, our project was very successful and it became our first major breakthrough," Beh recalls.
Subsequently, Eupe built Cinta Sayang Golf & Country Resort in 1987, and that was when the group's foundation was being laid. Beh joined the company in 1995. Two years later, Eupe was listed on the Main Market.
"Over the years, we have had a good reputation in the northern region, and we know that we are good at township development. In the early 2010s, I started to realise that urban migration is a global trend that is irreversible.
"Meanwhile, we also found out that we had been cannibalising ourselves in Kedah due to the fact that we are one of the very few big boys there. I then suggested to our board of directors that perhaps it was time for us to venture outside Kedah and start looking into KL," Beh recalls.
His wife Datin Michelle Gan Eileen, who is Eupe's head of marketing and sales, acknowledges that when they first came to KL, everything was very challenging.
"We did not have land, we did not have offices, we did not have a team, we did not know anyone in the government authorities, we did not know any property agent and consultant, and we were not even familiar with the KL map. Our first task was to find land. But the real challenges came when we found the land," she says.
Gan admits that the initial experience of coming to KL was "scary", but it was an eye-opener.
"We obtained some good resources in KL, which have also helped us identify and tackle more opportunities in the northern region. Likewise, things that we had learnt in Kedah, we've been able to replicate in KL, like some of our community building concepts," she says.
Gan hopes that in future, Eupe can spread its wings beyond Kedah and KL, maybe even outside Malaysia.
Kedah elements
"If you look at our projects in KL, a lot of the design values actually come from Kedah, such as community, living with the people and the neighbourliness, which we feel are elements lacking in KL.
"Living in KL is stressful and people have limited time to interact. People in Kedah have more opportunities to build and nurture their community, so we wish to infuse these values into the design of our developments in KL. Our vision is to make people's lives better, and that's how we attract more like-minded people to work together with us to achieve this goal," Gan explains.
Notably, in 2016, Eupe entered a new era when the group embarked on its first project in KL, called Novum @ Bangsar South, which was a joint venture (JV) with Aera Property Group Sdn Bhd, a property firm controlled by Chin Hin group founder Datuk Seri Chiau Beng Teik, who also hails from Kedah.
"I first met Datuk Seri Chiau through a mutual friend. He was very warm and nice to me, and he offered me the opportunity to enter into a JV with him on a piece of land in Puchong. Unfortunately, that project did not materialise due to some issues with the land, so we closed the chapter.
"Later on, Datuk Seri continued to contact us to explore other potential JV opportunities, which we did not pursue, but we became friends. So, when Eupe found a piece of land to develop Novum, in the same spirit, we invited them to come in as our JV partner. That's how our partnership was formed," Beh explains.
Going forward, he says, Eupe might explore similar JV opportunities, not just with Chin Hin group, but also other potential partners.
"But frankly, I am very careful about selecting our partners. To us, the most important thing is that we share the same values and principles," Beh stresses.
On industry prospects, he acknowledges that there are growing headwinds from rising interest rates, as well as inflationary pressures and global geopolitical uncertainties.
Hence, property developers must come up with value-for-money propositions that can stand out in a crowded market.
"Even with interest rates and inflation uncertainties putting upward pressure on affordability, I'm confident our projects will continue to stand out and be rewarded by the market. At the end of the day, we can only focus on what is under our control.
"The last three years have been very uncertain and yet as a group, we are emerging stronger than before. We have expanded our pipeline with strategic projects, we have plans to unlock more value for our investors and we have built a very sound financial position on which to base our expansion as well as weather uncertainty," Beh concludes.