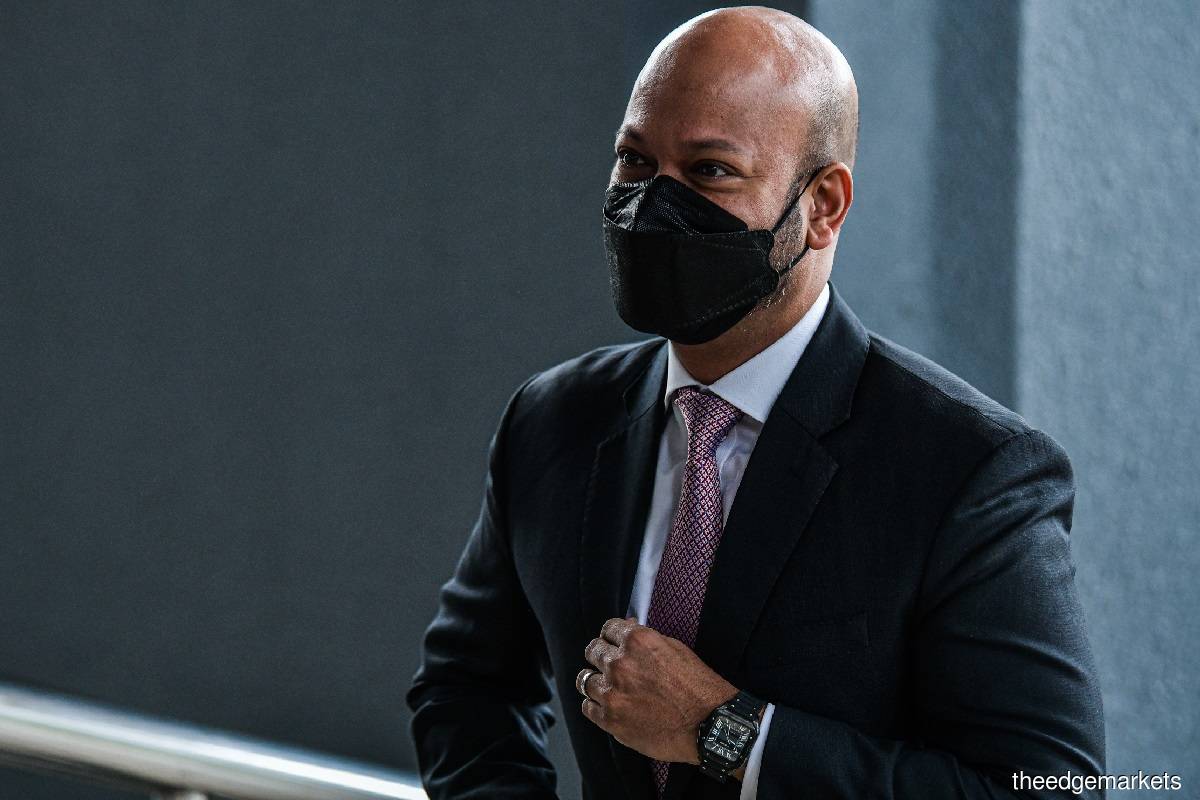 KUALA LUMPUR (Sept 2): Former auditor general Tan Sri Ambrin Buang's statement to the Malaysian Anti-Corruption Commission (MACC) was the basis for initiating investigation into the 1Malaysia Development Bhd (1MDB) audit report tampering case, an investigator with the graft buster told the High Court on Friday (Sept 2).
MACC investigating officer (IO) Haniff Lami said this during cross-examination by defence counsel Datuk N Sivananthan for the co-accused former 1MDB president and chief executive officer Arul Kanda Kandasamy.
In his witness statement, Haniff said that his investigation focused on the amendments made to the report by the National Audit Department (NAD) based on Arul Kanda's instructions to Ambrin.
Sivananthan: So what you understand from him was that he made changes because he was instructed to do so?
Haniff: Yes, correct.
Sivananthan: So this was the starting point of your investigation?
Haniff: Yes, correct.
However, the defence counsel also pointed out that Ambrin's statement to the anti-graft body differed from Haniff's sworn testimony in court. Sivananthan said that Ambrin told the court that he made amendments to the report based on his own discretion.
Sivananthan then asked Haniff if he agreed that there was a discrepancy in Ambrin's statement — recorded in November 2018 and March 2019 — to which the witness answered in the affirmative.
Sivananthan: So you agree with me that if Ambrin made changes on his own discretion that it is different from what you say in your witness statement. These are two different things?
Haniff: Yes, correct.
The IO also said that he was not aware of what Ambrin testified in court and agreed with Sivananthan that as then NAD chief, Ambrin was entitled to make amendments to the report.
It was reported that when Ambrin took the stand in August 2020, he said amendments made to the report were authorised by him and that he would not agree with the word "tampering" used to describe changes made to the report.
In this trial, Najib is charged with abuse of power in his capacity then as the prime minister and the finance minister in altering the 1MDB audit report prepared by the NAD, which was to be tabled to the Public Accounts Committee (PAC) on Feb 24, 2016.
Arul Kanda is accused of abetting Najib.
Haniff testified on Aug 12 that his investigation led him to conclude that the former prime minister had used his power to order the amendments before the report was supposed to be tabled to the PAC on Feb 24, 2016. Haniff also said that Arul Kanda was complicit in this matter.
During cross-examination by Najib's counsel Tan Sri Muhammad Shafee Abdullah, Haniff agreed that he came to these conclusions based on oral and written statements by different witnesses to the MACC.
Ambrin and NAD officers conducted the audit on 1MDB between March 9, 2015 and March 4, 2016, after which they were scheduled to present the audit findings to the PAC on Feb 24, 2016.
This, however, did not materialise. Instead, Arul Kanda was alleged to have met Ambrin and the NAD officers involved on Feb 24 and 25, 2016.
Subsequently, several items were removed from the 1MDB audit report after the meeting with Najib and Arul Kanda. These included fugitive financier Low Taek Jho's presence at 1MDB board meetings, and portions of 1MDB's 2014 financial statements.
Arul Kanda, Najib entitled to see the audited report as 'auditees'
Haniff also agreed with Sivananthan and Shafee that Arul Kanda and Najib were entitled to see the audited report as "auditees".
Sivananthan also suggested that as then 1MDB president, Arul Kanda was entitled to see the report and give comments or suggestions. He said that in the end, it was still up to the NAD's discretion to accept these suggestions or not. The IO agreed with this.
Shafee pointed out that 1MDB was under Minister of Finance Inc and that Najib as the then finance minister was entitled to be briefed on the audit report.
Shafee: So I suggest that Najib was entitled as an auditee to be briefed or to give any suggestions to explain the real situation?
Haniff: Correct.
Haniff also agreed with Shafee's suggestion that not all of the proposed amendments by 1MDB were accepted by the NAD and the NAD could use its discretion to take said proposals into consideration.
Shafee pointed out that there were subsequent meetings after the Feb 24, 2016 meeting during which more information was provided to the NAD and it was the department's professional duty to incorporate them into the report to give a complete picture.
Shafee: Logically, as an IO, do you agree that auditors or any professionals, if they come across additional facts which give a more complete picture, [they have to be included] in a report that has yet to be completed. Agree?
Haniff: Agree.
Shafee: And if there was any misunderstanding, it would be their responsibility to correct it?
Haniff: Yes.
'Right' exit conference in December 2015
On a previous occasion, referring to testimonies of other witnesses, lead prosecutor Datuk Seri Gopal Sri Ram pointed out that if not for the meeting on Feb 24, 2016, the original report would have been tabled to the PAC.
During re-examination by Sri Ram and deputy public prosecutor Ahmad Akram Gharib, Haniff testified that the Feb 24, 2016 meeting was not an exit meeting. Rather, the "right" exit conference meeting was held in December 2015.
Sri Ram: In the course of your investigation, did you confirm whether this [meeting on Feb 24, 2016] was in fact an exit conference?
Haniff: No, it was not an exit conference.
Ahmad Akram: When was the right exit conference?
Haniff: December 2015.
The trial continues before High Court judge Mohamed Zaini Mazlan on Sept 7.
Najib was present in court on Friday, clad in a dark suit. Also present were his daughter Nooryana Najwa Najib and wife Datin Seri Rosmah Mansor.
Separately, on Thursday in the very same courtroom, Rosmah was convicted of all three graft charges and imposed with a 10-year jail sentence and a whopping RM970 million fine. Zaini granted a stay of execution pending an appeal to the Court of Appeal.
Read also:
MACC officer: Najib used his power to amend 1MDB audit report
Ambrin: I couldn't agree with the word 'tampering'