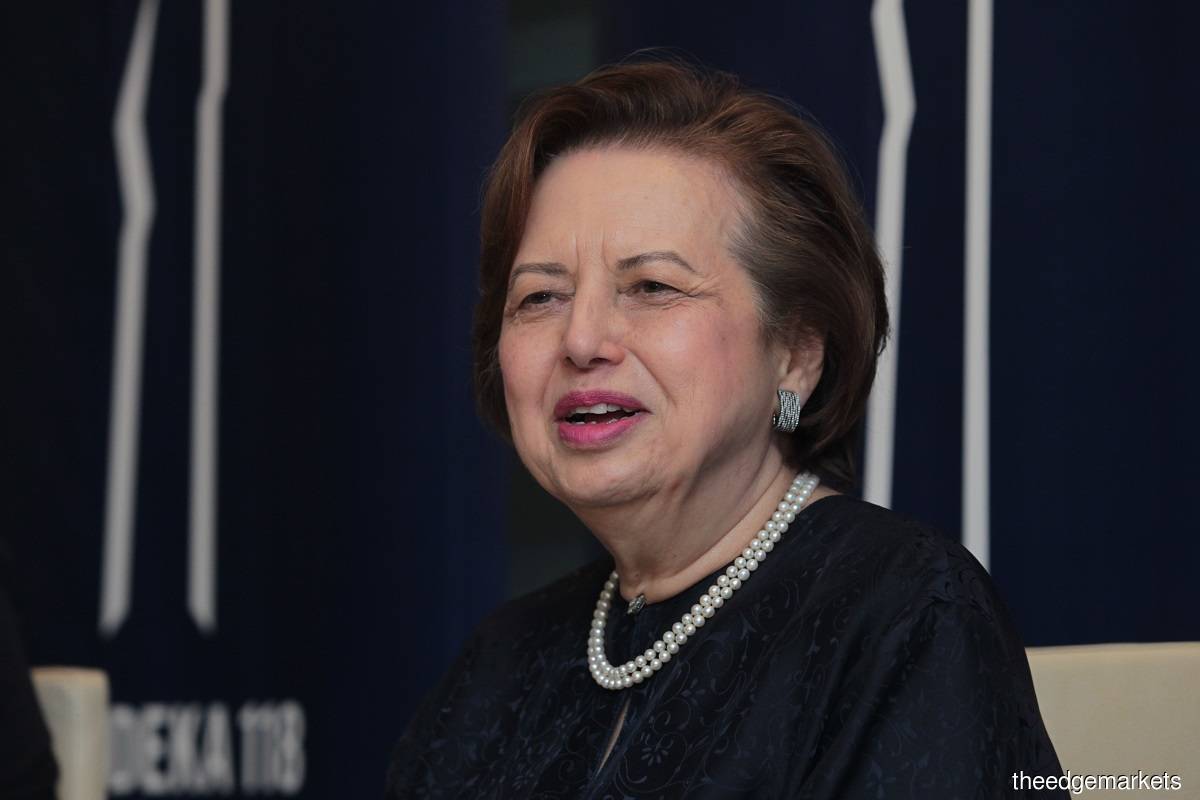 KUALA LUMPUR (Nov 23): As former Bank Negara Malaysia (BNM) governor Tan Sri Dr Zeti Akhtar Aziz is unwell, her testimony at the ongoing 1Malaysia Development Bhd-Tanore (1MDB-Tanore) trial has been postponed to another day. Earlier, the prosecution had indicated she was on standby to testify on Thursday (Nov 24).
Deputy public prosecutor (DPP) Ahmad Akram Gharib told the High Court on Wednesday (Nov 23) that through her lawyers, Zeti had informed the prosecution that she had a fever and was vomiting, and is on two-day medical certificate (MC).
"This is not good. I received a text message from the IO informing me just now, 11.56am to be precise, that Tan Sri Zeti — who I said will come tomorrow — through the lawyer [informed us that] she is not well and she is on MC for two days," he said.
Trial judge Datuk Collin Lawrence Sequerah said he needed an MC to be produced to the court, to which the DPP said he would provide.
Earlier during the morning's proceedings, Akram said Zeti was on standby as a witness and may be called to take the stand on Thursday. The prosecution had indicated in October that it planned to call her to testify. Lead prosecutor Datuk Seri Gopal Sri Ram had alluded to this during the testimony of former AmBank managing director Cheah Tek Kuang.
While cross-examining Cheah, lead defence counsel Tan Sri Muhammad Shafee Abdullah indicated that he had reliable information that fugitive financier Low Taek Jho (Jho Low) was a "frequent visitor" to Zeti's house. He had asked Cheah if he had seen Jho Low in Zeti's home. Sri Ram had then suggested that Muhammad Shafee put the question directly to Zeti instead.
Former BSI banker Kevin Swampillai will also be called to testify
Former Treasury secretary-general Tan Sri Mohd Irwan Serigar Abdullah is now expected to take the stand on Thursday with the defence cross-examining him.
During Wednesday's proceedings, the defence submitted on the admissibility of an audio recording of an alleged conversation between Najib and a Middle Eastern leader. The prosecution wanted Irwan to identify the voices in the recording, but the defence objected to this, arguing that the recording may be illegally obtained thus impacting Najib's right to a fair trial.
Muhammad Shafee had indicated in court on Wednesday that they will cross-examine Irwan on other aspects of his witness statement, without touching on the audio recording.
Akram told the court that the prosecution would also be calling former BSI Bank executive Kevin Swampillai in December. Based in Singapore, Swampillai also testified in the New York trial of ex-Goldman Sachs banker Roger Ng.
In April this year, Ng — the only Goldman Sachs banker to go to trial over the 1MDB scandal — was convicted on all three charges by an American jury. He faces up to 30 years in prison and his sentencing is slated for Dec 9.
In the 1MDB-Tanore trial, Najib is charged with four counts of abuse of power and 21 counts of money laundering involving RM2.28 billion of 1MDB funds.
The Edge is covering the trial live here.
Users of The Edge Markets app may tap here to access the live report.
Read also:
Prosecution to call Zeti as witness in Najib's 1MDB-Tanore trial
Roger Ng Fraud Trial In New York: Former BSI banker said he was told by Geh of 1MDB to lie to KPMG
Ex-Treasury sec gen Irwan earned RM25,000 a month sitting on 1MDB's advisory board, court told
Mohd Irwan: 'Nice man' Najib remained mum when told 1MDB officials needed to be charged