This article first appeared in The Edge Malaysia Weekly, on April 26, 2021 - May 02, 2021.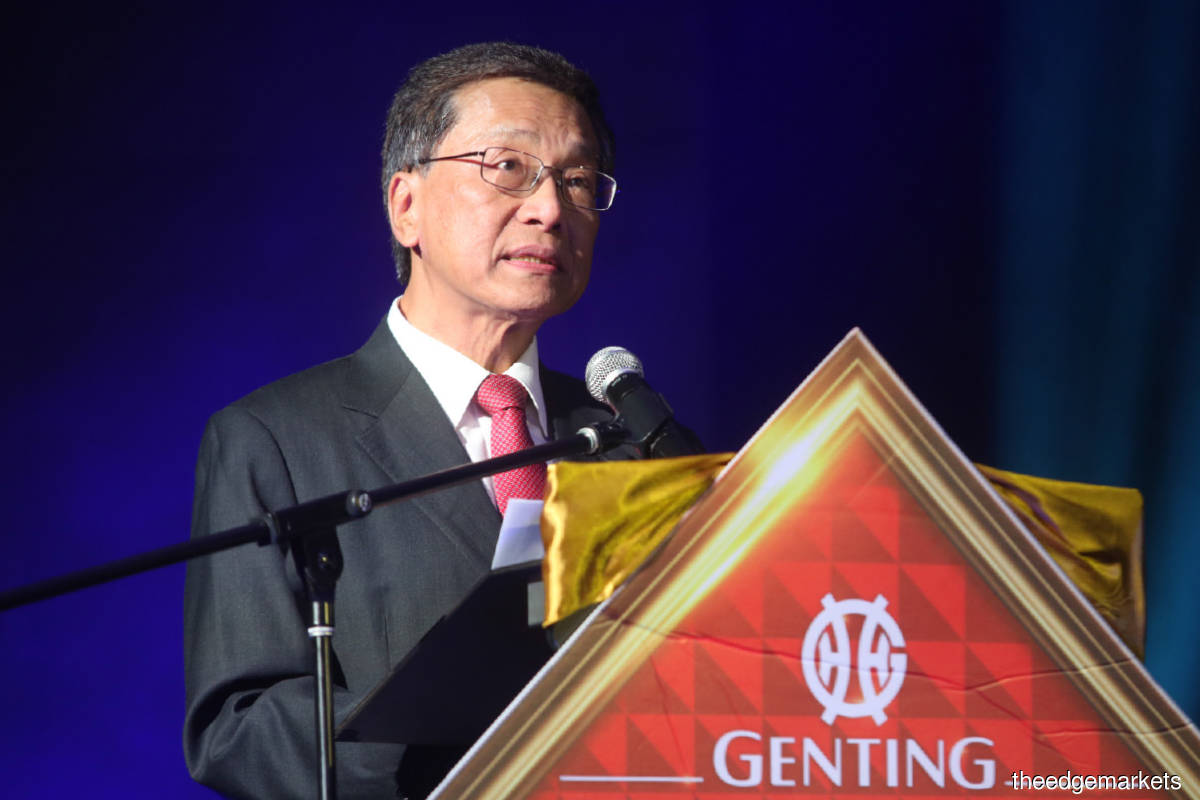 GENTING Bhd's 20.3%-owned TauRx Pharmaceuticals Ltd has been undertaking research in neurodegenerative diseases for more than three decades.
Said to be a leader in studying Alzheimer's disease, TauRx has researched tau tangles in the development of Alzheimer's frontotemporal dementia (FTD) and other neurodegenerative diseases. Tau is a protein that forms part of a structure called a microtubule.
According to its chief operating officer Dr Glenn Corr, TauRx is "currently conducting a pivotal Phase 3 clinical trial" named Lucidity, in collaboration with neurologists and clinical research centres in North America and Europe. This is TauRx's latest research following the failure of its 2016 Phase 3 trials, and is the only late-stage clinical trial targeting the tau pathology of Alzheimer's disease.
With more than 540 patients now fully randomised onto the Lucidity trial, Corr says TauRx aims to confirm the efficacy of hydromethylthionine (known as LMTM) and support regulatory approval of the drug as the first tau-based disease-modifying treatment for mild cognitive impairment and mild-moderate Alzheimer's disease.
LMTM has already been tested in more than 2,000 patients in three previous Phase 3 trials in mild and moderate Alzheimer's disease, and behavioural variant frontotemporal dementia, Coors says in an email response to The Edge.
He explains that, from these studies, TauRx has established that LMTM has excellent pharmacological activity on clinical decline and brain atrophy in patients who had sufficient blood plasma levels of the drug at low doses. "These previous trials allowed us to establish an optimal dose of 16mg per day in Alzheimer's disease patients, and that the drug worked better as monotherapy in the patients who were not also taking one of the symptomatic treatments for Alzheimer's disease. The Lucidity trial was designed to take account of these important lessons."
Corr says TauRx expects to report on the top-line results by mid-2022.
"Positive results in this trial will potentially pave the way to accelerated regulatory review and approvals, and subsequent market launch of the drug, which could be by late 2023," he says.
Path to profitability
Asked about TauRx's path to profitability, given that it is still at the clinical development phase, Corr says: "The path to profitability will be determined by the success of the trial and market launch. Dementia is one of the world's largest unmet medical needs, so the market for a breakthrough disease-modifying drug is considerable. As the world's population ages, the prevalence of Alzheimer's disease is predicted to reach epidemic proportions.
"Our focus in our current research and development is on delivering a successful Phase 3 trial and implementation of our commercialisation strategy to bring LMTM to market as quickly as possible after regulatory approvals, to help transform the lives of millions of people affected by Alzheimer's disease."
On the investments made thus far, Corr says TauRx has so far been "very successful in securing significant investment of about US$700 million [RM2.9 billion] to fund its research".
He notes: "Our strong fundraising track record reflects the credibility of our research and the market opportunity. Investment has come from a mix of private investors, based largely in Southeast Asia, as well as funds from large corporate investors such as Genting."
How much investment does the company need?
As with any clinical research company, Corr says "investment is continually sought to ensure progress is continued uninterrupted".
He explains: "For TauRx, as we get closer to trial results, we will seek further investment to support the successful launch of LMTM and achieve our mission to discover, develop and commercialise innovative products for the diagnosis and treatment of neurodegenerative diseases caused by protein aggregation."
It has been almost two decades since November 2002 that Genting announced a total investment of US$111.8 million in the pharmaceutical company in exchange for a 20% stake. Singapore's sovereign state fund Temasek is also a substantial shareholder of TauRx. Gaming analysts say Genting had invested a total of about US$120 million in TauRx as at 2016.
Genting did not respond to questions on whether it was willing to invest further if necessary.
Apart from research into a cure for Alzheimer's disease, TauRx is also looking into diagnostics.
TauRx Therapeutics Ltd — a member of the TauRx group — has a joint venture with Genting called TauRx Diagnostic Centre Sdn Bhd (GTD), which seeks to transform the dementia diagnostic market.
TauRx believes the development of inexpensive and accurate assessment tools for dementia diagnosis by GTD will help maximise patient access to breakthrough treatments, and its collective research efforts also aim to provide the monitoring of treatment effects with simple blood tests.
Genting chairman and CEO Tan Sri Lim Kok Thay had said in the group's latest annual report: "Although the investments in R&D within the medical space pose higher risks than other investments, as the results and success rates are uncertain and the gestation period for any breakthrough discovery can be long ... the group is committed to finding new solutions to improve the health of mankind and the community."
Genting Group's life sciences and biotechnology division also includes Celularity Inc, DNAe Group Holdings Ltd and Cortechs.ai.
TauRx had been close to an initial public offering (IPO) a few years ago but failed in its Phase 3 trials at that time in 2016.
Meanwhile, in January this year, Genting's biotechnology arm Celularity announced that it had entered into a definitive merger agreement with Nasdaq-listed GX Acquisition Corp, a move that would result in Celularity combining with GX and becoming a publicly listed company.
On April 16, Celularity announced that GX was seeking shareholders' approval to extend the deadline by which GX has to complete the Celularity-GX business combination to July 31, from May 23.
Analysts contacted by The Edge say there are risks to Genting's R&D investments but, if the research outcome is successful, the payoff could be big.
Says an analyst at a foreign research house: "These investments that Genting has, such as the one in TauRx, have long gestation periods. I'm sure the team is looking into them to see what they can do to recuperate their investment, and potential exit methods include listing. Take, for example, TauRx ... There were listing plans but they didn't go through because the trials then (2016) failed; but what if the research eventually succeeds? The potential is huge if they succeed. There is no cure for Alzheimer's right now and, as it is, the diagnostics and therapeutics market alone is a big market."
According to research and consulting firm GlobalData, the global market for Alzheimer's disease treatment will more than double in value from US$4.9 billion in 2013 to an estimated US$13.3 billion by 2023.
Another analyst who covers Genting notes: "There was excitement about the potential, hinged on TauRx's research succeeding, a few years ago but the results failed and the excitement quickly abated, showing the risks and how fluid things can be with such ventures. Regardless, the outcome of TauRx's latest trials will certainly be something closely watched."