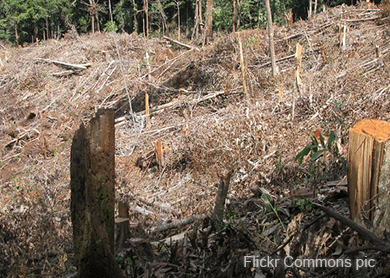 LONDON (Jan 22): Malaysia has failed to make progress in tackling illegal logging since 2010, due to corruption and a lack of transparency and political will, a report by a British think tank said yesterday.
Chatham House has looked into illegal logging and the response of governments and the private sector since 2006.
Malaysia is among a handful of timber-producing countries – chosen for the importance of the forest sector to their economies and the volume of timber they export – assessed between 2008 and 2009 and again between 2013 and 2014.
Chatham House said illegal logging in the country, where 60% of the land is forested, was not as bad as in countries such as Cameroon. But problems persisted in the resource-rich state of Sarawak.
The growth of timber, pulp and agricultural plantations is driving forest loss in the Southeast Asian nation, where the area given over to plantations is expected to double by 2020, the report said.
"Illegal logging has a devastating impact on some of the world's most valuable remaining forests and on the people who live in them and rely on the resources they provide," Chatham House Senior Research Fellow Alison Hoare said in a statement.
"It is disappointing how little progress Malaysia and Cameroon have made in tackling illegal logging, which exacerbates deforestation, climate change and poverty. In both countries corruption is a major issue, and the governments need to do much more to address the problem."
The study comes just after Sarawak Chief Minister Tan Sri Adenan Satem's move to deal with illegal logging by freezing the issuance of new logging licences.
By contrast, Ghana and Indonesia had made much more progress in tackling the problem, Hoare said.
"In Indonesia this agenda has become closely linked with the government trying to reduce its carbon emissions and its deforestation (as part of the) whole climate change issue which it has been giving a lot of priority to," she added.
A study last week showed that Indonesia's moratorium prohibiting district governments from granting new palm oil, timber and logging concessions had lowered greenhouse gas emissions from deforestation by 1 to 2.5% between 2011 and 2015.
But, Indonesia will not meet its emissions reduction target of 26 to 41% by 2020 unless the current policy is extended and strengthened, according to researchers from the Centre for Global Development and others.