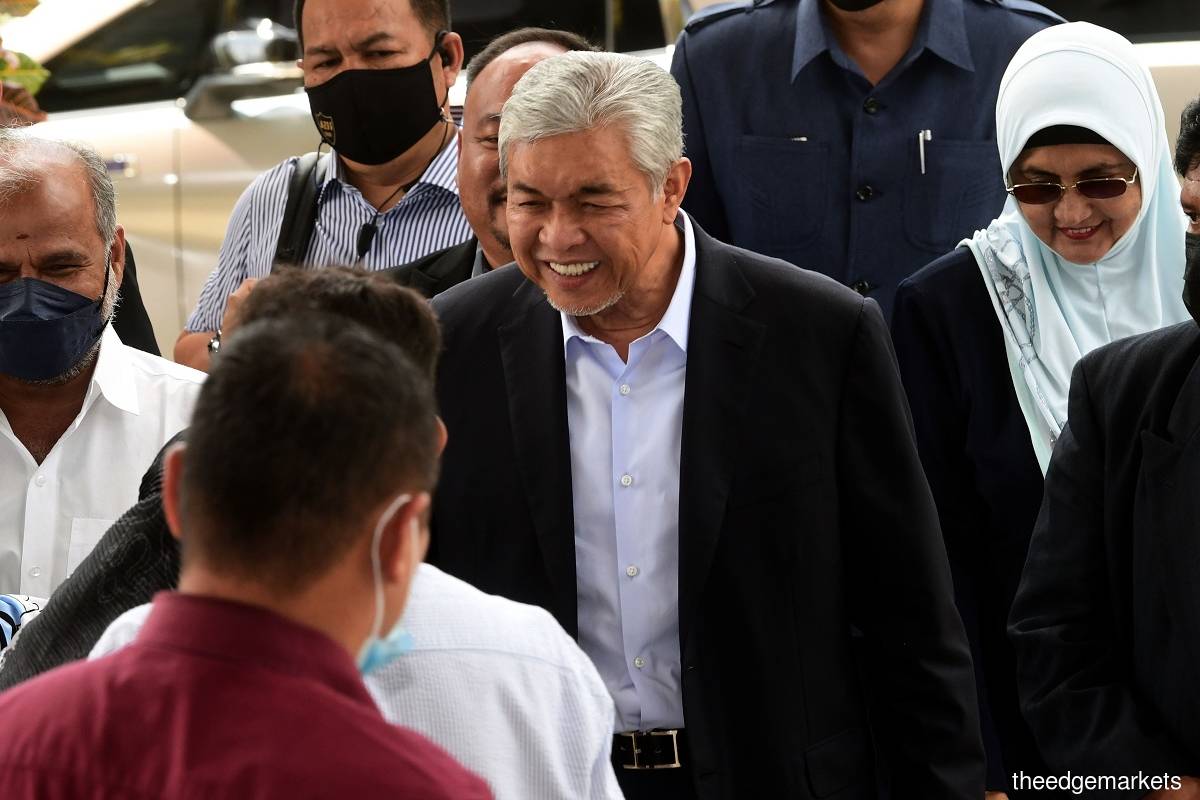 KUALA LUMPUR (Sept 21): The High Court has allowed most of the testimony of Umno president Datuk Seri Dr Ahmad Zahid Hamidi's second witness to be admitted in court after the prosecution had sought to have them expunged in his corruption trial here.
The witness statement in question is that of Zahid's press secretary Major General (retired) Datuk Fadzlette Othman Merican Idris Merican. The prosecution in Zahid's corruption trial had sought to remove certain passages in Fadzlette's written witness statement.
The portions in question are paragraphs 16 to 30 of her witness statement, which the prosecution claim are trying to discredit its key witness, Zahid's former executive secretary Major Mazlina Mazlan @ Ramly.
Fadzlette is testifying in defence of Zahid, in a trial where he is charged with allegedly misappropriating RM31 million of charity Yayasan Akalbudi's funds.
Zahid together with his legal team have largely pinned the blame on Mazlina for using the charity's funds to pay Zahid and his wife's credit card bills, among others.
Zahid, who had also taken the witness stand in his defence, maintained that Mazlina had acted on her own accord to use the charity's funds to make the payments.
The prosecution, led by deputy public prosecutor Datuk Raja Rozela Raja Toran, had submitted to court that the paragraphs in question were not relevant to the charges and are "collateral matters".
However, on Wednesday (Sept 21), judge Datuk Collin Lawrence Sequerah ruled that only paragraph 18 and portions of paragraphs 17 and 22 should be expunged, and that the rest should be allowed because they form the core of Zahid's defence.
"Apart from these portions, the rest relate to facts which form the core of the defence case and therefore are not collateral matters," he said.
With that, Fadzlette will take the stand as Zahid's defence witness and will also be subject to cross-examination from the prosecution.
Zahid, 69, is facing 47 charges, comprising 12 for criminal breach of trust (CBT), eight for corruption and 27 for money laundering involving RM31 million of Yayasan Akalbudi funds.
For the 12 CBT charges, Zahid is alleged to have used the funds to make payments for personal credit cards, insurance policies and licences for his personal vehicles, remittances to a law firm and contributions to the Royal Malaysian Police football association.
The charges are made under Section 409 of the Penal Code, and each charge carries a maximum of 20 years in jail, whipping and fine.
Read also:
Witness: Zahid was generous with donations and gave them discreetly without showing off
Prosecutors object to written testimony of Zahid's aide as it's 'irrelevant'
Zahid will be denied of his right to a fair trial if press secretary's testimony is rejected, court told