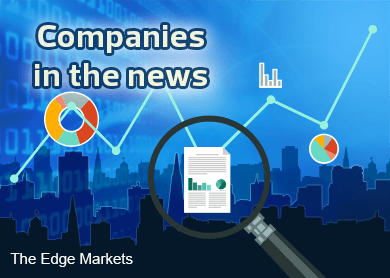 KUALA LUMPUR (June 26): Based on corporate announcements and news flow today, companies that may be in focus next Monday, June 29, could be: Ho Hup, Eden, FGV, Prestariang, Berjaya Land (BLand), Subur Tiasa, Fitters Diversified, Uzma, Mulpha Land and Halex.
Property developer cum builder Ho Hup Construction Company Bhd has proposed to acquire a 70% stake in a private company, which is planning to develop a 4.99-acre commercial leasehold land in Kota Kinabalu, Sabah, into a mixed development with a gross development value (GDV) of RM774 million.
In a filing with Bursa Malaysia, Ho Hup (fundamental: 1.9; valuation: 1.2) said its 75%-owned subsidiary Ho Hup Ventures (KK) Sdn Bhd has entered into a share sale agreement with Agro Padi Sdn Bhd to acquire the said stake in Golden Wave Sdn Bhd (GWSB) for RM30 million.
GWSB had in 2010 entered into a joint venture agreement (JVA) with DBKK Holdings Sdn Bhd, to develop a bus terminal and car park on a land owned by the latter at Jalan Wawasan, at a cost not exceeding RM46.92 million, in exchange for an adjacent piece of commercial leasehold land.
Pursuant to the JVA, the title of the adjacent land shall be delivered to GWSB, upon completion and delivery of the bus terminal or a bank guarantee to be issued in favour of DBKK in exchange for the immediate transfer of the title of the land, prior to the completion of the bus terminal.
The construction of the bus terminal is approximately 19% complete as at April 30 and is scheduled to be completed in June 2016, and will be financed via bank borrowings.
The indicative market value of the land is RM185 million. The proposed use of the land is for a mixed development comprising service apartments, hotels and commercial shoplots.
Ho Hup said the development is expected to span five years, from 2015 to 2020. The land, it added, is a prime commercial land with a 99-year lease, which will expire on Dec 31, 2111.
Power plant operator cum electrical components manufacturer Eden Inc Bhd is disposing of an 80.21-acre piece of vacant industrial land in Kuantan, Pahang for RM22.71 million, to boost its cash flow and reduce borrowings.
In a filing with Bursa, Eden (fundamental: 0; valuation: 0.9) said it has entered into a sale and purchase agreement with GIP Development Sdn Bhd for the proposed disposal.
Eden said the sale will boost its cash flow (net inflow is estimated at RM15.70 million), and the proceeds shall be utilised for Eden's working capital and to reduce its borrowing.
Palm oil giant Felda Global Ventures Holdings Bhd (FGV) said no discussions have taken place at this point in time, over the possibility of Indonesia's Rajawali Corp increasing its stake in FGV to 21%, from the 2.55%, under a proposed offer which sees FGV buying a 37% stake in PT Eagle High Plantations Tbk.
Rajawali is currently a major shareholder in Eagle High, holding a 65.54% stake.
Information technology training and certification provider Prestariang Bhd has received a two-year extension on its contract for the distribution and management of Microsoft software licenses to public higher education institutions in Malaysia, worth RM20 million.
In a filing with Bursa, Prestariang said its wholly-owned unit, Prestariang Systems Sdn Bhd, received the letter of award from the Ministry of Education for the said contract.
It said the extension will run from July 3, 2015 until July 2, 2017.
Hospitality and property development player Berjaya Land Bhd (BLand) incurred a net loss of RM418.52 million in its fourth quarter ended April 30, 2015 (4QFY15), compared with a net profit of RM5.81 million in 4QFY14.
The loss was due to non-cash impairment of goodwill in its gaming segment; value of investment in its associated companies; and value of its property, plant and equipment.
Revenue for 4QFY15 was, however, up 4.43% to RM1.63 billion, from RM1.56 billion a year ago, mainly due to contributions from H.R. Owen, which reported better new car and used car sales, according to BLand's filing to Bursa Malaysia today.
BLand (fundamental: 0.55; valuation: 1.2)'s latest quarterly earnings translate into a loss per share of 8.39 sen against earnings per share of 0.12 sen in 4QFY14.
For the full FY15, BLand sunk into the red with a net loss of RM398.52 million or 7.99 sen per share, versus a net profit of RM104.62 million or 2.1 sen per share in FY14; while revenue increased 17.85% to RM5.92 billion, from RM5.02 billion previously.
BLand expects the gaming business to be challenging in the next financial year, with rising costs weighing down on domestic consumer spending and the implementation of the goods and services tax.
Timber product manufacturer Subur Tiasa Holdings Bhd saw its net profit fall 73.21% to RM2.7 million or 1.44 sen a share for the third financial quarter ended April 30, 2015 (3QFY15), from RM10.08 million or 5.54 sen a share a year ago, mainly due to lower export sales volume and losses in its oil palm plantation segment.
Quarterly revenue also fell 23.35% to RM176.75 million, from RM230.6 million in 3QFY14.
For the nine-month period (9MFY15), Subur Tiasa (fundamental: 0.5; valuation: 2) saw its net profit declined 78.3% to RM5.96 million or 3.17 sen a share, from RM27.44 million or 14.59 sen a year ago.
Revenue also slid 3.09% to RM622.98 million, from RM642.86 million in 9MFY14.
Moving forward, the group pledged to adopt a resilient business model and commit to rationalise its operations, optimise its integrated supply chain and strengthen its products' branding.
Property developer cum construction player Fitters Diversified Bhd has signed a 16-year Renewable Energy (RE) Power Purchase Agreement (REPPA) with Tenaga Nasional Bhd (TNB) to sell electricity generated from its biogas facility in Baling, Kedah to the national power grid beginning February 2016.
Fitters' (fundamental: 1; valuation: 1.8) managing director Datuk Richard Wong told reporters today that the new deal is expected to bring RM6 million in additional revenue to the group, a year.
Wong said electricity will be generated through the biogas recovery, from palm oil mill effluent (POME) in Baling.
The biogas capture plant project is certified by the Ministry of Energy, Green Technology and Water under the Green Technology Financing Scheme, and is an integration between the existing palm oil mill and the group's green technology.
Wong expects the plant to be fully commissioned by the last quarter of 2015, with all equipment in place.
Oil and gas geoscience and reservoir engineering firm Uzma Bhd has proposed a private placement to raise up to RM50.9 million, mainly for capital expenditure.
In a filing with Bursa Malaysia, Uzma (fundamental: 1.3; valuation:1.5) said about RM35 million of the proceeds raised will be used for capital expenditure, RM10 million for repayment of bank overdrafts and RM5.6 million for working capital.
Uzma expects to issue some 21.59 million shares, representing 8.01% of the existing issued and paid-up share capital, which will enlarge its share base to 290.94 million shares.
The private placement is expected to be completed by the fourth quarter of this year.
Property developer Mulpha Land Bhd has proposed a bonus issue of 125.57 million shares, on a one-for-two basis.
In a filing with Bursa Malaysia today, Mulpha Land (fundamental: 1.1; valuation: 0.7) also proposed a bonus issue of 188.35 million free warrants on the basis of one free warrant for every two shares, with the exercise price of 64 sen apiece.
The exercise price, Mulpha Land said, represents a premium of approximately 12.28% to the theoretical ex-all price of its shares of 57 sen, calculated based on the five-day weighted average market price of its shares, up to and including the latest practicable date (LPD) of 85 sen.
Mulpha Land targets the proposals to be completed by the fourth quarter of 2015.
Agrochemical player cum healthcare disposable products maker Halex Holdings Bhd expects to expand the reach of its Tender Soft brand from 1,000 to at least 5,000 distribution points, through its partnership with DKSH Holdings (Malaysia) Bhd.
At the signing of a 3-year agreement with the market expansion services provider today, Halex's managing director Benny Lim Pang Yan said the group would also leverage on DKSH's extensive capillary distribution network, with 25,000 distribution points.
Tender Soft currently contributes about 40% to group revenue, and under the agreement, is expected to contribute to projected double-digit revenue growth for the group in subsequent years.
(Note: The Edge Research's fundamental score reflects a company's profitability and balance sheet strength, calculated based on historical numbers. The valuation score determines if a stock is attractively valued or not, also based on historical numbers. A score of 3 suggests strong fundamentals and attractive valuations.)