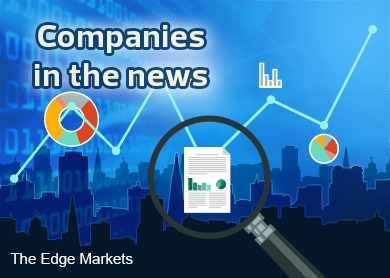 KUALA LUMPUR (July 1): Based on corporate announcements and news flow today, the companies that may be in focus tomorrow (Thursday, July 2) could be the following: IHH, MMC Corp, Lii Hen, Cypark, CIMB Group, Time Dotcom, NCB, StemLife, Keladi Maju, and Country Heights.
M&P Investments Pte Ltd, an indirect wholly-owned subsidiary of IHH Healthcare Bhd, has received its business license from the Shanghai Administration for Industry and Commerce to set up a "sino-foreign" equity company for the provision of medical and health-related facilities and services in China.
In a filing with Bursa Malaysia, the hospital operator said the license is valid from June 29, 2015 to June 28, 2035 for the establishment of ParkwayHealth Shanghai International Hospital Company Ltd.
IHH Healthcare (fundamental: 1.65; valuation: 0.4) said 70% of ParkwayHealth will be held by M&P Investments while the remaining 30% will be held by Shanghai Hongxin Medical Investment Holding Co Ltd.
MMC Corp Bhd has clarified to Bursa Malaysia today that it has not approached Kumpulan Wang Persaraan (KWAP) to acquire the latter's interest in NCB Holdings Bhd.
MMC Corp was responding to an article in The Edge Malaysia (June 29 to July 5) in which the weekly reported, quoting sources, that the group owned by tycoon Tan Sri Syed Mokhtar Albukhary was "eyeing" KWAP's 9.08% stake in NCB.
Currently, MMC Corp (fundamental: 1.2; valuation: 0.8) holds a 21.05% stake in NCB, a rise from 15.73% after buying into Lembaga Pelabuhan Klang's 25 million shares in NCB on June 19.
Furniture maker Lii Hen Industries Bhd, which saw its share price rally to an all-time high of RM4.85 today, has proposed a bonus issue of 30 million new shares on a one-for-two basis and a proposed share split today.
According to the filing with Bursa Malaysia today, Lii Hen (fundamental: 2.8; valuation: 2.4) said the proposed corporate exercise was to reward the shareholders.
The share split is meant to increase the number of shares of Lii Hen held by shareholders while maintaining their percentage of equity shareholding.
It added the corporate exercise also can improve liquidity and marketability of the Lii Hen shares.
Renewable energy outfit Cypark Resources Bhd announced that it has decided to issue its 40.978 million placement shares or 20% of its issued and paid-up capital in several tranches, due to "prevailing market conditions".
The group told Bursa Malaysia that the implementation of the placement in tranches would allow Cypark (fundamental: 1.3; valuation: 2.4) to identify and secure suitable investors over a period of time to subscribe for the placement shares.
As such, Cypark said there could be more than one price-fixing date and issue price depending on the number of tranches and timing of implementation.
Cypark share price has fallen by 50% from RM2.66 in October last year to close at RM1.77 today. Year-to-date, the stock has fallen 17.67% or 38 sen.
In the same filing, Cypark said it has fixed the price of the first tranche of placement shares — 7 million new shares or 3.48% of its issued and paid-up capital — at RM1.52 apiece.
Malaysia's second-largest bank by assets CIMB Group Holdings Bhd said it will book RM443.3 million in costs from a voluntary redundancy programme in Malaysia and Indonesia.
The group, which employs 40,000 people, has been implementing cost-cutting measures to improve efficiency after a period of expansion over the past few years.
CIMB (fundamental: 1.05; valuation: 2.25) said in a statement that 3,599 people, or 11% of its total workforce in Malaysia and Indonesia, opted for redundancy packages.
As a result, the group is estimated to save RM291.6 million per annum from the headcount reduction.
Fixed-line telecommunications provider Time Dotcom Bhd declared today a special interim single-tier dividend of 73.5 sen per share for the financial year ending Dec 31, 2015 (FY15).
The ex-date for the dividend is July 31, while the entitlement date is July 15, Time Dotcom (fundamental: 2.4; valuation: 0.8) filing with Bursa Malaysia today showed. The dividend is payable on July 29.
Northport (M) Bhd, a wholly-owned subsidiary of port operator NCB Holdings Bhd (fundamental: 2.05; valuation: 0.8), announced today that Datuk Idris Kechot will be taking on the role of the company's new chairman and director effective immediately.
This filing to Bursa Malaysia was made following the announcement that Northport's former chairman and director Tan Sri Ir Wan Abdul Rahman had resigned effective July 1.
Stem cell banking company StemLife Bhd has appointed Sophian Abdul Rahman as its acting chief executive officer (CEO), effective July 1, 2015.
The appointment followed the retirement of former managing director (MD) Datuk Low Su-Shing, as she did not seek re-election at StemLife's (fundamental: 1.95; valuation: 0) 13th annual general meeting on June 16.
Based on the company's filing, Sophian has served in Singapore's Economic Development Board and International Enterprise (IE) Singapore.
StemLife has also appointed Hoo Yee Fong as acting chief financial officer (CFO), following the retirement of former CFO Lim Jit Soon.
Property developer Keladi Maju Bhd announced to Bursa Malaysia that former IJM Corp Bhd CEO Datuk Teh Kean Ming is now its MD.
In a separate filing with the stock exchange, Keladi Maju (fundamental: 1.65; valuation: 2.4) said its existing MD Datuk Ir Chuah Chin Ah has been redesignated as executive deputy chairman.
Teh joined the board of IJM Corp as an alternate director on Sept 1, 2005 and was the deputy CEO and deputy MD of IJM Corp from July 1, 2008 to Dec 31, 2010. He was then appointed CEO and MD of the company on Jan 1, 2011 and retired on Apr 5, 2015.
Chuah, on the other hand, is one of the founders of Keladi Maju and has been the MD of the group since 1986.
Property developer Country Heights Holdings Bhd announced to Bursa Malaysia today that it could be liable to pay RM22.6 million in backdated tax to the government, if the Kuala Lumpur High court decides in favour of the Inland Revenue Board in its appeal against the government's claim on July 10.
Back in 2010, Country Heights (fundamental: 0.65, valuation: 1.1) was slapped with the multi-million claim by the government for real property gains tax (RPGT) for the assessment years 1993, 1998 and 1999 amounting to the sum of RM22.6 million, together with interest at 8%, said Country Heights.
In the event that the aforesaid appeal is determined in favour of the Director-General of the Inland Revenue Board, Country Heights said it is in possession of a tax retention sum amounting to RM11.21 million, which can be used to settle the claim.
The balance of RM11.4 million, however, would need to be paid by Country Heights.
(Note: The Edge Research's fundamental score reflects a company's profitability and balance sheet strength, calculated based on historical numbers. The valuation score determines if a stock is attractively valued or not, also based on historical numbers. A score of 3 suggests strong fundamentals and attractive valuations.)