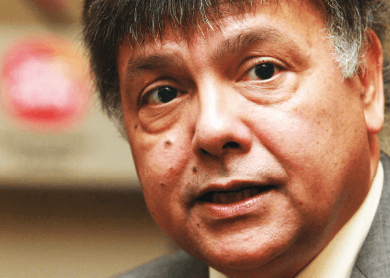 KUALA LUMPUR: Integrax Bhd (fundamental: 1.65; valuation: 0.6) co-founder and major shareholder Amin Halim Rasip said he won't give up his stake in the port operator unless Tenaga Nasional Bhd (TNB) revises its takeover offer price to at least RM5 per share.
Amin owns 22.81% of Integrax, making him the single-largest shareholder.
"Based on my analysis, the true value and the minimum price per share for Integrax should be at RM5 and could go up to as high as RM10 within the next five years," Amin, who is deputy chairman of Integrax, told The Edge Financial Daily in an interview yesterday.
The national utility currently owns 22.12% in Integrax and is offering to buy all the shares that it does not own in the company at RM2.75 apiece.
"I will be the last to abandon the ship because RM2.75 per share for Integrax is unfair and unreasonable," said Amin.
TNB (fundamental: 1.3; valuation: 1) had on Jan 9 made a general offer of RM2.75 per share for the remaining 77.88% stake it does not own in Integrax. The offer price was already at a premium of 21.7% to the closing price of Integrax prior to the takeover announcement.
On Jan 16, Amin had issued a statement declining TNB's offer. He had also announced to Bursa Malaysia on the same day of his intention to deal in the company's securities during closed period. 
Amin believes minority shareholders should not cash out their shares under pressure just for a quick buck, but should instead hold on for the long term for a much higher value.
However, Amin said he is unable to disclose details of projects that are in the pipeline as such information are not privy to minority shareholders at this juncture.
"All I can say is, shareholders can expect higher returns in [the near] future," he added.
Integrax is poised to handle slightly more than double its current capacity of coal through Lekir Bulk Terminal (LBT) to at least 15 million tonnes per year by 2018.
Lumut Port comprises LBT and Lumut Maritime Terminal (LMT) that handles dry and liquid bulk.
"The bid (from TNB) for Integrax is very competitive and the aquisition cost is cheap," he said, considering the port's existing infrastructure that is able to accommodate another two new coal-fired power plants on Lekir island that could be realised in the next two to three years.
The current takeover offer will cost TNB some RM644.23 million, which several research houses have said is at a decent premium and had advised minority shareholders to take the offer. It should be noted that TNB is Integrax's only customer at LBT (90% to 95% utilisation rate), which facilitates the import of coal for its power plants.
"LBT is not a threat to TNB. It is a coal hub and a multi-user terminal that has the capability to handle higher-value products," said Amin, adding that Perak as a state will lose out if Lumut Port is no longer a multi-user port.
Apart from Amin and TNB, Perak Corp Bhd (fundamental: 1.90; valuation: 1.2) has a 15.74% stake in Integrax. To date, Perak Corp has yet to state if it is interested to accept TNB's offer.
Shares of Integrax closed 1 sen or 0.37% higher at RM2.74 yesterday, while Perak Corp shares settled up 2 sen or 0.71% at RM2.85. TNB's share price ended 10 sen or 0.69% higher at RM14.50.
---
The Edge Research's fundamental score reflects a company's profitability and balance sheet strength, calculated based on historical numbers. The valuation score determines if a stock is attractively valued or not, also based on historical numbers. A score of 3 suggests strong fundamentals and attractive valuations. Go to www.theedgemarkets.comfor more details on a company's financial dashboard.
This article first appeared in The Edge Financial Daily, on January 22, 2015.