This article first appeared in The Edge Malaysia Weekly, on September 19, 2022 - September 25, 2022.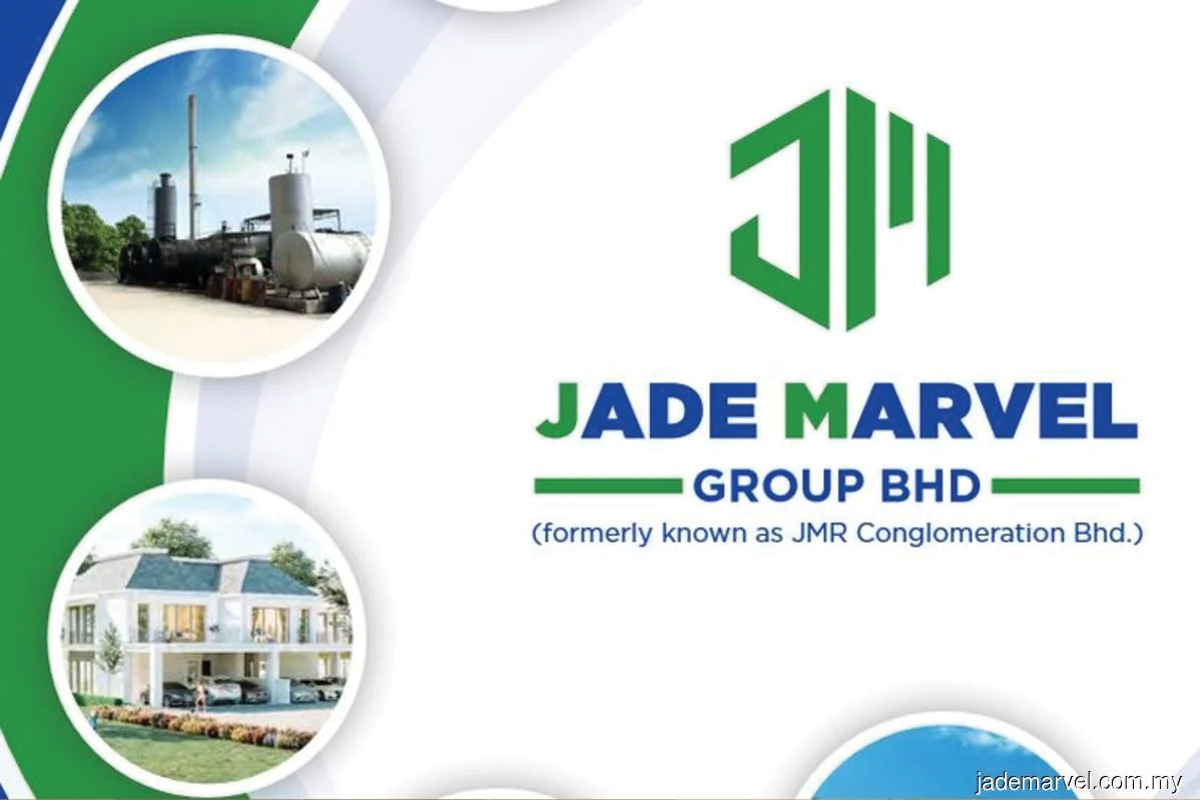 IT was an eventful month for little-known Jade Marvel Group Bhd — from shareholding changes to board reshuffling, departures of top management and plunging share prices.
So, what gives?
On Aug 30, shares in Jade Marvel, which has interests in manufacturing, property development and money lending, hit limit down after falling 30 sen, or 37%, to 50.5 sen. The drop has been attributed to margin calls.
It is worth noting that the counter has seen heavy selling since Aug 25, nosediving as much as 72% to as low as 23.5 sen on Sept 12, from 85 sen.
Following the plunge in its share price, the group saw a slew of board changes on Sept 7, including the retirement of joint managing director (MD) Datuk David Khoo Yik Chou, 35, and deputy chairman Vincent Chong Wei Liang, 38.
On the same day, shareholders rejected several proposals, including the re-election of Vincent, Tan Yen Yew and Loh Seong Yew to the board of Jade Marvel, at its 20th annual general meeting (AGM) and extraordinary general meeting (EGM).
The AGM also saw a proposal — for the company to diversify into the mining, sale and trading of iron ore, dolomite, sand and other minerals — rejected.
When contacted, its managing director Dennis Chung Vui Ming (previously joint MD with Khoo) reckons that some shareholders were not keen on the diversification plan, following the sharp drop in the company's share price.
"After the drop, I think it's good that we slow down [the] expansion and consolidate first. He (Khoo) was expanding too fast that the operations couldn't cope, in my opinion.
"Now that the mining diversification is rejected, we will try our best to come up with a solution as soon as possible," Chung, 60, tells The Edge.
Asked about the resignation of Khoo as joint managing director, Chung says he was abroad when it happened.
"I'm not sure. Obviously, there were some different views going forward [with the company]," he says.
"I think if Khoo were to stand for re-election, he may have been revoked too. Maybe other shareholders were sending a message that they don't like what they see.
"That's only my speculation. Many [shareholders] were not happy after the drop, I believe, and they have to aim the guns at someone to show [their] frustration."
The proposed diversification was first announced in July this year, just four months after the group issued a circular for the proposed diversification into the money-lending business and proposed private placement, involving 30% of the company's issued share capital.
Chung is now the sole MD of Jade Marvel following Khoo's departure. He says the company may be looking to consolidate the new businesses that Khoo brought in when he joined in April last year.
"I propose to consolidate the new businesses that Khoo started; the rest is up to the board to decide. I handle operations ... and the property division is on track," explains Chung, who oversees the division.
He was appointed executive director of Jade Marvel in March 2018 and redesignated as group MD in February 2019. In June 2021, he was redesignated as joint MD with Khoo, who joined the company in April 2021 as an executive director.
Meanwhile, Jade Marvel saw X Infinity Sdn Bhd — controlled by Datuk Seri Eddie Chong Wei Chuan — cease to be a substantial shareholder after it sold 13.25 million shares in two separate transactions on Sept 5 and 7. X Infinity still owns 8.2 million shares, or a 2.5% stake, in Jade Marvel.
Interestingly, Eddie, 33, was appointed as executive director of Jade Marvel on Sept 7 even though he had sold down his stake in the company.
Eddie and Vincent are siblings, and their sister-in-law Ng Yeng Yeng was appointed executive director on Sept 8.
It is not publicly known why Vincent was not re-elected at the recent EGM.
X Infinity first emerged in Jade Marvel in February 2021 after acquiring 12.6 million shares, equivalent to a 9.9% stake, in the company.
Jade Marvel was known as JMR Conglomeration Bhd, a Penang-based property developer and asphaltic concrete manufacturer.
Since mid-2021, Jade Marvel has been announcing a slew of memoranda of understanding, acquisitions and collaborations, ranging from money lending, trading of iron ore, minerals processing as well as wellness and personal beauty.
For the first quarter ended June 30, 2022 (1QFY2023), the company slipped into the red with a net loss of RM1.63 million compared to a net profit of RM672,000 a year earlier, mainly dragged by its property division.
Chung reckons that Jade Marvel is "undervalued" as its net tangible assets (NTA) as at June 30 stood at 64 sen per share.
"I am monetising our land every year by building affordable units that can be sold. My property division is turning land assets into cash and completed units.
"That will increase NTA, but not in businesses with light assets and high operation costs, which we are not sure when profit can justify the investments," he says.
Shares in Jade Marvel last traded at 27 sen, giving it a market capitalisation of RM88.6 million.
It is learnt that the board will hold a strategy meeting this week.
Given recent developments and despite the responses by Chung, many questions remain unanswered. Why was Vincent not re-elected and why did Khoo resign? Why is Eddie selling his shares while being appointed as an executive director? Why was Jade Marvel's proposed diversification plan shot down by shareholders? Why did its share price tank?
More importantly, who is really running the show now, given the fragmented shareholding?