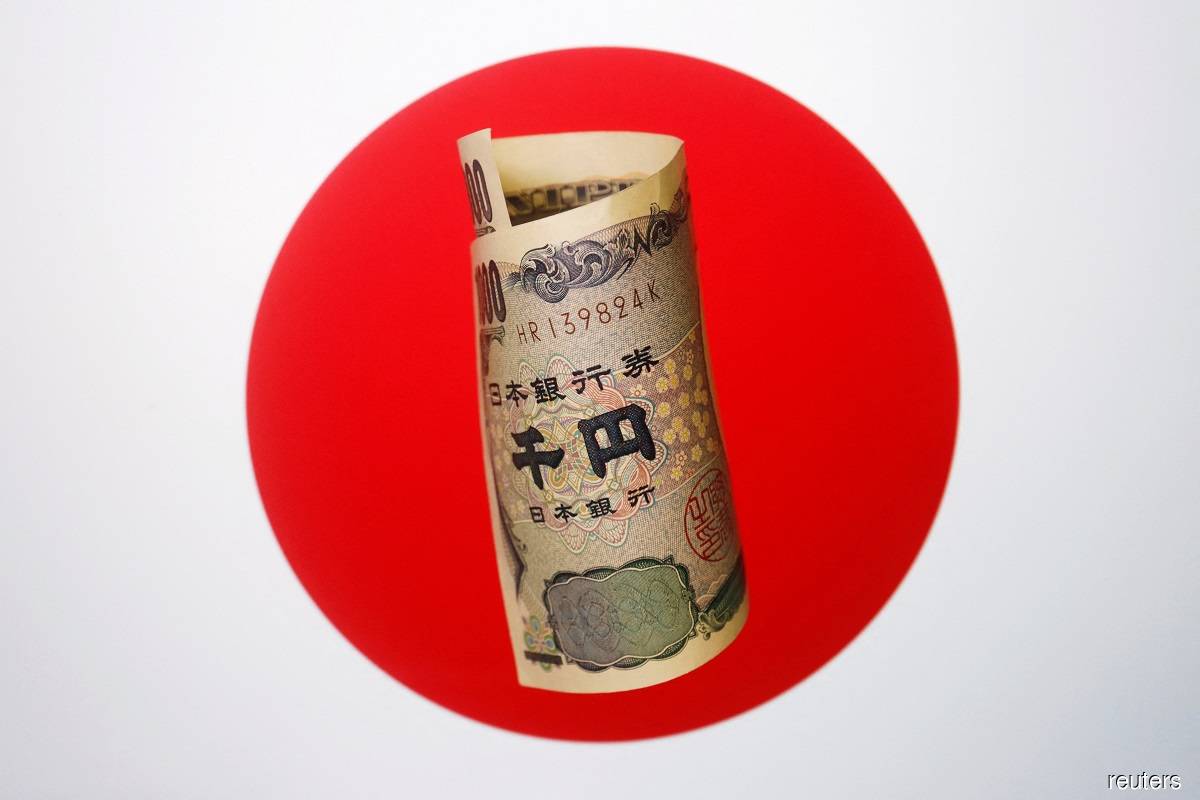 TOKYO (Sept 27): Japan bought more yen on Thursday alone than it did in the entire period of supporting its currency during 1998 when Asia was in the throes of a financial crisis.
The authorities are estimated to have bought almost ¥3.6 trillion (RM114.68 billion) of the local currency on Thursday, according to calculations from Totan Research Co based on central-bank data. That compares with the roughly ¥3 trillion they spent purchasing the currency the previous time they sought to prop it up, from April-to-June 1998, according to Ministry of Finance figures.
If the amount of the purchases made on Thursday is accurate, that would also be a record for yen buying by Japan on a single day, exceeding the ¥2.6 trillion the authorities spent on April 10, 1998, data compiled by Bloomberg showed.
The estimated record amount "shows authorities wanted to plant a strong sense of wariness among market players and to have a strong impact in one shot", said Tohru Sasaki, head of Japan markets research at JPMorgan Chase & Co in Tokyo. Still, the move is unlikely to have a lasting impact as past occasions showed the yen has generally erased its intervention gains after about a month, he said.
"It's possible for the authorities to conduct another small-scale intervention when dollar-yen rises above 145 to restrain a further gain, or they may let it accelerate past last week's high before stepping in with a similarly big size," Sasaki said.
Back in 1998, Japan did not act unilaterally, with the US also involved in selling dollars to support the yen.
The Bank of Japan's (BOJ) daily current-account balance showed it had a deficit of ¥3.56 trillion for Tuesday, which would reflect the amount of the local currency it purchased in the open markets two trading days in the nation earlier, Izuru Kato, president at Totan Research in Tokyo, wrote in a research note. Japanese markets were shut on Friday for a holiday.
The BOJ acts on behalf of the finance ministry when the government intervenes in currency markets.
The yen strengthened almost 4% from its intraday low of ¥145.90 to reach ¥140.36 on Thursday as Japan intervened, before erasing some of the gains to end the day at ¥142.39. The currency fell further to trade at ¥144.36 on Tuesday.
"Japanese officials really understand currency markets and they really understand the dynamics of currency intervention," said Aaron Hurd, a portfolio manager at State Street Global Advisors in Boston. "The volume of dollar-yen in the market is huge. There is no way that they can intervene a lot to change the trend in the yen. But what they can do is change the volatility.
"I do think that they will intervene again. It's not clear at all, though, if they will intervene at the same level as before," he said.