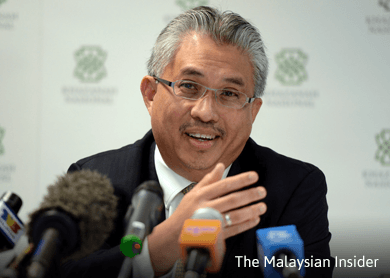 KUALA LUMPUR (Jan 15): Khazanah Nasional Berhad will continue to invest overseas pending clarification of a directive for government agencies and companies to spend their money in Malaysia.
The sovereign wealth fund, however, stressed that it would not neglect the domestic market and that it was ready to play a role in investing in the national economy.
Khazanah managing director Tan Sri Azman Mokhtar said at the same time, it was still not clear whether the directive, which had reportedly been issued by the Treasury, was applicable to Khazanah, since it is a company and not a statutory agency strictly bound by government directives.
The directive, which was reported by The Malaysian Insider on January 1, seeks to minimise overseas investments by government bodies.
This is to boost the local economy which is expected to sour due to low oil prices and a depreciation of the ringgit.
"We have a board and we go by what the board approves or does not. We have a gradual internationalisation investment policy. But we are seeking clarification to those reports.
"Bear in mind that some of our board members are ministers of finance," said Azman at a press conference on the year end review of the company's 2014 performance.
According to a circular sighted by The Malaysian Insider, the Treasury ordered the move as it and relevant agencies were coming up with a policy response for Putrajaya to falling global oil prices and a weakening ringgit.
"After taking into consideration the uncertain world economic outlook in 2015, the government on December 17 is of the opinion that domestic consumption must be increased to generate and support the country's economy," according to the circular dated December 26, 2014.
"In relation to that, and to support the government's efforts to increase domestic consumption, government-owned and linked companies, statutory bodies and subsidiaries must give priority to domestic investments and immediately cease acquiring foreign assets to reduce the outflow of funds."
By the end of 2014, 40.7% of Khazanah's investments were overseas where it held equity in companies in Singapore, China, Turkey, Indonesia and the United States.
The remaining 59.3% are investments in Malaysia.
According to a press statement, some of Khazanah's recent acquisitions through its subsidiaries were Indonesian telecommunications company PT Axis and the Istanbul Sabiha Gokcen International Airport in Turkey.
Khazanah's subsidiaries had invested in a property project called Aurora Melbourne Central in Australia and had bought a stake in 8990 Holdings Inc in the Philippines.
Azman said it had also bought a stake in e-commerce site Alibaba in China and was investing in technology firms in the United States.
"We think our investment strategy overseas is gradual without neglecting our role of investing domestically.
"As you can see we have all kinds of stuff in new sectors and we will continue to do that," said Azman.
He explained that in the 2008 economic crisis, Khazanah and several other government-linked companies had invested domestically at a time when foreign money had dried up.
This included the Hello Kitty town and Legoland theme parks, university hub Edu City and Pinewood studios in southern Johor.
"That stuff ... started around that time. We played a role that time.
"So we have the capacity to play a role and to play that role again within the parameters of commercial discipline and proper governance," said Azman.