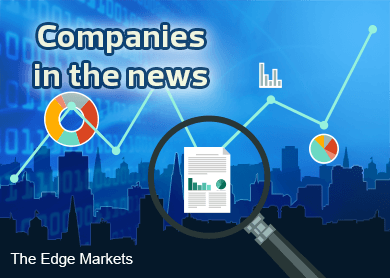 PETALING JAYA (June 29): Based on corporate announcements and news flow today, companies in focus tomorrow (Tuesday, June 30) are Kuantan Flour Mills, Yinson, AirAsia, Sunway, Scientex, Silk Holdings, Kim Loong, Poh Huat, Talam Transform and Hiap Teck.
Kuantan Flour Mills Bhd (KFM) has proposed to undertake a par value reduction which will give rise to a credit of up to RM39.84 million, to eliminate the group's entire accumulated losses.
In a filing with Bursa Malaysia, KFM (fundamental: 0.6; valuation: 0.3) said the proposed par value reduction will see the cancellation of 45 sen of the par value of every existing share of 50 sen each in the company. Thus, the new par value of each share in KFM would be 5 sen.
The company said the proposed par value reduction was to eliminate the losses of KFM, which stood at RM21.76 million as at March 31, 2015, accumulated over the years due to the poor financial performance of KFM and its subsidiaries.
As at June 26, 2015, KFM has an issued and paid-up share capital of RM34.11 million comprising some 68.23 million KFM shares. KFM also has 20.3 million outstanding warrants.
KFM said the credit to be raised will be a minimum of RM30.7 million to a maximum of RM39.84 million.
Oil and gas (O&G) service provider Yinson Holdings Bhd said today it is exiting its logistics and trading business to focus on its burgeoning floating production storage and offloading (FPSO) business.
Yinson (fundamental: 1.5; valuation: 1.5) said it is divesting its logistics and trading subsidiaries to the group's major shareholders and executive directors Lim Han Weng and his wife Bah Kim Lian — via Liannex Labuan Ltd — for RM228 million.
Liannex Labuan is wholly-owned by Liannex Corp (S) Pte Ltd, which in turn is wholly-owned by Lim and Bah.
In its filing with Bursa, Yinson said proceeds from the disposal will also be used to partly repay inter-company loans owing to the group by the six companies: Yinson Corp Sdn Bhd, Yinson Transport Sdn Bhd, Yinson Shipping Sdn Bhd, Yinson Port Ventures Pte Ltd, Yinson Vietnam Co Ltd and Yinson Power Marine Sdn Bhd.
Lim, who is the executive chairman of Yinson, said in a statement that proceeds from the disposal of the group's six non-oil and gas subsidiaries would enable it to focus its business operation and reinvest the proceeds into more lucrative O&G projects with higher project internal rate of return.
He added that the divestment would enable it to achieve a firmer valuation among its O&G peers.
Short-sellers are targeting AirAsia Bhd amid accounting worries, with its shares among the most borrowed securities in Southeast Asia in recent weeks, data shows.
According to Reuters, loaned stock for AirAsia (fundamental: 0.2, valuation: 1.4) rose to a high of 47 million shares on June 23 from 7 million in the previous two weeks of June 23, according to data from financial software company SunGard Astec Analytics, indicating that sentiment towards AirAsia's shares has worsened, despite AirAsia chief executive Tony Fernandes' recent assertions that the carrier has a solid balance sheet and business plan.
The shares had slumped by as much as a third since June 9 and wiped off nearly half a billion dollars of the airline's market value.
SunGard Astec Analytics senior relationship manager told Reuters that the firm has seen that people borrowed the stock, indicating that there are short-sellers out there taking an increasing interest in AirAsia.
Reuters reported that borrowing levels of AirAsia's shares rose to as much as 83% of the total securities available for lending, the third highest among the most liquid stocks in Southeast Asia, before easing to 69% on June 24, which is still above the 12% average borrowing levels for Malaysian and Southeast Asian stocks.
The wires agency also reported that analysts have cut AirAsia's 2015 earnings estimates by nearly 6% on average since June 10, with 14 out of 22 brokers reducing estimates. The company's shares are down about 29% since June 9, it added.
Sunway Construction Group Bhd (SCG) has set a dividend policy of paying out 35% of its annual core profit once it has been listed to enable its shareholders "to participate in the group's profit", according to its initial public offer's prospectus.
Upon listing, the company's controlling shareholders Sunway Bhd would hold a 55.6% stake, or 719 million shares, through Sunway Holdings Sdn Bhd. Sunway Group chairman Tan Sri Jeffrey Cheah will have direct shareholding of 0.6% or 7.7 million shares and indirect shareholding of 62.7% or 810 million shares, while Sungai Way Corporation directly holds 6.8%, or 87 million shares.
SCG's listing exercise will offer up to 398.7 million shares for sale, of which 327.59 million shares will be for institutional investors and 71.1 million shares for retail investors.
The construction outfit's controlling shareholder Sunway (fundamental: 1.5, valuation: 2.4) will be distributing 175 million SCG shares to its entitled shareholders by way of dividend-in-specie on a basis of one distribution share for every 10 existing Sunway shares held.
Packaging manufacturer Scientex Bhd, which is also involved in property development, intends to buy 326 acres of freehold tract in Pulai, Johor Bahru, for RM219 million cash to expand its land bank.
In a statement, Scientex (fundamental: 1.7; valuation: 2.4) said that the lands are situated near to Scientex's integrated township development in Skudai, Johor, known as Taman Mutiara Mas, and various other matured residential areas.
The group's wholly-owned subsidiary, Scientex Quatari Sdn Bhd, today entered into conditional sale and purchase agreements with two different vendors, to acquire 252 acres from Bukit Gambir Company Sdn Bhd and 74 acres from Jayaplus Bakti Sdn Bhd.
Scientex managing director Lim Peng Jin said the company remains optimistic on sustained demand for residential properties in Johor despite the generally dampened market sentiment currently.
He said the proposed acquisitions would increase the company's remaining on-going and undeveloped land bank to approximately 1,200 acres from 870 acres currently.
Meanwhile, Scientex's net profit rose 18.2% to RM42.96 million in the 3Q ended April 30, 2015 (3QFY15), compared with RM36.34 million a year ago, while revenue grew 6.7% to RM455.25 million from RM426.77 million — due to improved contributions from its manufacturing segment and higher sales of affordable residences in Johor.
It also declared a single-tier interim dividend of nine sen or 18%, payable on Aug 7. The ex-date is July 15.
For the nine months ended April 30, Scientex net profit rose 9.7% to RM109.28 million from RM99.6 million a year ago, while revenue grew 14.4% to RM1.35 billion from RM1.18 billion previously.
Silk Holdings Bhd saw its net loss widen by almost ten-fold to RM20.27 million or 2.89 sen loss per share for the third financial quarter ended April 30, 2015 (3QFY15) from RM2.95 million or 0.63 sen loss per share a year ago, due to the recognition of employee benefits charged to the income statement.
However, revenue for 3QFY15 rose 31.8% to RM115.59 million from RM87.7 million in 3QFY14.
For the nine-month period (9MFY15), Silk Holdings  (fundamental: 0.2; valuation: 0.3) reported a net loss of RM28.27 million or 4.4 sen loss per share, a 71.2% increase from a net loss of RM16.51 million or 3.65 sen loss per share in 9MFY14. Revenue rose 22.3% to RM326.68 million from RM267.1 million a year ago.
Silk Holdings noted that its O&G division contributed 69.2% to the group's revenue, down 74.2% from the year-ago period.
The highway division contributed a higher percentage of 30.8% to the group's revenue in 3QFY15 compared with 25.8% in 3QFY14, thanks to improved revenue due to higher traffic volume and increase in toll collection and toll compensation from the government.
Kim Loong Resources Bhd's net profit for its first quarter ended April 30, 2015 (1QFY16) declined 47.9% to RM14.78 million from RM28.36 million a year ago, due to weaker contribution from its plantation and milling operations.
Revenue for the quarter weakened by 24% to RM162.86 million from RM216.99 million in 1QFY15, also due to the same reason, according to Kim Loong's (fundamental: 2.8; valuation: 2.4) filing to Bursa Malaysia.
Despite the lower earnings, the plantation group has declared a 10 sen special dividend. The special dividend is payable on August 28, 2015. The ex-date for the special dividend is on August 10 this year, the group added.
Furniture maker Poh Huat Resources Bhd's net profit in the second quarter ended Apr 30, 2015 (2QFY15) leapt 77% to RM4.53 million from RM2.4 million a year ago, mainly due to stronger contributions from its Vietnamese operations and the stronger US dollar, which boosted earnings at its Malaysian operations.
This brought its earnings per share to 4.24 sen compared with 2.4 sen in last corresponding quarter; revenue for 2QFY15 was also up 14% to RM96.16 million against RM84.43 million a year ago, on higher shipment seen at its Vietnamese operations.
The company declared a first single-tier interim dividend of 3 sen per share for the period, payable on Aug 12, with the ex-date falling on July 20, its filing to Bursa Malaysia showed.
For the cumulative six months (6MFY15), Poh Huat's (fundamental: 2.1; valuation: 2.4) net profit rose 43% to RM12.71 million or 11.91 sen per share from RM8.87 million or 8.31 sen per share previously.
Revenue for the half year period was up 12% to RM201.26 million from RM179.94 million in 6MFY14.
Talam Transform Bhd saw its net loss narrow 74.7% on-year to RM4.16 million or 0.12 sen in the first quarter ended April 30, 2015 (1QFY16) compared with RM16.47 million or 0.47 sen previously, on gains made from the disposal of development lands and stocks, higher other operating income and lower finance cost.
In a filing with Bursa, Talam Transform's (fundamental: 0.15; valuation: 0.9) revenue also increased 38.2% to RM109.84 million compared with RM79.47 million in 1QFY15, due to higher proceeds from the sale of development lands.
The company said its property development division recorded higher revenue of RM109.84 million, up 38.2% on-year from RM79.47 million due to higher proceeds from the sale of development land during 1QFY16.
Its hotel and recreation division's revenue fell 41.6% to RM1.43 million in 1QFY16 from RM2.45 million in 1FY15, mainly due to the winding-down of operations.
Steel pipe maker Hiap Teck Venture Bhd dipped into the red, reporting a net loss of RM5.2 million or 0.73 sen per share for the third financial quarter ended April 30, 2015 (3QFY15), compared to its net profit of RM13.57 million or 1.91 sen per share a year earlier.
In its filing with Bursa, Hiap Teck (fundamental: 0.35; valuation: 1.4) said the loss was mainly due to "share of loss of jointly controlled entity of RM12.47 million in the reporting quarter and a one-off provision for loss of inventories amounting to RM8.47 million as a result of the caving-in incident".
Its 3QFY15 revenue, however, rose 13% to RM335.05 million from RM296.74 million in the previous year, on higher sales volume by both its trading and manufacturing divisions during the period.
For the cumulative nine-month period, the company saw a net loss of RM8.43 million, from a net profit of RM34.92 million in the preceding year, while revenue climbed 14% to RM943.62 million from RM826.32 million.
(Note: The Edge Research's fundamental score reflects a company's profitability and balance sheet strength, calculated based on historical numbers. The valuation score determines if a stock is attractively valued or not, also based on historical numbers. A score of 3 suggests strong fundamentals and attractive valuations.)