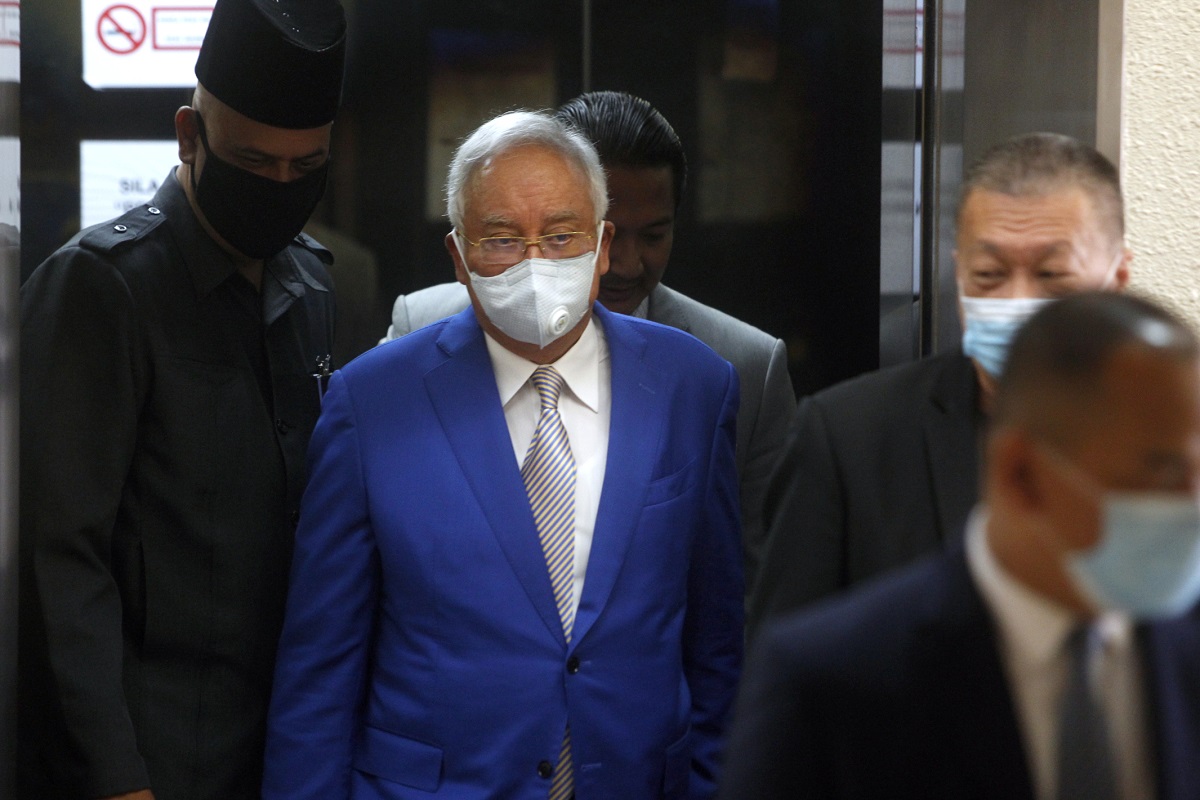 KUALA LUMPUR (Aug 12): Two lawyers, including one who had represented former premier Tun Dr Mahathir Mohamad, are questioning why Datuk Seri Najib Razak is allowed a stay in paying the RM210 million fine after he was found guilty of all charges by the High Court in the SRC International Sdn Bhd case last month.
Mohd Haniff Khatri Abdulla, who represented Dr Mahathir when he and four others challenged the termination of their Bersatu memberships, said the court should have asked the former premier to pay a portion of the fine.
"It (the fine) should not have been stayed completely. But [the court] should at least order him to pay 10% of it by way of instalments," he told theedgemarkets.com.
Haniff cited other normal criminal cases where fines are ordered by the court. If the convicted persons are not able to pay the fine, they are required to serve a certain amount of jail time stipulated by the court.
The lawyer also said ordering a stay of the fine, without instalments and without additional terms, as in Najib's case, was the real issue.
"Maybe no fine for CBT [criminal breach of trust] could be in accordance with that charge. [But] not adding a fine of another RM210 million for money-laundering is appealable because there can be concurrent terms of imprisonment, but not fines. Fines cannot be concurrent," the lawyer added.
Najib was found guilty of one count of abuse of power, one count of criminal breach of trust and three counts of money laundering in relation to the misappropriation of RM42 million from SRC, a former subsidiary of the now-defunct 1Malaysia Development Bhd.
All the offences are punishable by jail terms and fines. Abuse of power carries a fine of RM10,000 or five times the amount of gratification, whichever is higher, while money laundering is punishable by a fine of RM5 million or up to five times the amount of money laundered, whichever is higher.
Lawyer Dr Syed Iskandar Syed Jaafar Al Mahdzar concurred with Haniff's views, saying the court's decision to stay the fine was unusual.
"There should be no double standard as failing to pay the fine itself would in default result in additional prison terms and would normally be effective immediately," he said.
He added that Najib's defence team, led by Tan Sri Muhammad Shafee Abdullah, may have misled the High Court in applying a stay of sentence and in citing Datuk Seri Anwar Ibrahim's Sodomy II case, where at the Court of Appeal, Shafee — who was the appointed ad-hoc prosecutor — asked that no stay should be given after the PKR president was sentenced to five years' jail.
Eventually, the Court of Appeal granted a stay on Anwar pending his appeal to the Federal Court.
In Najib's case, Shafee had on July 28 argued that a stay be given on the jail sentence and also the fine, as the former premier was also facing pressure from the Inland Revenue Board after another High Court ruling imposed a summary judgement on the former Umno president to pay RM1.69 billion in taxes.
Yesterday it was reported that the prosecution had filed a notice of appeal last Friday over the 12-year jail term and RM210 million fine meted out by the High Court on Najib. They sought heavier penalties for the former premier.
Read also:
Prosecution appealing against Najib's sentences in SRC conviction