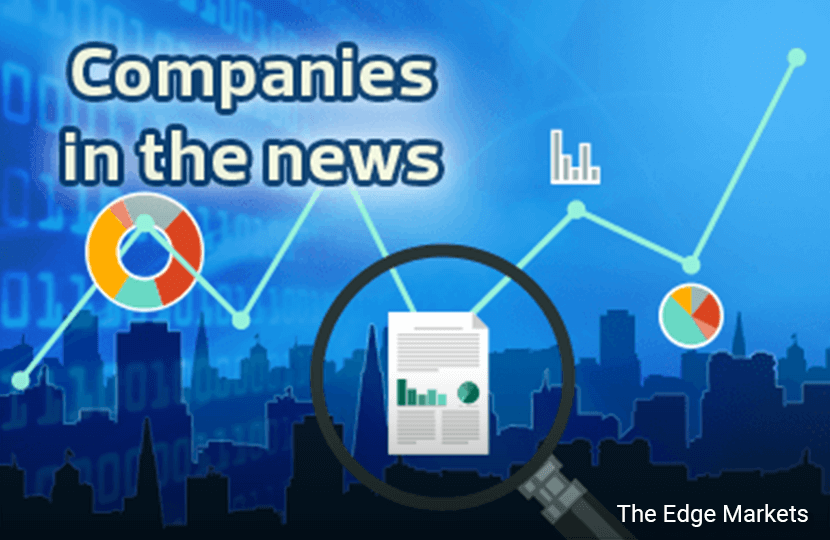 GEORGE TOWN (Sept 1): Based on corporate announcements and news flow today, companies that may be in focus tomorrow (Wednesday, Sept 2) could include the following: LBS Bina Group Bhd, Kumpulan Perangsang Selangor Bhd, TMC Life Sciences Bhd, Merge Energy Bhd, Xingquan International Sports Holdings Ltd, Chemical Company of Malaysia Bhd, Poh Huat Resources Bhd, MWE Holdings Bhd, ML Global Bhd and Leon Fuat Bhd.
LBS Bina Group Bhd has earmarked 40% from a HK$200 million (RM108 million) part payment as special dividend.
In a filing with Bursa Malaysia today, LBS (fundamental: 1; valuation: 2.4) said the HK$80 million would finance the special dividend within five months.
The HK$200 million part payment forms a portion of the HK$1.65 billion LBS stands to receive from the sale of its 100% stakes in Lamdeal Consolidated Development Ltd and Lamdeal Golf & Country Club Ltd to Zhuhai Holdings Investment Group Ltd.
"The board is pleased to announce that the company has today received the second tranche of deferred cash payment of HK$200 million, early by four months from the due date," it said.
"The board applauded the early payment as it enables the group to reduce its cost of borrowings thus contributing positively to the cash flow and earnings of the group for the financial year ending Dec 31, 2015," LBS said.
Besides the special dividend, LBS said it will use the HK$200 million to reduce bank borrowings and finance operating expenses.
LBS said it had set aside HK$70 million and HK$20 million to cut debt and finance operating expenses respectively. It plans to use the allocations within one year.
Kumpulan Perangsang Selangor Bhd (KPS) has appointed Ahmad Fariz Hassan as its acting chief executive officer (CEO), following the resignation of Suhaimi Kamaralzaman as the group CEO and managing director.
In a filing with Bursa Malaysia today, KPS said Ahmad Fariz, 38, is currently the head of strategic planning and investment of KPS.
He previously served as senior vice-president at Khazanah Nasional Bhd between January and March 2015 before joining KPS on April 14, 2015.
In a separate filing, KPS said Suhaimi has been redesignated as non-executive director of the company. Suhaimi, 47, was the group CEO and managing director since May 10, 2011. Prior to this, he was the CEO and managing director of Melewar Industrial Group Bhd.
TMC Life Sciences Bhd has appointed Roy Quek Hong Sheng as its CEO effective tomorrow.
In a filing with Bursa Malaysia today, TMC (fundamental: 1.45; valuation: 1.1) said Quek, 45, a Singaporean, has served as the deputy secretary of operations and development of the Ministry of Home Affairs, Singapore since 2013. He joined the board of directors of TMC on June 2 this year as an executive director (ED).
The group added that Dr Wong Chiang Yin, 47, who has been an ED of TMC since January 2011, has been redesignated to the post of non-independent and non-executive director.
Wong, also a Singaporean, was formerly an ED of Pantai Holdings Bhd from May 2008 to May 2009 and was the interim CEO of Bright Vision Hospital in Singapore from March 2010 to December 2010.
TMC, which is controlled by Singapore businessman Peter Lim Eng Hock with a 70.5% stake, operates the Tropicana Medical Centre in Kota Damansara, as well as the TMC Fertility Centre in Damansara Utama, both in Petaling Jaya.
Merge Energy Bhd's non-executive chairman Datuk Raja Shah Zurin Raja Aman Shah has resigned from the company, citing "personal reasons", according to a filing with Bursa Malaysia today.
Meanwhile, Rusdi Mohamad Noor has been appointed as ED of the company.
According to Merge Energy's website, Raja Shah Zurin was appointed to the board as an ED of corporate affairs on Jan 10, 2010 and was subsequently appointed as the executive chairman of MEB Group of Companies on Sept 1, 2010.
Rusdi, meanwhile, is currently the managing director of Semarak Niaga Lanskap Sdn Bhd, a subsidiary of Merge Energy.
Rusdi has more than 16 years of experience in the management of oil palm plantation and worked from 2003 to 2013 in LKPP Corp Sdn Bhd, a subsidiary of Lembaga Kemajuan Perusahaan Pertanian Negeri Pahang.
China-based shoe maker Xingquan International Sports Holdings Ltd today saw 15.6 million units of the company's warrants, or 9.23% of its total outstanding warrants, crossed off-market.
According to Bloomberg data, the transaction was done in a single block, at the price of 3.5 sen or 36.4% discount from today's closing price of 5.5 sen.
Parties involved in the transaction were not known as at press time.
In the open market, there were only 680,400 warrants traded as of market close.
Meanwhile, Xingquan (fundamental: 1.95; valuation: 3) also saw a block of 1.5 million shares or a 0.44% stake traded off-market, at 40 sen per share or 19.19% discount from the closing price of 49.5 sen today.
Chemical Company of Malaysia Bhd (CCM) is closing down its fertiliser plant in Shah Alam, Selangor, and retrenching 230 staff amid the weak market demand for ammonium nitrate-based fertilisers as oil palm planters opt for cheaper fertilisers given the low crude palm oil (CPO) prices.
CCM told Bursa Malaysia today that its 50.1%-owned unit CCM Fertilizers Sdn Bhd is closing down the plant to mitigate risk associated with its business.
The remaining 49.9% equity stake in CCM Fertilizers is directly held by Lembaga Tabung Haji.
CCM also disclosed that CCM Fertilizers posted a pre-tax loss of RM4.3 million in 2014, mainly due to changes in market conditions driven by the decline in CPO prices.
In a statement today, CCM said it will outsource the ammonium nitrate-based fertiliser manufacturing to a third-party manufacturer moving forward, and reiterated that there will be no change with respect to the availability of its Cock's Head Brand (CHB) products as manufacturing of the products will continue at its plants in Lahad Datu, Sabah, and Bintulu, Sarawak.
"We wish to assure our customers and suppliers that despite the closure of the Shah Alam plant, there will be no disruption of supplies in the market.
"There is an adequate stock of CHB products and a transition into third party manufacturing has already commenced," CCM said.
The fire that razed several buildings of Poh Huat Resources Holdings Bhd's unit Poh Huat Furniture Industries Vietnam Joint-Stock Company (Poh Huat Vietnam) on Aug 23 has amounted to a combined damage of US$2.4 million (RM9.9 million).
The fire, which lasted from 3.20am till 10.15am the same day, occurred at two factory blocks housing a finishing line and a finished goods warehouse measuring about 1.053ha, Poh Huat Resources said in a filing with Bursa Malaysia today.
Listing its damages, Poh Huat Resources said the total net book value of the damaged factory buildings, ancillary structures and installation is US$431,528 (RM1.8 million).
"The total net book value of the damaged plant and machinery comprising spraying line pallets, tow-conveyor system; woodworking machinery, fire-fighting system, electrical installations and racking systems is US$283,667 (RM1.2 million).
"The total net book value of work-in-progress furniture parts, finishing materials and finished goods (completed furniture) damaged by the fire is approximately US$1.65 million (RM6.9 million)," said the group.
MWE Holdings Bhd's wholly-owned subsidiary United Sweethearts Garment Sdn Bhd (USG) expects to contribute about US$40 million (RM166.8 million) to the group's revenue from the next financial year ending March 31, 2017 (FY17) upon the completion of its expansion plan in Vietnam.
The number of production lines will increase to 42 from 26 currently in Dong Nai Province, southern Vietnam.
USG managing director Tang Chong Chin said with more production lines, the subsidiary targets a 60% revenue growth next year.
"With the increase in production lines in our Vietnam plant (United Sweethearts Garment (Vietnam) Co Ltd), our total lines amount to 100 including 58 in Malaysia.
"We would be able to cater to higher demand in the US and Europe markets. We hope to increase our market share in Europe with the additional production lines," he told reporters after MWE Holdings' annual general meeting today.
Its capital expenditure amounted to US$6 million (RM25.06 million).
Tang said the plant expansion of its Vietnam unit, established in 2002, will be completed by the middle of next year and hence, the revenue contribution expectation in FY17.
ML Global Bhd said it will make an application to Bursa Securities to lift itself from Practice Note 17 (PN17) status immediately after the company records two consecutive quarters of net profit.
This follows the completion of the implementation of the regularisation plan, which it had completed on Oct 31 last year.
"Further announcement on the development of the matter (PN17 upliftment) will be made to Bursa Securities in due course," it said in a filing with Bursa Malaysia today.
The company has reported its third consecutive quarter of net profit since the three months ended Dec 31, 2014 (4QFY14). It posted a net profit of RM642,000 in 2QFY15, reversing a net loss of RM2.09 million a year ago.
The company was classified as a PN17 company in February 2012 after its shareholders' equity fell to less than 25% of its paid-up share capital.
Lembaga Tabung Angkatan Tentera (LTAT) has sold some 3.22 million shares in steel products trader and manufacturer Leon Fuat Bhd last Tuesday, according to the filing with Bursa Malaysia today.
After the disposal, LTAT's shareholding in the group now stands at some 13.84 million shares, or a 4.5% stake.
Leon Fuat Holdings Sdn Bhd, which is a vehicle of Leon Fuat group managing director Ooi Bin Keong and parties acting in concert, controls 70.9% of the group.
(Note: The Edge Research's fundamental score reflects a company's profitability and balance sheet strength, calculated based on historical numbers. The valuation score determines if a stock is attractively valued or not, also based on historical numbers. A score of 3 suggests strong fundamentals and attractive valuations.)