This article first appeared in The Edge Malaysia Weekly, on November 14, 2022 - November 20, 2022.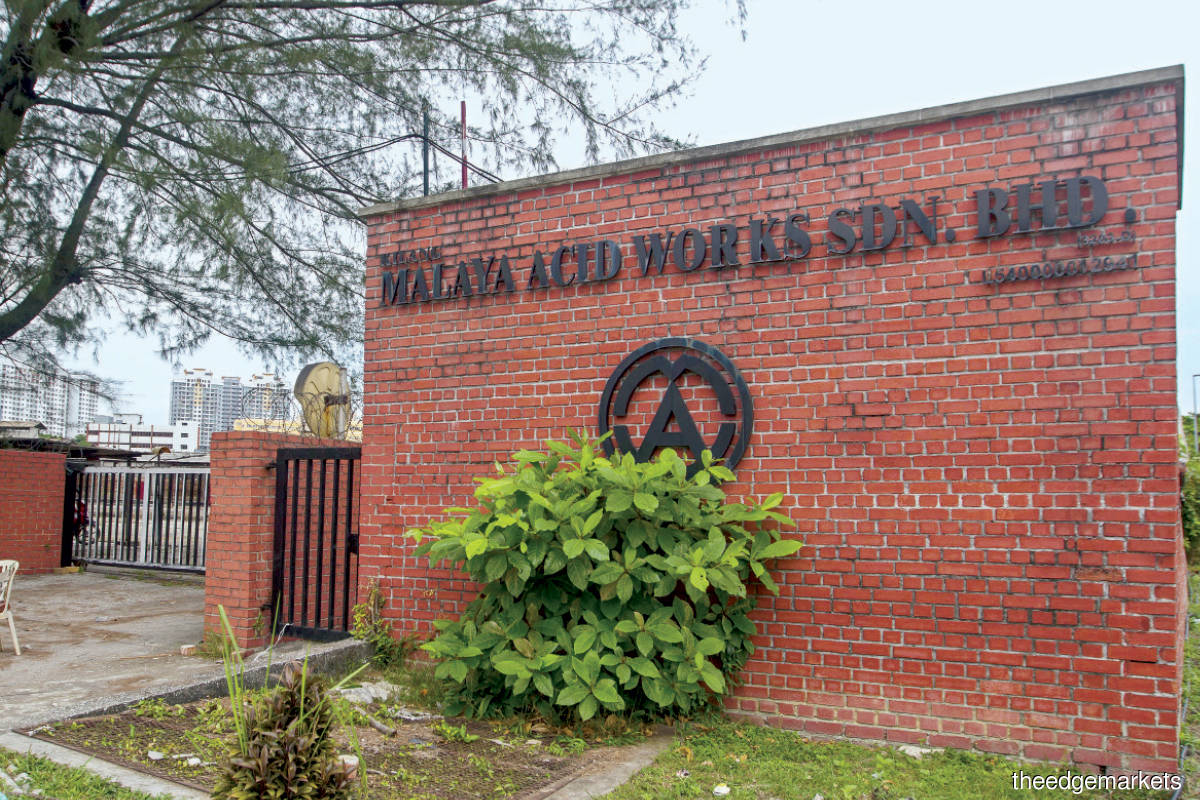 AFTER more than six years on the market, Hong Kong-based Malaya Acid Works Sdn Bhd may have finally found a buyer for its 17.26-acre parcel of land located along the Federal Highway in Petaling Jaya. Property developer Trinity Group Sdn Bhd has emerged as the front runner to buy the land and a deal is likely to be inked soon, according to sources.
A valuer tells The Edge that the leasehold land may be able to fetch as much as RM285 million, or RM380 per sq ft (psf), but a source says the parties may seal the deal for a lower price of RM200 million, or RM266 psf.
Malaya Acid's land at Lot 17 Jalan 219, which is somewhat triangular in shape, is made up of four adjacent plots. The parcel has 45 years remaining on the lease.
Trinity Group managing director Datuk Neoh Soo Keat could not be reached for comment. Neoh founded the company in 2004.
Real estate consultancy Rahim & Co is the exclusive marketing agent for the site. When contacted, its CEO of real estate agency Siva Shanker declined to comment.
The 751,787 sq ft site — situated next to the Hong Leong Assurance Bhd head office on one side and Cycle and Carriage Bintang Bhd Mercedes-Benz showroom on the other — was once part of Malaya Acid's operation in the production of sulphuric acid. The factory is believed to have shut down eight to 10 years ago.
How much can the land fetch? "The industrial landscape in PJ's Section 13 and Section 51 is evolving into semi-commercial and commercial developments as original factories with manufacturing facilities have been moving out to Klang, Port Klang, Nilai and even Bandar Enstek," VPC Alliance Malaysia managing director James Wong tells The Edge.
"The case in point is Jalan 51A/219, fronting the Federal Highway, whether industrial premises or [property] converted into car showrooms, sports goods outlets and offices. Majlis Bandaraya Petaling Jaya has gazetted the front portion of the land here for limited commercial use, but the rear portion of such land, fronting Jalan 51A/225, remains for 'light industry' use," he says. "So, it is not surprising that the prime corner site of the former Malaya Acid Works factory is a prime acquisition target for redevelopment."
Owing to its remaining land tenure of only 45 years, however, its large land size of 17.26 acres — with only the front portion of the land being zoned as limited commercial with a plot ratio of 1:2.5, as well as a building height restriction of six storeys — Wong reckons the land will be able to fetch a value of between RM350 psf and RM380 psf.
Stanley Toh, executive director of real estate and valuation firm LaurelCap Sdn Bhd, pegs the land value in the area at between RM250 psf and RM270 psf.
Toh points out that the zoning for the land has been changed to commercial but at a very low plot ratio of 2.5. "Coupled with the rising cost of construction, the value of the land can't go very high. The buyer would have to bear the cost of the extension of the lease in addition to increasing the low plot ratio," he says, adding that the site is suitable for a "hybrid of retail and warehousing to take advantage of the prominent exposure it has along the Federal Highway and Jalan 51A/225".
Trinity Group is a developer that focuses on residential, serviced apartments and industrial development in the Klang Valley. Its projects include Trinity [email protected] Ampang North, Trinity Pentamont Mont'Kiara, [email protected] South and the Z Residence Bukit Jalil.
Companies Commission of Malaysia data shows that Trinity is equally owned by Neoh and Datin Guan Len Hua, who are the only directors of the company. The company has been an exempt private company since the financial year ended March 31, 2020 (FY2020). An exempt private company has to be solvent and not have more than 20 individuals as its shareholders.
Based on the last available financials, in FY2019, Trinity posted a net profit of RM10.42 million on revenue of RM60.2 million. It had total liabilities of RM63.59 million and total assets of RM80.83 million. It also had retained earnings of RM16.74 million.
Malaya Acid's shareholders are Kompetitif Baru Sdn Bhd (40.5%), Lydia Koo Chee Yung (16.6%), Charles Koo Ho-Tung (16.3%), Henry Koo Ho Liang (8.3%), Angela Koo Chi-Fong (8.3%), and the Estates of Koo Lin Kung (5%) and Koo Lin Hwa (5%).
Malaya Acid was incorporated on April 10, 1958, and began producing sulphuric acid in Petaling Jaya, making it one of the earliest companies to set up a manufacturing facility in Selangor. In 1962, its wholly-owned subsidiary Malaya Acid Works (Alum) Sdn Bhd started producing aluminium sulphate and hydrated lime for water treatment plants in Malaysia.