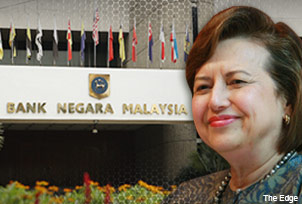 KUALA LUMPUR (Nov 14): The Malaysian economy grew 5.6% in the third quarter (3Q) of this year from a year earlier on private sector demand while export growth cooled considerably, according to numbers announced by Bank Negara Malaysia today.
 In a statement today, Bank Negara said gross domestic product (GDP) expansion also came on growth in crucial domestic sectors.
"The Malaysian economy registered a growth of 5.6% in the third quarter of 2014 (2Q 2014: 6.5%), supported by private sector demand and continued positive growth in net exports of goods and services.
"On the supply side, growth in the major economic sectors was sustained, supported by trade and domestic activities," Bank Negara said.
According to Bank Negara, the agriculture and mining sectors grew 4% and 1.4% respectively while manufacturing growth came in at 5.3%.
The construction and services sectors expanded 9.6% and 6.1% respectively.
While 3Q net exports rose 11.4%, the expansion rate was significantly lower than the 91% rise in the 2Q.
In quarterly terms, 3Q GDP rose 0.9% from the preceding 2Q.
"While risks to growth have increased, the Malaysian economy is expected to remain on a steady growth path. Although exports will benefit from the recovery in the advanced economies and from regional demand, the trend is likely to moderate, reflecting both the high base effect from 2013 and lower commodity prices.
"While private consumption may moderate, investment activity will be supported by continued flow of ongoing and new projects by the private and public sectors. Going forward, domestic demand will remain the key driver of growth," Bank Negara said.
Malaysia's 3Q GDP growth was in line with a median market forecast of a 5.6% growth, based on a Reuters survey involving 15 economists.
Yesterday, Reuters reported that Malaysia's economic growth likely slowed in the third quarter of the year as exports and domestic consumption weakened.
Today, Bank Negara Governor Tan Sri Dr Zeti Akhtar Aziz said in a media briefing that Malaysia's 2014 economic growth would hover between 5.5% and 6%.
Zeti the growth forecast was attributed to "improved performance in the first half of this year and in the light of challenging environment."
"As for 2015, the (growth) forecast is expected to be between 5% and 6%," Zeti said.