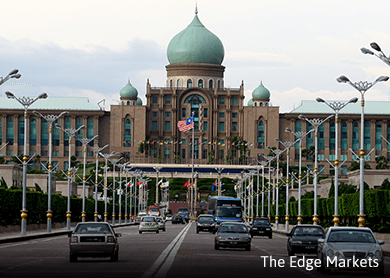 PUTRAJAYA (Jan 20): Prime Minister Datuk Seri Najib Razak said the Malaysian government had revised the country's 2015 fiscal deficit higher at 3.2% of gross domestic product (GDP) from the earlier estimated 3% as cheaper crude oil prices led to expectation of lower revenue, and slower economic growth.
Najib said the government was confident of achieving GDP growth of 4.5% to 5.5% this year. This is lower than the earlier forecast of between 5% and 6% announced during Budget 2015 last October.
Today, he said the government also revised downward its 2015 forecasted average baseline crude oil price to US$55 a barrel from earlier estimated US$100, on which, original budget was based.
"The external situation has changed lately and we are impacted directly as Malaysia is among the largest trading nations in the world.
"Consensus among economist is that the (crude oil) forecast price of US$100 per barrel used in the 2015 Budget is no longer realistic. They now estimate the average oil price in 2015 to range from US$40 to US$70 per barrel," Najib said at a press conference here on the current economic development and government's financial position
Looking back, he noted that 2014 was a year of trials and tribulations due to several tragedies. He also mentioned global crude oil prices that have plunged more than 50% over the last six months and volatile capital flows and ringgit.
Based on crude oil prices of US$100 a barrel and savings from the implementation of the managed float pricing mechanism for retail fuel prices effective from December 2014, Najib said the government stood to get an additional operating surplus of RM3.7 billion.
However, at US$55 a barrel, there will be a revenue shortfall of RM13.8 billion, according to him.
But the premier stressed that the domestic economy was not in a crisis.
"We are not in crisis. Indeed, we are taking preemptive measures following the changes in the external global economic landscape which is beyond our control," said Najib when  addressing the current economic developments and government's financial position at Putrajaya today.
"This is to ensure that the country's economy continues to attain a respectable and reasonable growth,  Najib said.
He said Budget 2015 had been formulated based on strong economic fundamentals in 2014.
In 2015, the 4.5%-5.5% GDP growth forecast takes into account implementation of several strategic measures.
Najib said policy makers would ensure balanced, inclusive and sustainable economic growth continue fiscal reforms and consolidation and provide assistance to the rakyat and business community to rebuild infrastructure damaged by floods.
Under the revised budget, the government's 2015 operating expenditure will be cut by RM5.5billion while the development portion would be kept at RM48.5b, Najib said.