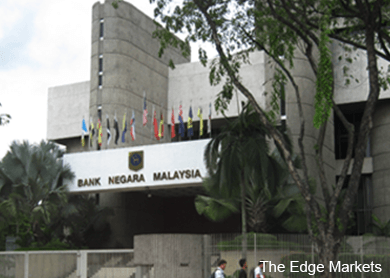 (Jan 22): Malaysia's foreign-exchange reserves fell 4 percent to $111.2 billion, the lowest level since March 2011, amid speculation the central bank is intervening to curb the decline in Southeast Asia's worst-performing currency.
Holdings dropped $4.8 billion in the two weeks through Jan. 15, according to data from Bank Negara Malaysia Thursday. The reserves declined $9.7 billion in December, the biggest decrease since September 2008. They are enough to finance 8.1 months of retained imports and are 1.1 times the nation's short-term external debt, the accompanying statement said.
The ringgit has depreciated 12 percent in the past six months, the steepest loss in Asia after the yen, on concern that the slump in crude will crimp revenue for the oil-exporting nation. The government lowered its 2015 growth forecast and raised its budget deficit target this week, citing the impact of falling energy prices.
"Bank Negara will not stand in the way of large moves prompted by broad-based U.S. dollar strength or oil shifts," Vishnu Varathan, a Singapore-based economist at Mizuho Bank Ltd., said Thursday before the release of the reserves data. "But it could opportunistically temper overdone moves."
Malaysia is targeting a fiscal shortfall of 3.2 percent of gross domestic product in 2015, compared with an October projection of 3 percent, Prime Minister Najib Razak said Jan. 20. The economy will expand 4.5 percent to 5.5 percent this year, versus as much as 6 percent earlier, he said.
The revisions prompted Fitch Ratings to warn of a credit- rating downgrade, citing the nation's dependence on commodities. Fitch rates Malaysia A-, the fourth-lowest investment grade and three levels above Indonesia.