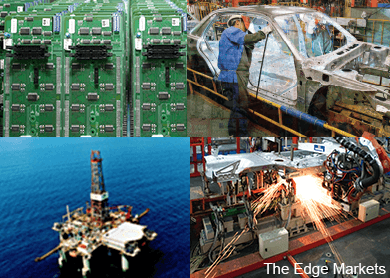 KUALA LUMPUR (Dec 11): Malaysia's industrial production index (IPI) rose 5% in October from a year earlier on growth in all three segments — manufacturing, mining and electricity — of the output gauge.
According to data released by the Statistics Department today, manufacturing output grew 3% while mining and electricty production rose 11.5% and 3.4% respectively.
For the Jan-Oct period, the IPI expanded 4.9% compared to the corresponding period last year.
The expansion came on increases in all components of the index. Manufacturing output grew 6.1% while mining and electricity output rose 1.6% and 5% respectively
October IPI growth had beaten a median market forecast of a 4.1% on-year growth, based on a Reuters survey.
Reuters reported that Malaysia's industrial output in October probably grew 4.1 percent from a year earlier, slowing from September as weaker commodity prices likely hurt mining production.
The median forecast from 12 economists for October reflects lower factory production following a decline in exports.
Meanwhile, the Statistics Department said in a separate statement Malaysian manufacturing sales rose 2.4% to RM55 billion in October from RM53.8 billion a year earlier.
Cumulative ten-month sales climbed 6.5% to RM545.8 billion from 512.5 bilion.