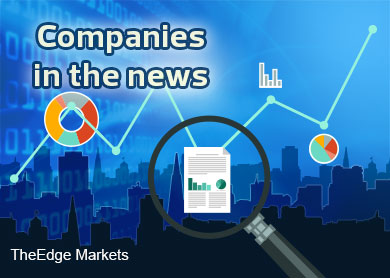 KUALA LUMPUR (Nov 11): Based on corporate announcements and news flow today, the companies that may be in focus tomorrow (Friday, Nov 14) could be the following: Maxis Bhd, GD Express Carriers Bhd, Sime Darby Bhd, Econpile Holdings Bhd, Rex Industry Bhd, I-Bhd, and K-Star Sports Ltd.
Telco giant Maxis Bhd saw a 5% on-year fall in its net profit to RM449 million for the third quarter ended Sept 30, 2014 (3QFY14), from RM472 million as revenue from prepaid and wireless broadband subscriptions, besides voice and SMS usage, declined.
Downward re-pricing of its postpaid charges also curbed profit growth, Maxis told Bursa Malaysia today.
Revenue for the quarter under review was also down at RM2.07 billion compared to RM2.24 billion in 3QFY13.
Maxis declared an eight sen interim tax-exempt dividend for 3QFY14. Maxis shares will trade ex-dividend this November 26.
For the nine months, Maxis' net profit declined to RM1.38 billion from RM1.48 billion a year earlier while revenue fell to RM6.23 billion from RM6.86 billion.
Looking ahead, Maxis CEO Morten Lundal said in a separate statement that the company, which invested a total of RM337 million for capex during 3QFY14, was on track to spend more than RM1 billion during the year and that its modernised network would reach more than 75% of the local population before year-end.
Maxis shares rose six sen or 0.88% to settle at RM6.9 today for a market value of RM51.79 billion.
GD Express Carriers (GDEX) Bhd has proposed a bonus issue of new shares and warrants to reward its shareholders.
In an announcement to Bursa Malaysia, GDEX proposed to issue up to 310.85 million bonus shares, on the basis of one bonus share for every three existing shares held.
Meanwhile, the delivery service provider will also issue up to 186.51 million warrants, on the basis of one warrant for every five shares (not including bonus shares) held.
It also announced that its net profits for the first quarter ended Sep 30, 2014 (1QFY15) expanded by 35% to RM4.98 million against RM3.68 million in the previous corresponding quarter, as a result of stronger sales growth and an improvement in operation efficiency.
Its revenue for 1QFY15 had also improved by 18% to RM43.74 million, from RM37.1 million the year before, due to positive sales growth contribution from both the courier and logistics services, which reflects a continuance of strong support from new and existing customers.
The group also achieved an improvement in earnings per share (EPS) of 0.59 sen in 1QFY15, as compared to 0.47 sen in the same period a year ago.
GDEX share price has staged a strong rebound, after the heavy sell down across the global stock markets last month. The stock bounced back from recent low of RM1.70 to RM2.12 today, with a market capitalisation of RM1.78 billion.
Palm oil conglomerate Sime Darby Bhd's proposed privatisation of plantation firm New Britain Palm Oil Ltd (NBPOL) may not materialise after the Papua New Guinea (PNG) government indicated its intention to up its stake in NBPOL to 30%.
The PNG government currently holds an 18% stake in the PNG-based oil palm planter.
According to Sime Darby President and Group Chief Executive Tan Sri Mohd Bakke Salleh, the PNG government intends to increase its stake in NBPOL from 18% to 30%. Bakke said the move was good for Sime Darby, which could still end up with a controlling 51% stake in NBPOL.
Sime Darby shares fell one sen or 0.1% to RM9.60 todsay, valuing the company at RM58.22 billion.
Econpile Holdings Bhd (Econpile) has secured a RM30 million substructure works contract for a condominium development project in Kuala Lumpur from CRCC Malaysia Bhd.
In a filing with Bursa Malaysia, the piling and foundation specialist said its wholly owned subsidiary, Econpile (M) Sdn Bhd (EMSB) has received the letter of award from CRCC.
"The contract comprises bored piling, earthworks and basement substructure works of a condominium development project, for a contract sum of approximately RM30 million," said Econpile.
The duration of the contract is 14 months and the company is expected to complete the job in January 2016.
Econpile's share price closed at 96 sen today, down 1.5 sen. Listed on June 30, 2014, the company has a market capitalisation of RM518.95 million.
Little known canned food manufacturer Rex Industry Bhd share price jumped as much as 7.3%, or eight sen, to an intra-day high of RM1.18 shortly before the closing bell for the morning session.
The stock retreated to close at RM1.16 today with only 52,000 shares changing hands, giving it a market capitalisation of RM65.02 million.
Rex is featured as "Stocks With Momentum" on theedgemarkets.com today.
The company, which specialises in the manufacturing of Halal canned foods, frozen foods and beverages, has seen a slew of changes on substantial shareholders. The shareholding changes seem to suggest the elder shareholders are passing the baton to the younger generation.
In terms of earnings, the Penang-based manufacturer recorded a net profit of RM568,000, for its third quarter ended Sep 30, 2014(3QFY14), signifying a 88% jump in net profits against RM301,000 recorded in 3QFY13.
Its revenue however slipped by 3% to RM39.68 million in 3QFY14, as compared to RM40.88 million a year ago.
I-Bhd's net profit for the quarter ended Sept 30, 2014 (3QFY14) leaped to RM14.23 million from RM2.68 million in the previous corresponding quarter, due to higher recognition from project completion and sales.
Quarterly revenue doubled to RM77.39 million, from RM35.54 million in the same period a year ago; pre-tax profit was also significantly higher at RM17.42 million against RM3.69 million, its filing to Bursa Malaysia today read.
Earnings per share (EPS) surged to 6.23 sen for the quarter under review, from 1.17 sen previously.  
For the nine month period ended Sept 30 (9MFY14), I-Bhd's net profit expanded by 176.23% to RM39.75 million, from RM14.39 million, while revenue grew almost double to RM192.95 million, from RM96.49 million a year ago.
The property developer attributed the improved earnings to higher percentage of recognition for both the project completion and sales for i-Residence, i-SOVO, i-SOHO and i-Suites projects.
"Baring any unforeseen circumstances and based on the aforementioned factors, the board is confident that it would achieve better operating results for the financial year ending Dec 31, 2014," it added.
I-Bhd closed 1 sen higher at 72.5 sen, giving it a market capitalisation of RM507.39 million.
K-Star Sports Ltd has narrowed its net loss by 83% to RM5.5 million in the third quarter ended Sept 30, 2014 (3QFY14), from RM32.9 million in the previous corresponding quarter.
The smaller loss came on a "stable" overall gross profit margin, as its average selling price and production costs saw no major fluctuation, said the sports footwear firm in a filing with Bursa Malaysia today.
Revenue rose 7.7% to RM43.3 million, from RM40.2 million a year earlier.
K-Star said sales of Dixing brand footwear has improved, but sales of original equipment manufacturer products and apparel have deteriorated.
For the nine-month period (9MFY14), net loss narrowed 58% to RM15.3 million from RM36.6 million a year ago, while revenue fell 8.6% to RM121.9 million, from RM133.5 million in the same period last year.
K-Star fell half sen or 3.7% to 13 sen today, with 311,800 shares traded, giving it a market capitalisation of RM35.96 million.