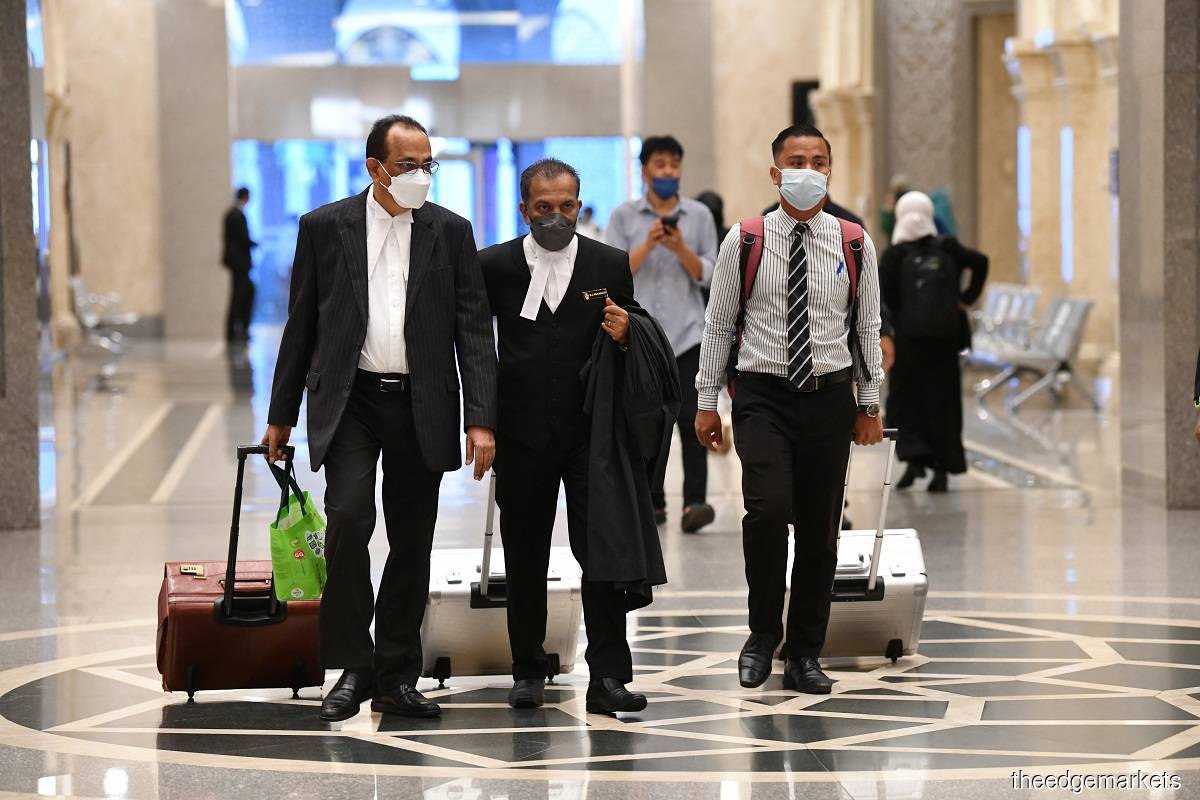 KUALA LUMPUR (Aug 15): Ad hoc prosecutor Datuk V Sithambaram submitted on Monday (Aug 15) that the loans given out by Maybank to 1Malaysia Development Bhd (1MDB) and Putra Perdana Development Sdn Bhd (PPD) were irrelevant to the charges faced by Datuk Seri Najib Razak in the SRC International Sdn Bhd trial.
He said there was no conflict of interest on the part of the trial judge in the SRC case, Datuk Mohd Nazlan Mohd Ghazali, just because Nazlan had previously served as Maybank's general counsel.
Submitting in the Federal Court, Sithambaram said that at the time of the deliberation of the RM4.17 billion loan to 1MDB, the company was a separate legal entity from SRC, and therefore the loan had nothing to do with SRC.
He pointed out that SRC was transferred to the Minister of Finance (Inc) on Feb 14, 2012, while the RM4.17 billion loan was deliberated in late March 2012.
"Therefore, the granting of RM4.17 billion to 1MDB cannot create any conflict of interest on the part of Justice Nazlan as SRC was no longer part of 1MDB at that material time," he said.
"It is imperative to note that SRC was never a customer of Maybank nor had SRC taken any loan from Maybank to suggest any possible conflict of interest with Justice Nazlan. All information sought to be admitted relates to 1MDB and PPD and has absolutely no relation to SRC," the ad hoc prosecutor added.
Referring to Maybank's RM140 million loan to PPD, Sithambaram averred that PPD had no direct dealings with SRC and also played no apparent role in the case, aside from the transferring of the RM140 million to SRC.
The senior lawyer again highlighted that SRC and PPD are two separate legal entities, and therefore Maybank's deliberation in 2014 to grant the RM140 million loan to PPD cannot put Nazlan in a position of conflict of interest.
Najib's lead counsel Hisyam Teh Poh Teik had submitted earlier that during Nazlan's tenure as general counsel and company secretary of Maybank from 2006 to 2015, the bank had given the RM140 million loan to PPD — where SRC was a beneficiary — as well as the RM4.17 billion loan to 1MDB for the acquisition of Tanjong Energy.
The counsel submitted that Nazlan's alleged role in the events is linked to the charges Najib is facing and therefore is deemed to have a conflict of interest and possible bias, when he presided over the trial.
Nazlan found Najib guilty on July 28, 2020, of all seven charges the former premier faced — one count of abuse of power with regard to the Retirement Fund Inc's (KWAP) RM4 billion loan to SRC and three counts each of criminal breach of trust and abuse of power with regard to RM42 million of SRC's funds.
Najib was sentenced to 12 years in jail and fined RM210 million, and this was upheld by the Court of Appeal on Dec 8 last year.
Najib's final appeal before the Federal Court is scheduled to continue at 9.30am on Tuesday (Aug 16) before a five-member bench led by Chief Justice Tun Tengku Maimun Tuan Mat, with Hisyam replying to Sithambaram's submissions.
Click/tap here to follow the live report.
Read also:
Najib's bid to adduce fresh evidence is an attempt to delay SRC proceedings, says prosecutor
Najib's affidavits to support bid to adduce fresh evidence contain only hearsay, says prosecution
Najib's defence: Nazlan has conflict of interest in SRC trial due to his almost 10-year Maybank link
Chief Justice leads bench in Najib's fresh evidence bid at SRC final appeal
Najib's 1MDB-Tanore trial adjourned, pending outcome of SRC appeal in apex court