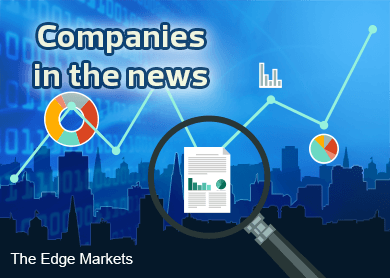 Companies in the news: MRCB, Destini, Encorp, Trive Property, Sona Petroleum, Glomac, Pavilion REIT, Eversendai, CSL, Tadmax, Knusford, Crest Builder, KNM Group, Muhibbah Engineering, Rex Industry, DNex, TFP Solutions and Yong Tai
By Chester Tay
KUALA LUMPUR (June 24): Based on corporate announcements and news flow today, companies that may be in focus tomorrow (Thursday, June 25) could be: MRCB, Destini, Encorp, Trive Property, Sona Petroleum, Glomac, Pavilion REIT, Eversendai, China Stationery (CSL), Tadmax, Knusford, Crest Builder, KNM Group, Muhibbah Engineering, Rex Industry, Dagang NeXchange (DNext), TFP Solutions and Yong Tai.
Property developer cum builder Malaysian Resources Corp Bhd (MRCB) has bagged three contracts worth a combined RM485 million from Destination Resorts and Hotel Sdn Bhd (DRH) to build a conference centre and two hotels, namely Desa Desaru and Westin Desaru Resort, at Desaru Coast, Johor.
In a filing with Bursa Malaysia today, MRCB (fundamental: 1.3; valuation: 1.4) said the construction projects comprised a RM61.4 million conference centre, the 386-room Desa Desaru hotel valued at RM212 million and the 275-room Westin Desaru Resort worth RM211.6 million.
MRCB added that the construction period of the projects is between 19 months and 21 months from the date of site possession of June 25, 2015.
DRH, a wholly-owned subsidiary of Khazanah Nasional Bhd, is the strategic owner and developer of Desaru Coast.
Integrated engineering solutions provider Destini Bhd today announced it intends to buy a paramilitary vessel manufacturer at an indicative price of RM90 million, to further expand its marine division.
In a filing to Bursa, Destini (fundamental: 1.7; valuation: 0.8) said it had entered into a heads of agreement (HoA) for the proposed acquisition of Destination Marine Services Sdn Bhd (DMS) with Ultrasama Marine Sdn Bhd, Goldleaf Pavilion Sdn Bhd and Radzuan Idris (the vendors) today.
It said the consideration for the proposed acquisition may be satisfied via a combination of new shares and/or cash.
DMS manufactures paramilitary boats and various types and sizes of vessels and its track record spans over four decades, besides providing ship repair and marine-related engineering services.
Destini said DMS was recently awarded with a three-year contract by the Malaysia Maritime Enforcement Agency (MMEA), valued at RM381.3 million, to build 6 units of patrol boats.
Destini said the acquisition comes with a profit guarantee of RM10 million in 2015, and RM15 million in 2016.
Property developer Encorp Bhd has inked a memorandum of understanding (MoU) today with the Federal Land Development Authority (Felda) for the development of a proposed integrated township on a 640.98-acre land in Bukit Katil, Malacca, worth an estimated gross development value (GDV) of RM4.9 billion.
Encorp (fundamental: 0.35; valuation: 2)'s chairman Tan Sri Mohd Isa Abdul Samad told reporters after the signing ceremony of the MoU that the parties are planning a mixed development on the said land, which is a leasehold land owned by Felda.
Mohd Isa said the group wishes to start the construction by 2017, and the development will span across 10 years.
Under the MoU, Encorp will develop the master plan for the proposed development and investment proposal, outlining the business model propositions, development timeline, projected cash flow requirements and anticipated GDV of the project.
Encorp will also manage and coordinate the master planning, as well as develop and construct the proposed township, it added.
The MoU will expire a year from today, or until the execution of a definitive agreement between the two parties, or be extended by mutual agreement between the two.
MSC-status company Trive Property Group Bhd announced its appointment as the main contractor to undertake the construction of infrastructure works and 160 residential units for the Bandar Baru Kertih Jaya Phase 1 project.
According to its filing with the exchange, the contract was awarded by Pakadiri Sdn Bhd, the developer of the project, to Trive's (fundamental: 1.05; valuation: 0.3) wholly-owned unit Trive Property Sdn Bhd.
The contract for Phase 1 is worth RM24.296 million and will commence within three months of June 24, to be completed within 24 months after commencement.
Subject to the satisfactory performance and construction of Phase 1, Trive will be awarded the contracts for Phase 2 and Phase 3 of the contract, worth a collective RM60.311 million.
Special purpose acquisition company (SPAC) Sona Petroleum Bhd said it is still confident of meeting its July 30, 2016 deadline to make a qualifying acquisition (QA), following its failed move to acquire Salamander Energy (Bualuang Holdings) Ltd.
Despite the July 2016 deadline, giving slightly more than a year for the SPAC to make its QA, Sona chairman Andre van Strijp while speaking to reporters after the company's annual general meeting today, said the company still has enough time to properly evaluate its options.
Sona's managing director Datuk Seri Hadian Hashim said the company was still focusing on the Southeast Asian, Middle Eastern and African regions, aiming to acquire low risk small-to-medium exploration and production (E&P) assets.
He added that Sona is looking at onshore and shallow water projects, and is not looking at acquisitions outside the specified regions.
Property developer Glomac Bhd saw its net profit jump 31% to RM29.24 million or 4.06 sen per share for the fourth quarter ended April 30, 2015 (4QFY15), from RM22.34 million or 3.07 sen per share a year earlier, due to contributions from its Saujana Rawang, Glomac centro and Reflection Residences.
Its filing to Bursa today showed, however, that its revenue for the quarter had declined 4% to RM168.41 million, from RM174.87 million in the previous year, which it said was mainly due to the completion of Damansara Residences and tail-end projects in Bandar Saujana Utama.
The group proposed a single-tier final dividend of 2.25 sen per share for the financial year ended April 30, 2015 (FY15), bringing its total dividend payout to 4.25 sen per share for FY15, as compared to 4.90 sen per share in FY14.
For the full FY15, Glomac (fundament: 1.2; valuation: 2.4)'s net profit fell 20% to RM86.65 million, from RM108.38 million in FY14; while revenue decreased 30% to RM472.19 million, from RM676.66 million.
Pavilion REIT Management Sdn Bhd, the management company of Pavilion Real Estate Investment Trust (REIT), has received green light from Securities Comission (SC) for its proposed RM8 billion medium term note (MTN) programme.
In a filing with Bursa Malaysia today, Pavilion REIT said the MTN programme is to be undertaken by Pavilion REIT Bond Capital Bhd as the issuer, which is a company wholly owned by AmTrustee Bhd — the trustee for Pavilion REIT.
Pavilion REIT's (fundamental: 2.8; valuation: 0.15)'s announcement also stated that the MTN Programme shall have a tenure of 20 years from the date of the first issue of MTNs under the MTN Programme.
RAM Ratings has downgraded the ratings of steel structure engineering firm Eversendai Corp Bhd's RM500 million Sukuk Musharakah Islamic Commercial Paper/Medium Term Notes to A2/Stable/P1, from AA3/Negative/P1.
In a statement today, RAM said the downgrade reflects the considerable weakening of Eversendai (fundamental: 0.85; valuation: 2.0)'s balance sheet and debt-protection metrics over the past two years, compared with expectations during the rating agency's initial rating.
RAM noted that Eversendai's adjusted gearing ratio had spiked to 0.79 times as at end-December 2014, as compared to 0.33 times two years ago.
China Stationery Ltd (CSL) will focus on turning around its business back to profitability this year, after a fire incident led to the China-based stationery maker to make a loss for the financial year ended Dec 31, 2014 (FY14).
CSL's(fundamental: 1.2; valuation: 0.9) chairman Chan Fung said the fire that broke out at one of its plants in Fujian Province, China in April last year, had seriously affected its production capacity, causing interruption to some of its operations.
The fire incident had ravaged 12,000 m2 of the total floor area of 16,500 m2 at production plant No. 4.
Chan said the group is in the process of winning back its old clients and has secured four of them to date.
Chan said he is unable to give a growth projection for FY15, but that the group is unlikely to achieve the financial performance seen in FY13.
Property development cum construction related player Tadmax Resources Bhd has come out to say claims made by DAP national publicity chief Tony Pua on the sale of its Pulau Indah land in Selangor to Ivory Merge Sdn Bhd, were "misleading" and "incorrect".
The company said it owed it to its shareholders and stakeholders, "who may also be just as perplexed by the incorrect accusations made against the company", to clarify this matter.
It was responding to allegations by Pua that the Cabinet had abused its powers to bail out Tadmax (fundamental: 0.6; valuation: 0.9).
In a statement, Tadmax said it has always acted in the best interests of its shareholders, and had disposed of its non-core assets as part of its restructuring strategy.
This included the disposal of the Pulau Indah land to Ivory Merge — a subsidiary of debt-ridden 1Malaysia Development Bhd (1MDB).
Tan Sri Lim Kang Hoo and Khoo Nang Seng @Khoo Nam Seng have both resigned from their positions as executive directors of medium and heavy machinery equipment manufacturer Knusford Bhd.
In a filing with Bursa Malaysia today, Knusford (fundamental: 2.1; valuation: 3) said Lim, 60, and Khoo, 75, cited other work commitments as the reason for their resignation.
Crest Builder Holdings Bhd is likely to reward shareholders with higher dividends this year, said its executive director Yong Tiok Keng, as the specialist construction and engineering contractor expects to post better earnings on higher property sales and higher contribution from construction business.
Tiok Keng said sales from its property projects have picked up, while it expects to bag one or two new construction contracts in 2015.
Crest Builder's (fundamental: 0.6; valuation: 2.4) executive director Eric Yong Shang Ming said Crest Builder has a construction tender book of some RM6 billion.
Shang Ming said the group's current construction order book stands at RM350 million, comprising three projects, and that it hopes to grow its order book to RM500 million by year end.
Oil and gas (O&G) engineering contractor KNM Group Bhd expects its overseas international renewable energy (RE) projects to contribute to its earnings by as early as the first quarter of financial year 2016 (1QFY16).
KNM Group's (fundamental: 0.85; valuation: 1.7) chief executive officer Lee Swee Eng said its 72% stake in a biofuel plant in Thailand is expected to contribute 10% to the company's net profit in FY16.
Phase 1 of the biofuel plant is capable of producing between 200,000 litres to 400,000 litres of ethanol a day.
Lee said Phase 1 of the RM2 billion waste-to-energy plant in Peterborough, United Kingdom (UK), is expected to contribute 25% to earnings in financial year 2017 (FY17), generating 17.6 mega watt (MW). The entire capacity of the Peterborough project is 80MW.
On the company's order book, Lee said it currently stood at RM4 billion, including its waste-to-energy Peterborough project.
He said 20% of the company's order book comprises Malaysian jobs, but the company is looking at increasing the portion with downstream works from the Pengerang Integrated Complex.
O&G engineering firm Muhibbah Engineering (M) Bhd expects a 15% success rate on its project bids this year, which stood at about RM3 billion to RM5 billion to date, according to its deputy chief executive officer Mac Chung Jin.
Chung Jin told reporters after the annual general meeting today that the total tender packages are about RM3 billion to RM5 billion, single value contracts at the moment ranging between RM100 million per single package up to RM1 billion.
However, he said he is not able to specify whether it is 15% of the group's bids for 50-60 projects or 15% of the total bidding value.
Chung Jin said the company is also bidding for a few packages from Petroliam Nasional Bhd (Petronas)'s RM53 billion Refinery and Petrochemical Integrated Development (RAPID) project, as well as Petronas' projects in East Malaysia.
The company's order book now stands at about RM2 billion, which he said should last the company for about one and a half years to two years.
Rex Industry Bhd has proposed to implement a private placement of up to 10% of its issued and paid-up share capital to raise approximately RM7.85 million to repay its debts and for working capital.
In a filing with Bursa Malaysia today, Rex Industry (fundamental: 1.45; valuation: 0.9) said the private placement, to be issued for third party investors to be identified, comprises 5.61 million REX shares or 10% of the issued and paid up share capital of Rex as at June 19, 2015, at an indicative issue price of RM1.40 per share.
The company, which specialises in Halal food production, said the proceeds will be used to pay its borrowings and for working capital.
The indicative price represents a discount of approximately 9.68% to the five-day weighted average market price (WAMP) of REX shares up to June 19, 2015 of RM1.55.
Dagang NeXchange Bhd (DNex) expects to successfully acquire OGPC Sdn Bhd and OGPC O&G Sdn Bhd by the fourth quarter (4Q15), in line with the e-commerce provider's planned diversification into the oil and gas field.
DNex' (fundamental: 2.4; valuation: 0.2) group managing director Zainal Abidin Jalil expects OGPC to begin contributing to the group's revenue from 2016, while the overall energy business will contribute 'significantly' in the next three to five years.
The group's revenue is expected to grow by at least 5%–6% this year, from its current e-commerce services such as myCargo2U and myTrade2Cash.
DNex recently resubmitted its application for the acquisition to the Securities Commission, after securing a price reduction from RM203 million to RM170 million for the oil and gas equipment and services provider.
IT software service provider TFP Solutions Bhd expects no significant improvement in its financial results this year, as the enterprise resource planner undergoes a phase of transition to cater to an evolved information technology (IT) sector.
Its group managing director Quah Teik Jin expects revenue to grow by 10% in the next financial year ending Dec 31, 2016 (FY16), after the roll-out of its products and services to Myanmar and Vietnam, with a focus on cloud computing and data centre sectors.
Quah does not discount the possibility of a merger or acquisition in order to create a footprint in Myanmar and Vietnam, similar to its Indonesian acquisition two years ago.
TFP Solutions' (fundamental: 1.55; valuation: 0) order book now stands at about RM20 million.
Textile and garment products maker cum trader Yong Tai Bhd's renounceable rights issue of 80.23 million shares with free warrants, has been oversubscribed.
At the close of acceptance, the group had received valid acceptances and excess applications for a total of 81.95 million rights shares worth RM40.97 million over the total number of rights shares available for subscription.
Yong Tai's executive director Ng Jet Heong said in a statement that the rights issue will strengthen the group's financial position with enhanced shareholders' funds.
The rights issue and special issue has raised RM63.32 million, of which RM35 million will be used to partly finance its joint venture mixed development project, The Apple and Courtyard by Marriott in Melaka; RM16.32 million to fund future property development projects; RM4 million for working capital; RM5 million to repay bank borrowings and the remaining RM3 million for the corporate exercises' expenses.
(Note: The Edge Research's fundamental score reflects a company's profitability and balance sheet strength, calculated based on historical numbers. The valuation score determines if a stock is attractively valued or not, also based on historical numbers. A score of 3 suggests strong fundamentals and attractive valuations.)