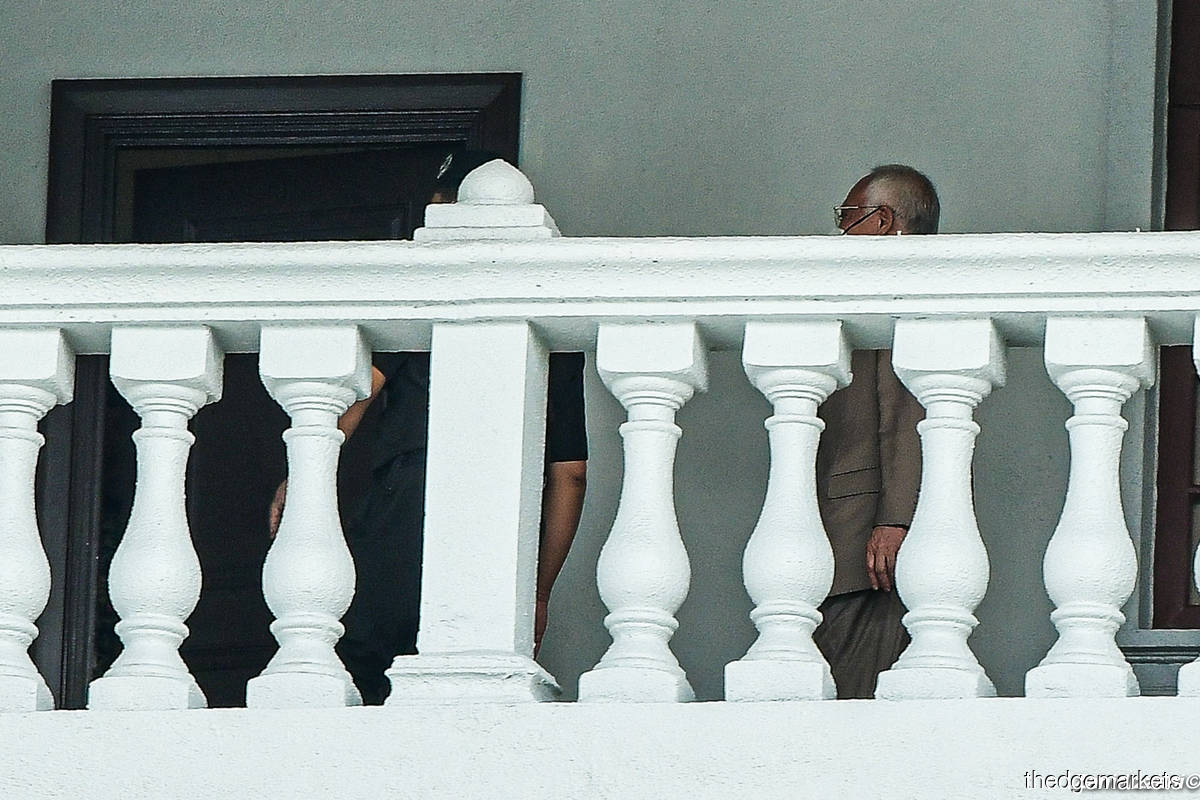 KUALA LUMPUR (Oct 4): The High Court on Tuesday (Oct 4) allowed an ex-parte application by former prime minister Datuk Seri Najib Razak to be present in the proceedings of his RM1.9 million civil suit against former attorney general Tan Sri Tommy Thomas on Oct 21.
The hearing of Thomas' application to strike out the ex-premier's suit will continue on that date.
The application for Najib to be present was made on Tuesday by his counsel Yudistra Darma Dorai, who appeared with Aw Kai Xiang.
Yudistra cited Section 30 of the Prison Act while seeking permission from the court to allow his client, who is currently serving a 12-year jail sentence in the Kajang Prison, to attend the hearing.
"The court has the power to do so, under Section 30, to allow the applicant's presence," he said.
Section 30 concerns the production of an inmate or felon in court.
Judge Datuk Ahmad Bache, who is presiding over the suit, replied that the court had looked at the law and rationale of Najib's application to attend the proceedings.
He added that Najib has a right to be present to hear Thomas' application, because the court may give a decision that would have a finality on the matter.
"If in a criminal trial, an order to produce may be made.
"It (the striking-out application by Thomas) may be interlocutory in nature. This court agrees with your application and will allow the order as applied for," Ahmad said in allowing the application.
Najib wanted to be present in the continued hearing of Thomas' striking-out application, where the former AG's counsel Alan Gomez had said the suit is a "collateral attack" on the ongoing court cases against Najib, where two are presently on trial and another two have yet to begin.
Gomez also contended that the suit is frivolous, vexatious and an abuse of the court process, as Thomas as the then AG had the discretion to initiate criminal proceedings against a person, which was non-justiciable.
Najib's counsel Datuk Firoz Hussein Ahmad Jamaluddin in his reply said they are not challenging the ongoing cases against Najib, but are questioning Thomas' conduct as the then AG.
The former premier filed the suit in October last year, where he initially named Thomas and the Government in claiming misfeasance in public office, malicious process and negligence.
The suit revolves around the charges brought against Najib in criminal cases linked to 1Malaysia Development Bhd (1MDB), where the charges are allegedly part of a "long-planned, premeditated exercise" by the then Pakatan Harapan government.
However, Najib last month dropped his claim against the Government.
Besides the jail sentence, Najib has also been fined RM210 million, after the Federal Court upheld and affirmed his conviction with regard to seven charges in relation to the SRC International Sdn Bhd case.
SRC was formerly a subsidiary of 1MDB.
Read also:
Najib drops RM1.9m suit against govt, maintains action against former AG
Najib's civil suit a collateral attack on his 1MDB-linked charges, says Thomas' lawyer